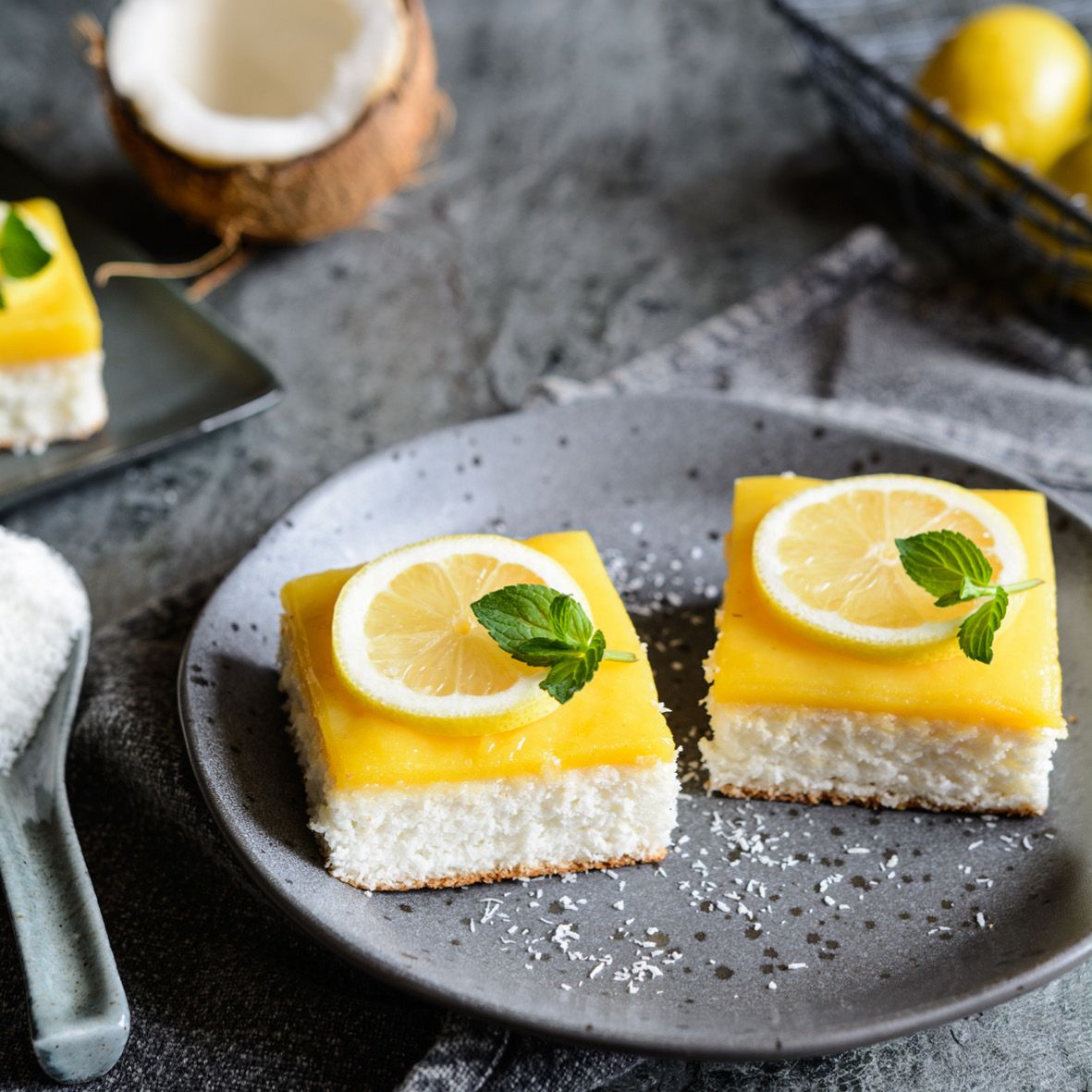 Coconut slice with lemon curd
A biscuit base with a delicious coconut filling is topped with homemade lemon curd in these delightfully delicious sweet-treats.
How long will it take?
30 minutes plus setting time
What's the serving size?
Makes 16
---
What do I need?
80g unsalted butter
200g Arnott's Marie biscuits
2 cups desiccated coconut
1/3 cup honey
¾ cup coconut oil
For the lemon curd
4 lemons
½ cup caster sugar
1 egg
3 egg yolks
3 tbsp cornflour
How do I make it?
Melt butter in a small saucepan.
Crush biscuits with a food processor until they are fine and crumbly.
Add melted butter to biscuits and continue processing until they are the consistency of wet sand.
Press the biscuit mixture into base of a 20cm cake pan lined with baking paper. Ensure base is evenly covered. Place in freezer while you make the filling.
Next make coconut filling.
The coconut oil needs to be the consistency of soft butter. If yours is too firm, you can warm it gently in a small saucepan until just melted. Add honey and coconut to coconut oil and stir to combine.
Remove base from the freezer and top with coconut filling. Smooth and press down the top with the back of a spoon. Place the pan back in the freezer while you prepare the lemon curd topping.
Juice the lemons.
In a large mixing bowl, whisk together the lemon juice, sugar, eggs and cornflour.
Pour mixture into a medium saucepan and cook over medium heat until it thickens. Set aside to cool slightly.
Pour the lemon curd over the slice and place in the fridge to cool completely, about 1 hour.
When the lemon curd has cooled and set, remove from fridge and slice using a sharp knife. You will find it easier to slice if you heat the knife under hot water first. Cut into 5cm x 5cm pieces. These will keep, refrigerated for 4-5 days.
---
Share this recipe
---
More recipes like this