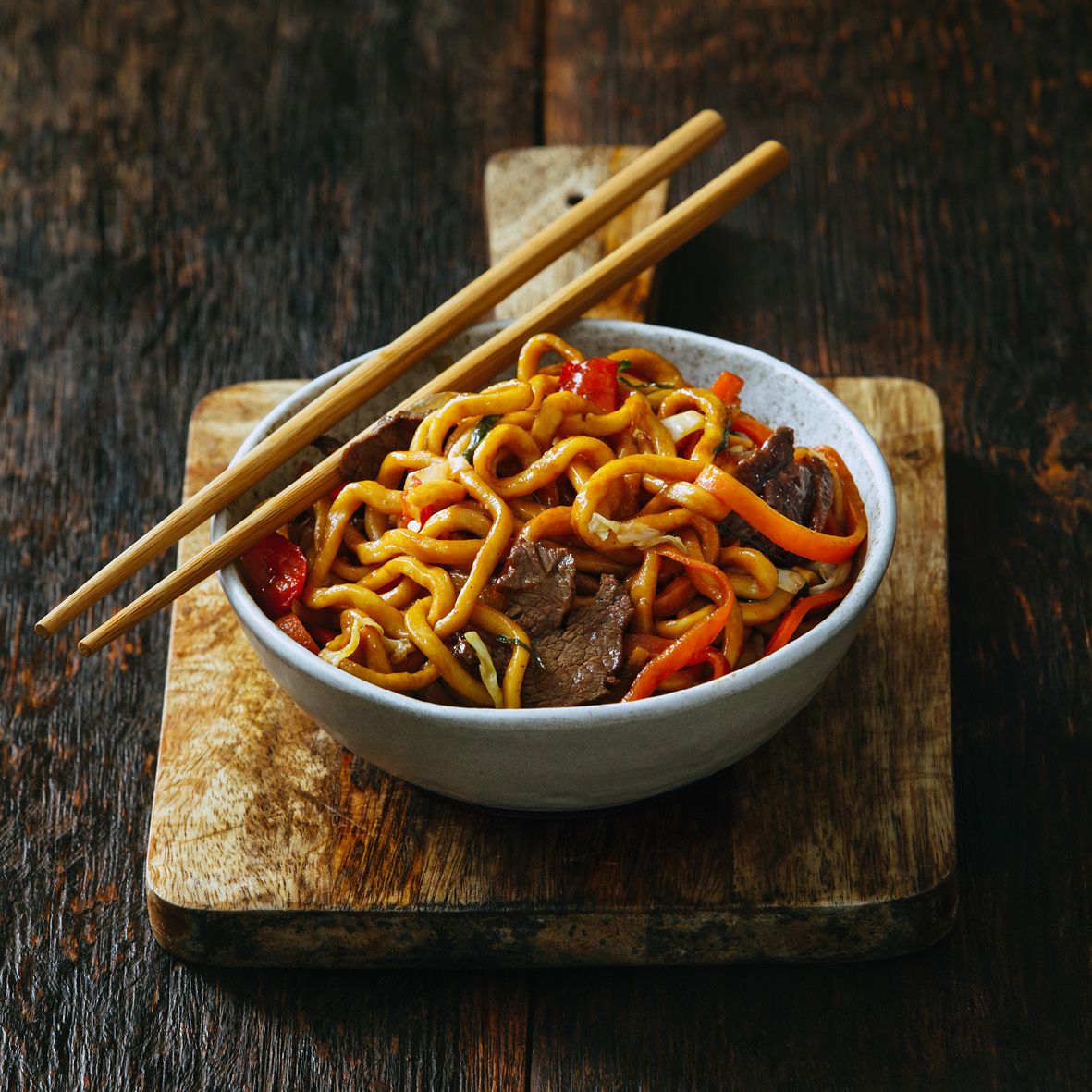 Beef Lo Mein
There's lots to love about this family-friendly Beef Lo Mein including the fact that it only takes 20 minutes to have a tasty and delicious meal prepared, cooked and on the table. You can change it up by adding in other vegetables like snow peas, broccoli, spring onion, mushrooms or baby corn.
How long will it take?
20 minutes
What's the serving size?
Serves 4
---
What do I need?
250g egg noodles
½ cup oyster sauce
¼ cup soy sauce
¼ cup rice wine vinegar
3 tbsp honey
500g rump or porterhouse steak, chilled
2 tbsp plus 1 tsp sesame oil, divided
2 cloves garlic, minced
Fresh ginger, peeled and finely grated to make 1 tsp
1 medium brown onion, thinly sliced
1 carrot, finely julienned
1 medium red capsicum, cut into ½ centimetre thick strips
¼ cabbage, finely shredded
How do I make it?
Cook noodles according to package directions. Drain and set aside.
In a bowl, whisk together soy sauce, oyster sauce, rice wine vinegar, and honey.
Slice steak into thin strips. To make it easier to slice you can place it in the freezer for 10-15 minutes before slicing to firm up.
Heat 2 Tbsp. oil in a large wok or frying pan over high heat. Add sliced steak and cook, tossing often, for 2-3 minutes. Cook in batches if your pan is not large. Remove steak from pan and set aside.
Heat remaining 1 tsp. oil in the wok or frying pan over high heat. Cook garlic, ginger, and onion for 1 minute, tossing or stirring constantly. Add capsicum, carrot and cabbage and cook until vegetables are softened, about 1-2 minutes.
Add steak back to work or pan with drained noodles in pan and oyster sauce mixture and cook, tossing, until all ingredients are coated and the sauce thickens slightly, about 1–2 minutes.
Serve immediately.
---
Share this recipe
---
More recipes like this