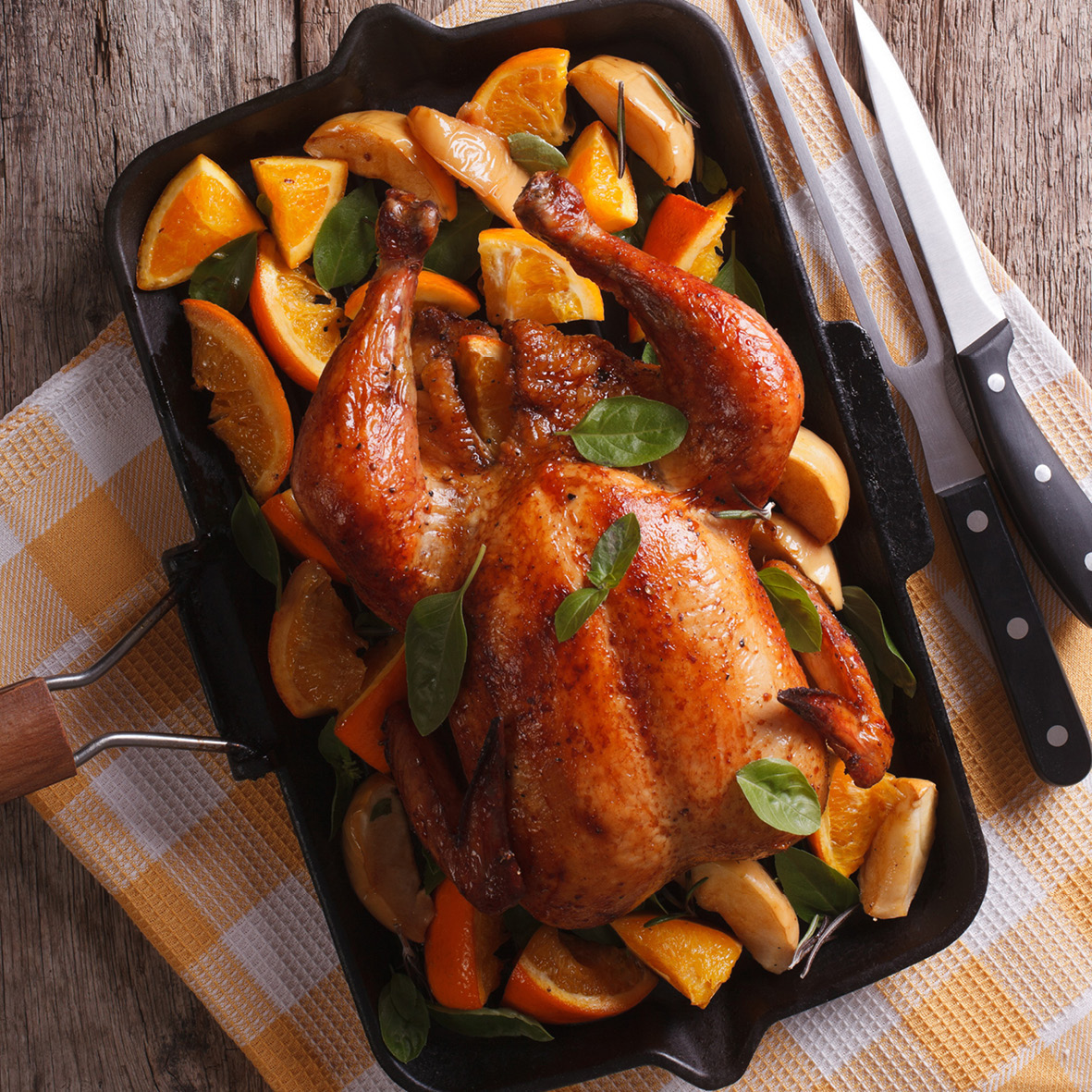 Herb and orange roasted chicken
Take your roast chicken to the next level with this flavoursome recipe. The oranges and herbs will impart a wonderful flavour and give you a roast chicken that is tender and juicy. Use the juices left in the bottom of the pan after cooking to make a tasty gravy.
How long will it take?
2 Hours
What's the serving size?
Serves 6
---
What do I need?
1 whole chicken
1 cup chicken stock
1 cup butter, cut ½ cup into cubes and melt other ½ cup
2 oranges, halved
2 cloves garlic, minced
2 sprigs of fresh rosemary
2 sprigs fresh thyme
2 sprigs fresh sage
Salt and pepper
How do I make it?
Preheat oven to 175C.
Prepare a small roasting pan by pouring in the chicken stock.
Pat dry the skin of the chicken with paper towel.
Carefully loosen the skin of the chicken breasts and thighs using your fingers. Then stuff the cubed butter pieces underneath the skin of the chicken.
Squeeze the oranges over the chicken and then place two of the orange halves inside the cavity of the chicken. Tie the legs of the chicken together with kitchen twine. Place the remaining orange halves in the roasting pan.
Sprinkle the chicken with salt and pepper to taste and then rub the skin with the minced garlic.
Drizzle melted butter over the chicken and lay herb sprigs on the breast and around the legs.
Cover the roasting pan with foil and bake in the oven for 20 minutes. Uncover and baste the chicken with the pan juices. Continue cooking uncovered and basting every 15 minutes. The chicken is cooked when a meat thermometer inserted into the thickest part of the leg reads 75C or the juices run clear.
Let the chicken rest out of the oven for 10 minutes before carving. This is an important step to ensure that the chicken absorbs the juices and is deliciously moist and tender.
---
Share this recipe
---
More recipes like this