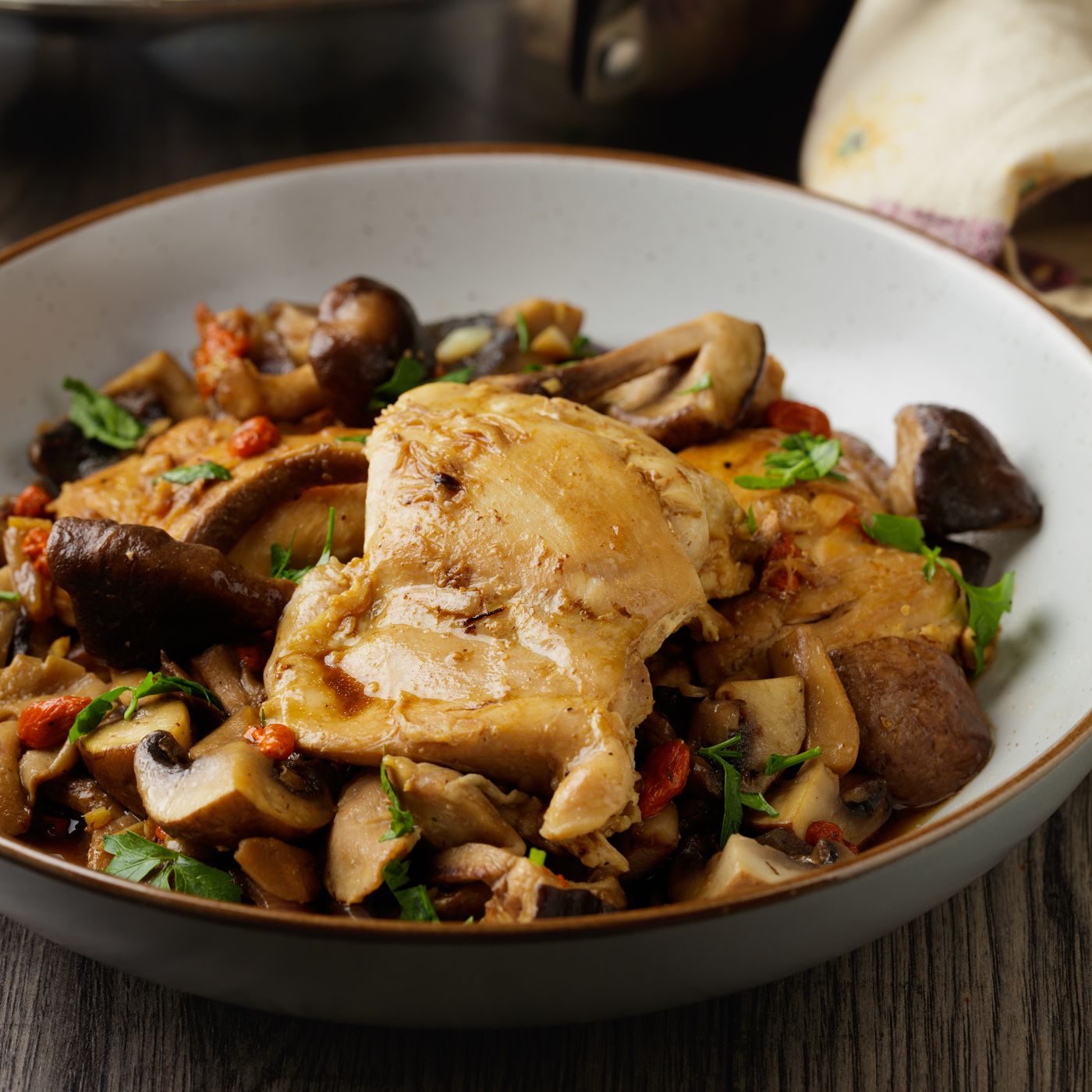 Chicken and Mushroom Fricassee with Sweet Potato Mash
'Tis the season for hearty, warming, comfort food. This Chicken and Mushroom Fricassee is the kind of dish that's made for enjoying on a cosy night in with a glass of wine. It's incredibly easy to make but packed with the kind of flavour that will satisfy all your cravings.
How long will it take?
40 minutes
What's the serving size?
Serves 4
---
What do I need?
For the Chicken and Mushroom Fricassee
2 tbsp olive oil
Salt
Freshly ground black pepper
500 g chicken breast or thighs
Flour, for dusting
2 cloves garlic, minced
100 g bacon, diced
300 g button mushrooms, roughly chopped
2 large shallots, roughly chopped
250 mL chicken stock
1 tbsp white wine vinegar
150 g cherry tomatoes, halved
2 tbsp flat leaf parsley, to serve
For the Sweet Potato Mash
750 g sweet potatoes, peeled and cubed
3 tbsp butter
Salt, to taste
Freshly ground black pepper, to taste
How do I make it?
Heat half the olive oil over medium heat in a frying pan.
Season chicken with salt and pepper. Dust chicken with flour and add to the pan. Brown chicken on all sides, then remove from pan and set aside. Add bacon to the pan and cook for 1 minute, then add garlic and mushrooms, and cook until the mushrooms have softened. Remove mushrooms and bacon from the pan and set aside.
Add remaining olive oil to the pan and cook shallots for 5 minutes, then add stock and vinegar and cook for a further 2 minutes. Return chicken, bacon and mushrooms to the pan and toss in tomatoes. Cook for 15 minutes or until the chicken is cooked through and the tomatoes are soft and bursting open.
While chicken is cooking, bring a large saucepan of salted water to the boil and add sweet potatoes. Cook until tender, then drain well and leave to steam dry for a couple of minutes. Add sweet potatoes back into the saucepan with the butter and mash well. Season to taste.
Serve fricassee over a bed of mashed sweet potato and garnish with parsley.
---
Share this recipe
---
More recipes like this