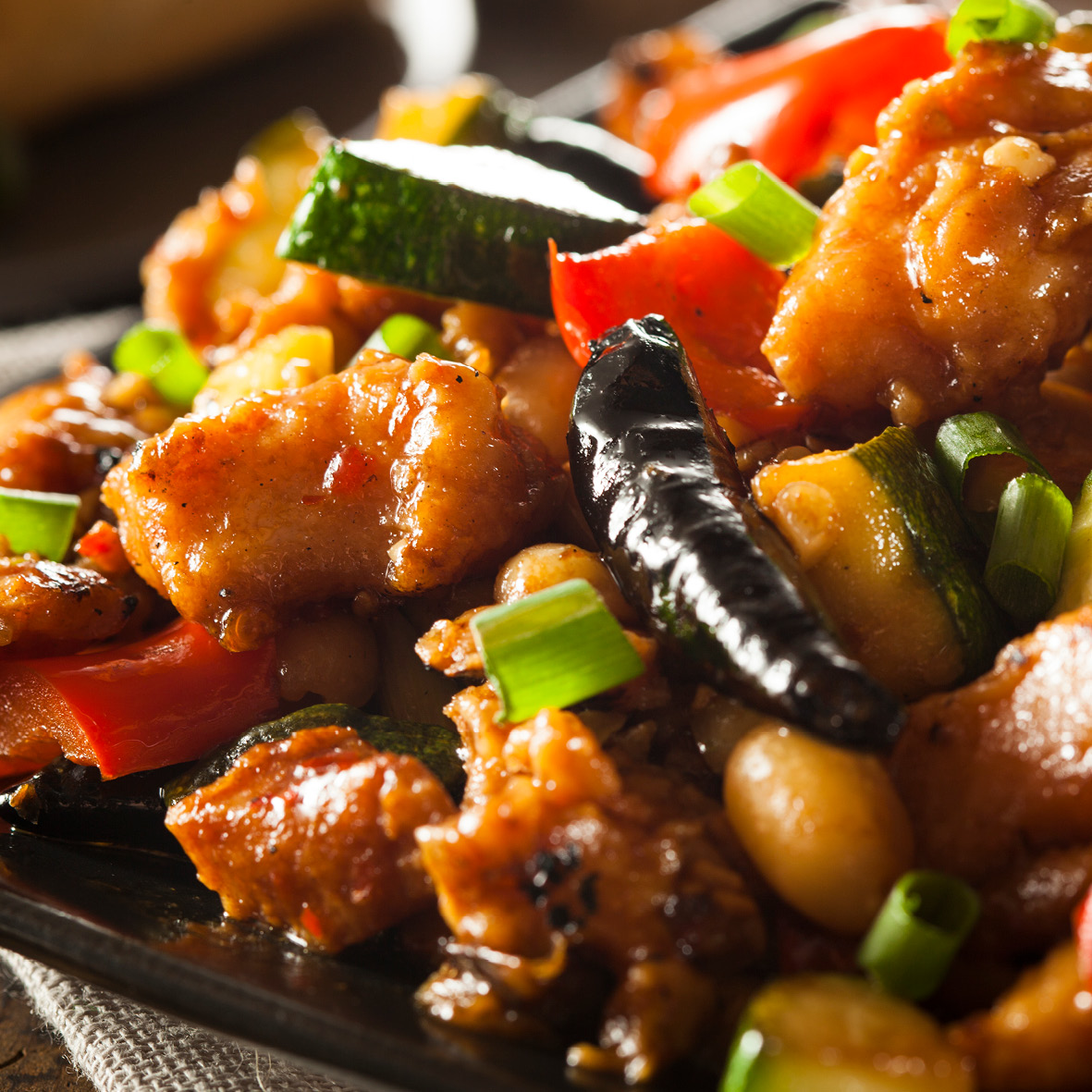 Kung Pao Chicken
Packed full of spice and flavour with the added advantage of being quick and easy to make
How long will it take?
25 minutes
What's the serving size?
Serves 4
---
What do I need?
3 tablespoons peanut or vegetable oil
6-10 dried hot red chili peppers (or less according to heat preference), seeded and membranes removed (gloves recommended)
700g chicken breast, cut into bite-sized pieces
2 cloves garlic, minced
1 ½ teaspoons fresh ginger, minced
¾ cup dry roasted peanuts
6 spring onions
For the Marinade
1 ½ tablespoons soy sauce
1 tablespoon Chinese rice wine or sherry
¾ teaspoon cornflour
For the Sauce
¼ cup black Chinese vinegar or dark balsamic vinegar
3 tablespoons soy sauce
1 ½ tablespoons toasted sesame oil
3 tablespoons white sugar
2 tablespoons hoisin sauce
2 teaspoons cornflour
How do I make it?
Combine the marinade ingredients in a small bowl and pour over the chicken pieces. Toss to coat and let the chicken sit while you prepare the rest of the ingredients.
Combine all the sauce ingredients in a bowl, stirring until the cornflour and sugar is dissolved. Set aside.
Heat the oil in a wok or skillet over high heat. Fry the chilies for a few seconds until they turn darker in colour.
Add the chicken and marinade and fry until no longer pink.
Add the garlic, ginger, and white parts of the spring onions and fry for two minutes.
Add the sauce and stir until thickened.
Reduce the heat to medium-high and stir in the peanuts. Simmer for one minute.
Remove from heat and stir in the green part of the spring onions. Serve immediately with steamed rice.
---
Share this recipe
---
More recipes like this