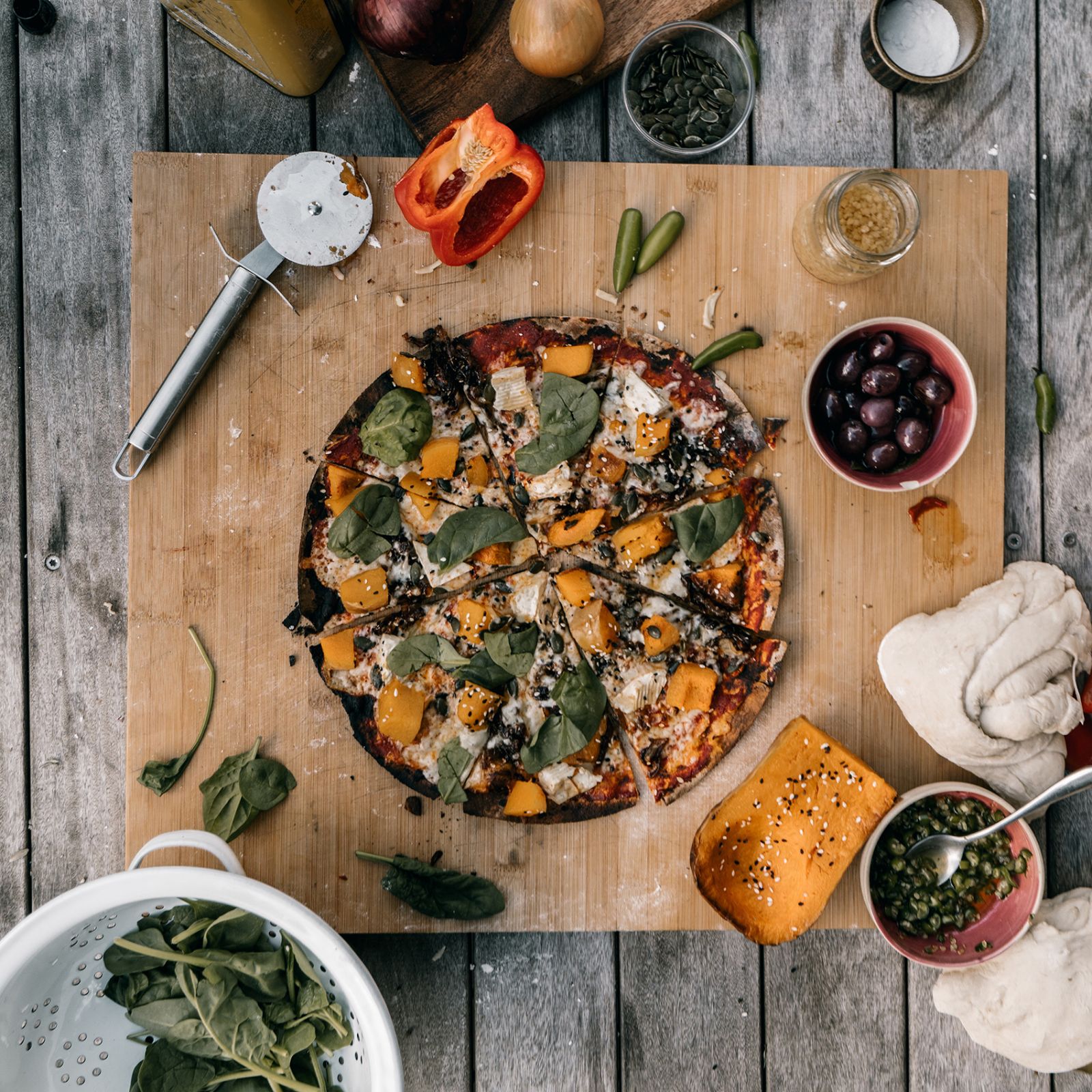 Roasted Butternut Pumpkin, Spinach and Brie Pizza
This easy-to-make pizza is tasty and versatile. With a simple two ingredient dough, you have a great base for the toppings. Roasting the pumpkin and onion lends a lovely subtle hint of caramelisation to the flavour profile of the pizza.
How long will it take?
1 hour
What's the serving size?
Makes 2 large pizzas
---
What do I need?
For the pizza dough
1 ½ cups self raising flour
1 cup Greek yoghurt
For the topping
2 tbsp olive oil
500 g butternut pumpkin, peeled and cubed
1 red onion, sliced into rounds
Pinch of salt
Freshly ground black pepper
2 tbsp tomato paste
½ tsp minced garlic
½ tsp dried oregano
½ cup grated mozzarella
¼ cup grated cheddar
2 cups baby spinach
150 g brie, roughly chopped
How do I make it?
Add butternut pumpkin and red onion to a baking tray, drizzle with olive oil and season with salt and pepper. Roast in oven for 30 minutes or until the pumpkin is tender. Remove from oven and increase heat to 200C.
While the pumpkin cooks prepare the pizza dough.
If using an electric mixer to make the dough, use the dough attachment to combine the flour and yoghurt together and then keep beating for a couple of minutes.
Turn out onto a floured surface and knead for 2-3 minutes.
If making by hand, mix flour and Greek yoghurt together in a bowl.
Turn out onto a floured surface and knead for 8-10 minutes.
Keep adding more flour as needed to keep dough from being too sticky.
Roll dough out into a circle and place on a pizza stone or lightly oiled baking tray.
Combine tomato paste, oregano and garlic in a small bowl and then spread over pizza base.
Combine mozzarella and cheddar in a bowl and then sprinkle over pizza. Add brie, onion, pumpkin and half the spinach.
Cook in oven for 10 minutes or until the bottom of the pizza is lightly browned. Remove from oven, allow to rest for 5 minutes and then top with remaining spinach.
---
Share this recipe
---
More recipes like this