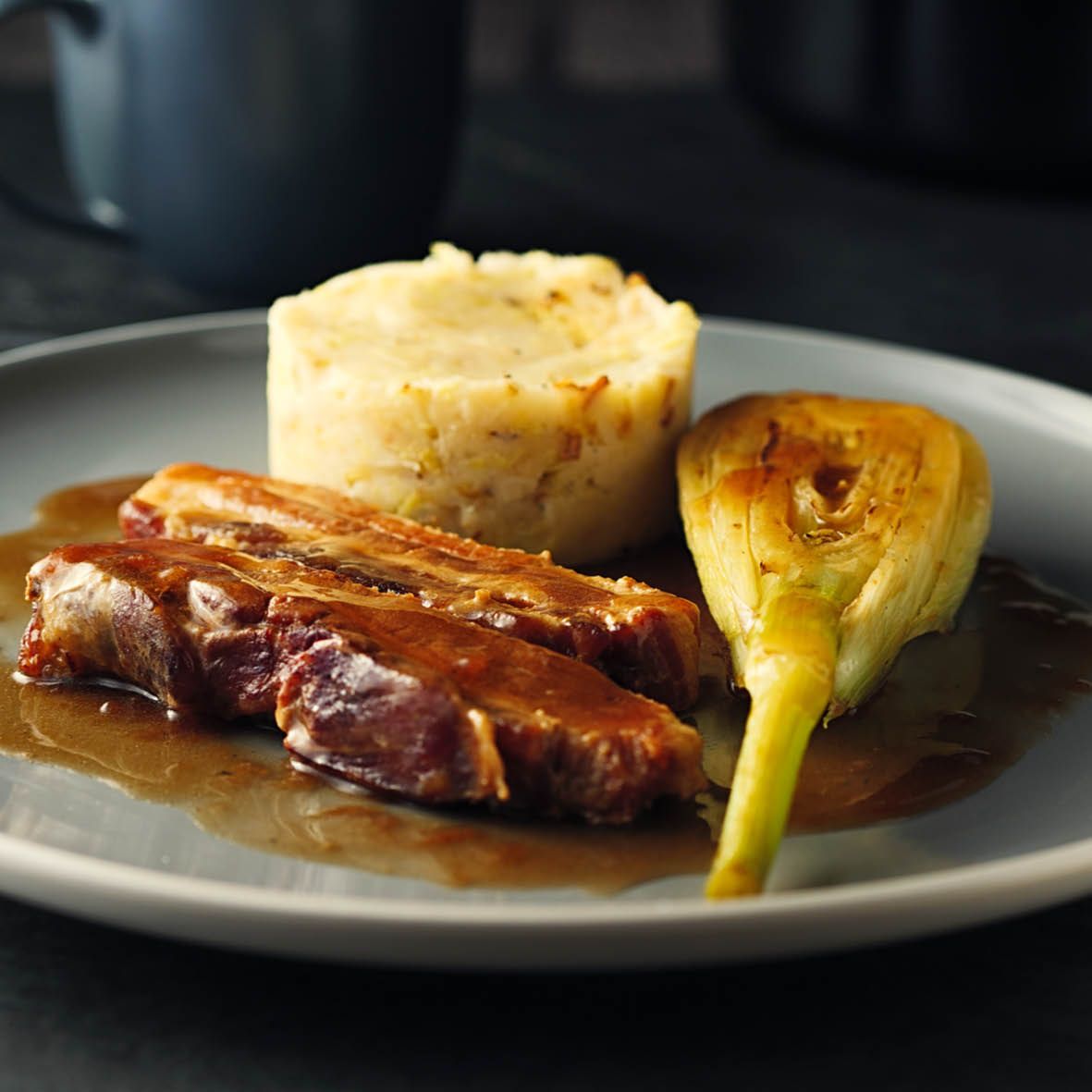 Pork Belly with Colcannon, Braised Fennel and Red Wine Reduction
Melt-in-your-mouth pork belly is paired with tender braised fennel and the traditional Irish potato and cabbage dish, Colcannon.
How long will it take?
3 hours
What's the serving size?
Serves 4
---
What do I need?
For the pork belly
1.5 kg pork belly
Salt and pepper
2 tbsp olive oil, divided
For the colcannon
1 cabbage, shredded
1.5 kg potatoes, peeled and quartered
1 ½ cups milk
1 cup chopped spring onions
1 ½ tsp salt
½ tsp pepper
¼ cup butter, melted
4 rashers bacon, cooked and finely chopped
For the braised fennel
2 large fennel bulbs
4 tbsp butter
1 tsp salt
1 tsp sugar
1 cup water
For the red wine reduction
1 tbsp olive oil
1 tbsp butter
1 shallot, chopped
2 cloves garlic, chopped
1 bay leaf
2 cups red wine
¼ cup beef stock
1 tsp white sugar
How do I make it?
Preheat oven to 140C.
Pat the skin of the pork belly with paper towel to dry it. Score skin and rub with salt and pepper. Add half the olive oil to a baking dish and add pork belly. Use the remaining olive oil to brush over the skin of the pork belly. Cook for 2 ½ - 2 hours or until the meat is very tender. If the skin has not crisped, place under the grill for 10 to 15 minutes to get it to crackle.
While the pork is cooking prepare the colcannon by placing shredded cabbage in a large saucepan with 2 cups of water. Bring to a boil, then reduce heat and simmer, covered, until the cabbage is tender, about 10 minutes. Drain, reserving cooking liquid and set cabbage aside in a bowl.
Return reserved cooking liquid to the saucepan and add potatoes. Add additional water to cover potatoes and bring to the boil. Reduce heat and cook uncovered until potatoes are very tender.
In a small saucepan combine milk, spring onions, salt and pepper and bring to the boil, then remove from heat.
Drain potatoes, and return to the saucepan they were cooked in. Mash potatoes and then add milk mixture and stir to combine. Add cabbage, melted butter and bacon, stirring through potatoes.
Prepare fennel by removing the tops of the fennel bulbs and slice fennel bulbs in half, lengthwise. Brown butter in a large frying pan over medium-high heat and place fennel halves in the pan in a single layer. Reduce the heat to medium and cook fennel for 3 minutes. Sprinkle salt and sugar over the fennel and cook for a further 2 minutes or until the fennel is starting to caramelise and brown. Turn and cook on the other side. When both sides are browned, add water to the frying pan and increase the heat to medium high, bringing the water to the boil. Reduce heat to low, cover the pan and simmer for 15 minutes. Remove fennel from the pan and serve with pork and colcannon.
Meanwhile make the red wine reduction by adding shallot and garlic to a saucepan with olive oil and butter over medium heat. Cook for 2-3 minutes or until they have softened but not browned too much. Add red wine and beef stock, salt, pepper, bay leaf and sugar and bring to the boil. Boil until it has reduced by about half. Strain through a sieve to remove solids and serve with pork belly, colcannon and fennel.
---
Share this recipe
---
More recipes like this