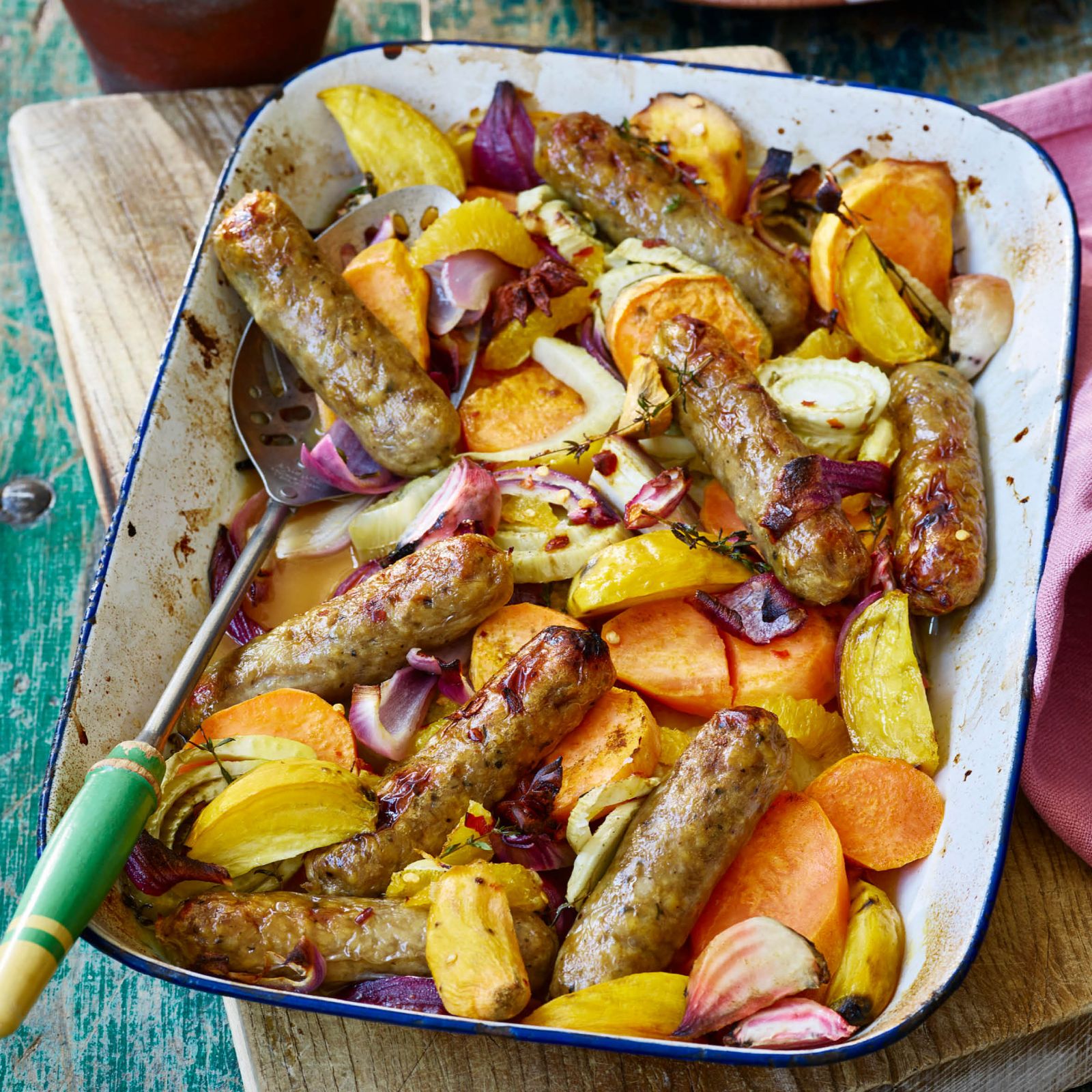 Baked Marmalade Sausages and Veggies
We absolutely love one-pan dinners and this one is ridiculously easy to make. Sausages and veggies are cooked in a sticky marmalade and mustard glaze to create a delicious self-saucing dinner. Incredibly versatile, you can add or subtract vegetables to suit your family's tastes and this is ideal for a warming mid-week meal because it will be on the table in just over half an hour.
How long will it take?
35 minutes
What's the serving size?
Serves 4
---
What do I need?
8 Wursthaus Traditional Pork Sausages
2 sweet potatoes, peeled and cut into equally-sized pieces
2 medium red onions, peeled and quartered
1 fennel bulb, trimmed and roughly chopped
1 tbsp thyme leaves
150 g marmalade
1 tbsp olive oil
1 tbsp wholegrain mustard
2 cloves garlic, minced
Salt and freshly ground black pepper
How do I make it?
Preheat oven to 220C.
Lightly spray a baking tray with cooking spray.
Place marmalade in a small microwave-safe bowl and heat for 30 seconds or until it is warmed. Add olive oil, mustard and garlic and stir to combine.
Add sausages, sweet potatoes, red onion, fennel and thyme leaves to the baking tray. Pour over marmalade mixture and give the baking tray a shake to coat the sausages and vegetables. Season with salt and pepper.
Cook in oven, basting with cooking juices 2 or 3 times, for 25 to 30 minutes or until sausages and veggies are cooked through.
To serve, divide among plates and spoon over cooking juices.
---
Share this recipe
---
More recipes like this