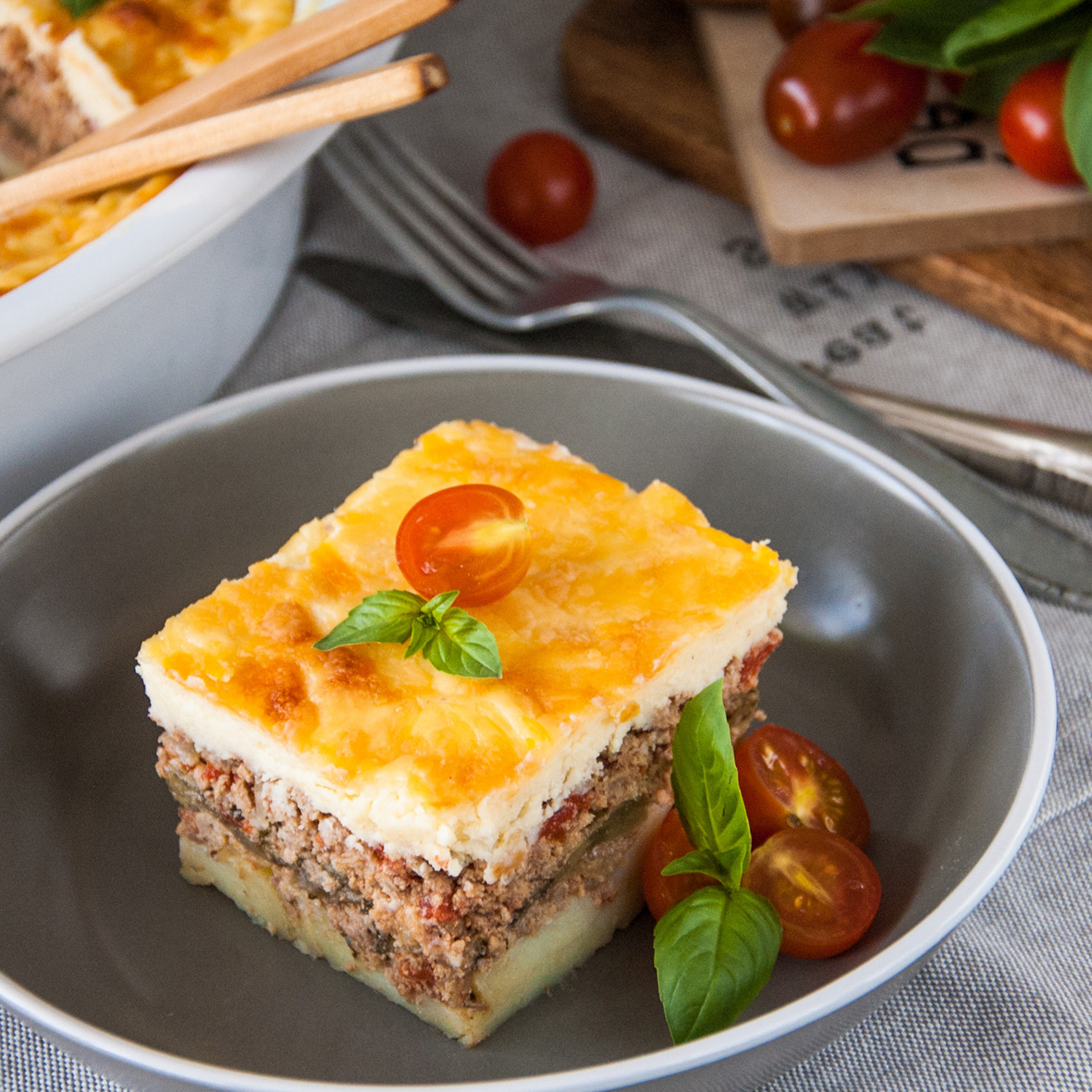 Moussaka
Our Greek heritage means we know a good moussaka when we eat one and this one is fantastic. It features silky, smoky eggplant, herbs, spices, juicy beef mince, and a fabulous tomato and grilled capsicum based sauce, all topped with a creamy béchamel and baked to perfection!
How long will it take?
1 hour 45 minutes
What's the serving size?
Serves 6-8
---
What do I need?
2 large red capsicums, halved lengthways, seeds removed
2 tbsp olive oil, plus extra as needed
3 large eggplants, cut lengthways into 5 mm-thick slices
1kg beef mince
1 tsp cumin seeds
1 tsp ground cinnamon
1 tbsp dried oregano
1 tsp ground cardamom
2 onions, finely chopped
2 garlic cloves, crushed
800 g tinned crushed tomatoes
120 g kefalograviera cheese or parmesan, coarsely grated
For the Béchamel
750 ml (3 cups) milk
1 onion, studded with 4 cloves and 1 bay leaf
100 g unsalted butter
75 g (½ cup) plain flour
How do I make it?
Preheat the oven to 180˚C.
Flatten the capsicum halves with the palm of your hand, then place, skin-side up, on baking trays lined with foil and grill on the highest oven shelf for 15 minutes or until the skins are blistered black. Pull the sides of the foil to the centre over the capsicum and fold to enclose it completely. Leave to steam for 10 minutes, then peel and discard the skin and finely chop the flesh. Set aside.
Meanwhile, heat a drizzle of olive oil on a cast-iron grill-plate over high heat until smoking. Working in batches, grill the eggplant slices for 30 seconds on each side or until both sides have clear char marks, adding extra oil as needed; as the grill-plate heats, it will take less time to grill.
Heat 1 tablespoon of the olive oil in a large non-stick frying pan over high heat and cook the mince, stirring for 6–8 minutes or until the meat is brown. Add the cumin, cinnamon, oregano and cardamom, then, stirring continuously, cook for another 5 minutes. Season to taste with salt and pepper and set aside.
Heat the remaining olive oil in a large heavy-based frying pan over medium heat and cook the onion and garlic for 4 minutes or until soft and translucent. Add the capsicum and tomato and bring to a simmer, then cook for 15–20 minutes, stirring occasionally. Add to the mince mixture, then simmer over low heat for 15 minutes. Season to taste.
Meanwhile, to make the béchamel, place the milk and clove-studded onion in a small heavy-based saucepan and bring to a simmer over medium heat. Melt the butter in a non-stick saucepan over medium heat. Stir in the flour and cook, stirring continuously, for 1 minute. Strain the milk, discarding the onion, then add 60 ml (¼ cup) of the hot milk at a time to the butter and flour mixture, whisking continuously to ensure the mixture is smooth; when all the milk is added, the sauce should be thick. If not, continue to cook for 2–3 minutes or until it has thickened. Season the sauce to taste with salt, stir and set aside.
To assemble, place one-third of the meat mixture in a large baking dish, top with one-third of the eggplant, then repeat the layering process until all the eggplant and meat are used. Spread the warm béchamel sauce evenly over the surface and sprinkle with the kefalograviera or parmesan.
Bake the moussaka for 35 minutes or until heated through and golden brown on top. Serve immediately.
Recipe from George Calombaris
---
Share this recipe
---
More recipes like this