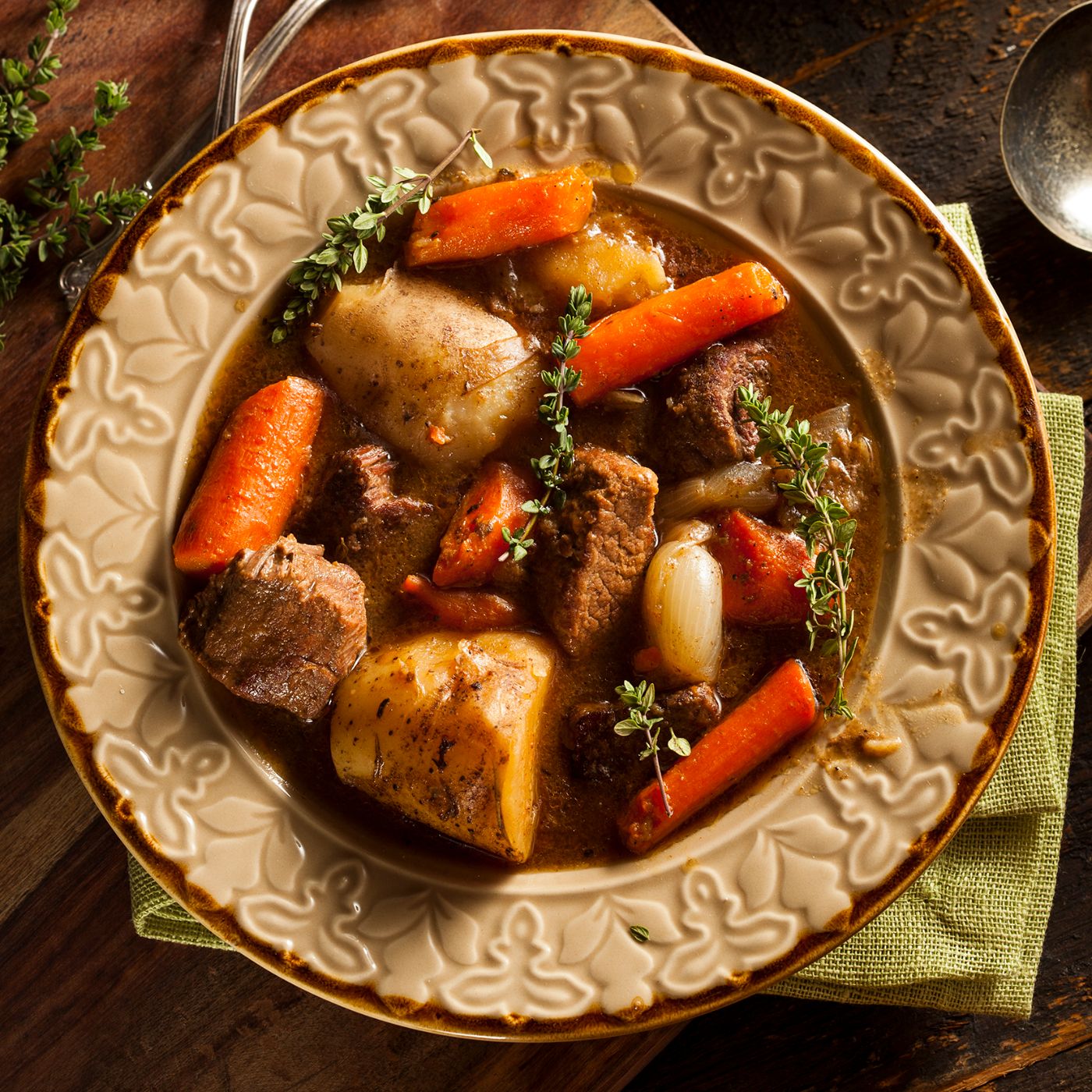 Irish Stew
You don't need the luck of the Irish to make this hearty stew. A tasty combination of tender beef, carrots, and potatoes (of course), it's the perfect meal to celebrate St Patrick's Day.
How long will it take?
3 ½ hours
What's the serving size?
Serves 6
---
What do I need?
2 tbsp olive oil
1 ½ kg chuck steak, cubed
2 brown onions, roughly chopped
2 cloves garlic, minced
¼ cup plain flour
1 cup stout
4 cups beef stock
¼ cup tomato paste
1 kg potatoes, roughly chopped
½ tsp dried thyme
4 carrots, peeled and chopped into large pieces
Salt, to taste
Freshly ground black pepper, to taste
Fresh thyme sprigs, to garnish
How do I make it?
Preheat oven to 180C.
Heat olive oil in a large, lidded, ovenproof casserole dish or Dutch oven over medium-high heat. Season the beef with salt and pepper, then add half the beef to the dish and cook until browned on all sides. Remove from the dish and set aside and repeat with the remaining beef. Remove from the pot and set aside.
Add onions to the casserole dish and cook for 5 minutes or until tender. Add garlic, stir and then return the beef to the dish. Pour in flour, stirring to coat the meat and the onions.
Add stout, stock, tomato paste, potatoes, thyme, and carrots and stir to combine. Season to taste. Cover dish and cook in the oven for 2 ½ to 3 hours, or until the meat and vegetables are tender.
Garnish with thyme sprigs and serve with a glass of Guinness.
---
Share this recipe
---
More recipes like this