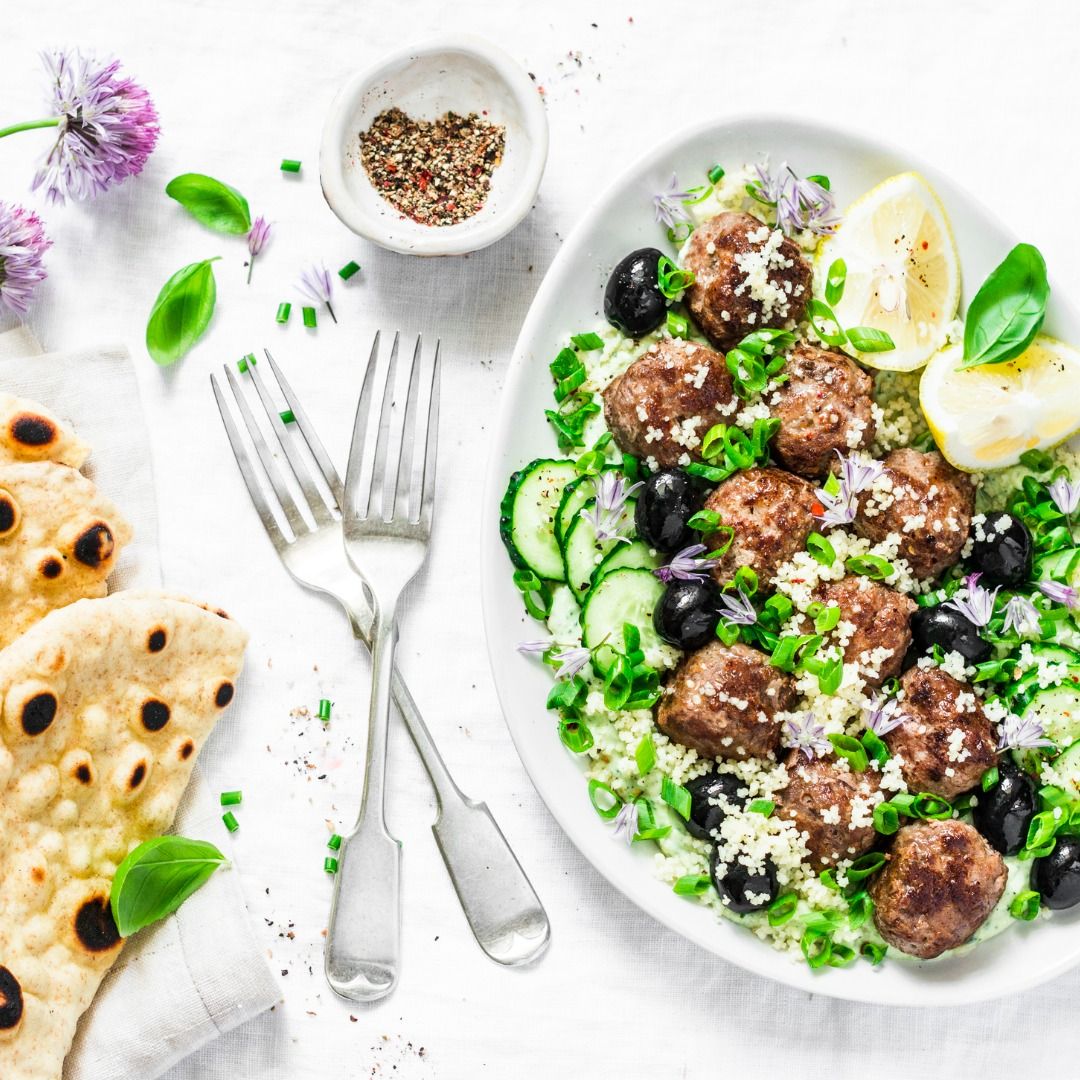 Keftedes (Greek meatballs) with Mediterranean Couscous Salad
Turn beef mince into a Mediterranean feast with this fresh couscous salad topped with Greek Keftedes.
How long will it take?
1 hour
What's the serving size?
Makes approx. 50 meatballs
---
What do I need?
1 kg beef mince
1 onion, finely chopped
2 ½ tsp sea salt
1 tsp freshly ground black pepper
1 tbsp dried oregano
½ cup flat leaf parsley, finely chopped
2 free range eggs, lightly beaten
1 tomato, finely diced
¼ cup mint, finely chopped
½ tsp bicarbonate of soda
2 tbsp olive oil
3 cups breadcrumbs
3 tbsp water
¼ cup white wine or ouzo
Olive oil for frying
For the Mediterranean Couscous Salad
2 cups couscous
2 medium cucumbers, sliced
2 cups pitted black olives
2 spring onions, chopped
1 cup fetta cheese
4 tbsp lemon juice
2 tbsp olive oil
1 tsp dried oregano
2 tbsp flat leaf parsley, chopped, to serve
How do I make it?
Make salad first by preparing couscous according to directions on the packet. When cooked set aside to cool.
Combine cucumber, olives, spring onions and feta in a large bowl with couscous. Toss to combine. Drizzle lemon juice, olive oil and dried oregano over salad and toss again. Refrigerate while you prepare the meatballs.
Add mince, onion, salt, pepper, oregano, parsley, eggs, tomato, mint, bicarbonate of soda, olive oil and breadcrumbs to a large bowl. Use your hands to mix ingredients until all are combined. Add water 1 tablespoons at a time, until the mixture is soft and pliable.
Pour wine or ouzo into a small bowl and use it to wet your hands. Shape mince into 2 ½ centimetre balls, wetting your hands with wine/ouzo before shaping each ball.
Add olive oil to a large frying pan so that it is about ½ centimetre in depth. Heat oil over medium-high heat. Cook meatballs in batches, until browned on all sides, about 8 – 10 minutes.
To serve, place salad on a serving plate and top with Keftedes. Sprinkle with chopped parsley and serve with flatbread, Greek yoghurt lemon wedges.
---
Share this recipe
---
More recipes like this