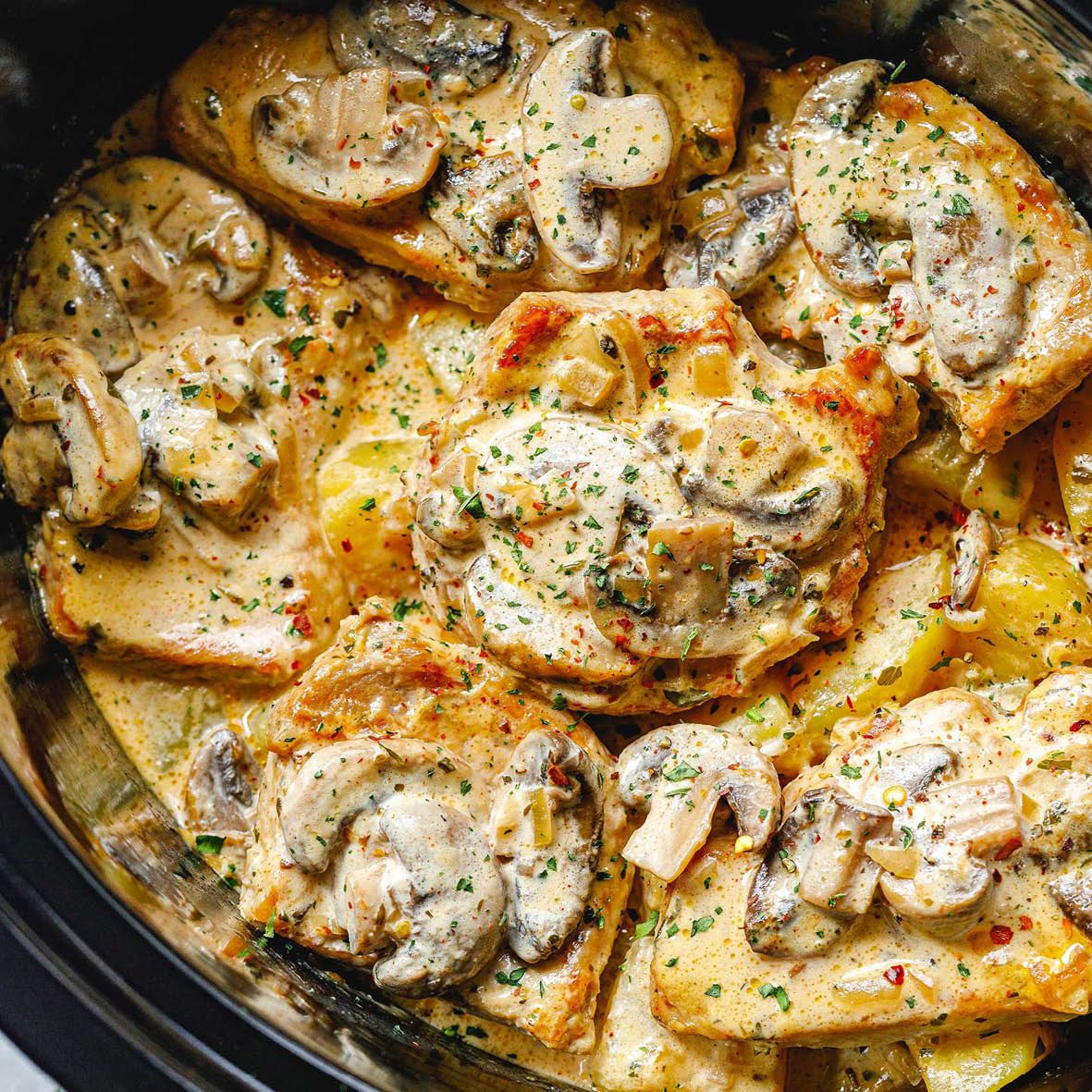 Slow-cooker creamy pork chops
Pop the slow-cooker on and sit back and relax while your tasty dinner cooks. If you don't have a slow cooker you can use a casserole dish and cook in the oven for 1 to 1 ½ hours at 180C, adding an extra ½ cup of cream to the recipe.
How long will it take?
4 ¼ hours
What's the serving size?
Serves 4
---
What do I need?
1 tbsp olive oil
4 cloves garlic, minced
1 cup cream
150 g sour cream
½ cup chicken stock
¾ cup grated parmesan
A pinch each of dried oregano, rosemary, thyme, parsley and chilli flakes
4 pork loin chops
750 g potatoes, peeled and diced
2 cups chopped button mushrooms
1 medium brown onion, finely chopped
Salt and freshly ground black pepper
Chilli flakes and parsley to serve (optional)
How do I make it?
In a saucepan over medium heat, add olive oil and garlic and cook for 1 minute, then add cream, sour cream and chicken stock and bring to a simmer before reducing heat to low and leaving to simmer for 10 minutes. Add Parmesan gradually, stirring well between each addition to ensure the sauce is smooth. Add dried herbs and stir through. Set aside.
Rub pork chops with a little olive oil and then sear on all sides in a large frying pan over high heat. Set aside.
Add peeled and diced potatoes to the slow cooker or casserole dish and season with salt and pepper. Lay seared chops on top of potatoes.
Use the frying pan that you used for the pork (do not wipe it out) to sauté the mushrooms and onion together, adding a little oil if necessary. Pour mushrooms and onion over the pork chops and potatoes.
Pour cream sauce over the ingredients in the slow cooker. Cook for 4 hours on high and serve garnished with some chilli flakes and parsley if desired.
---
Share this recipe
---
More recipes like this