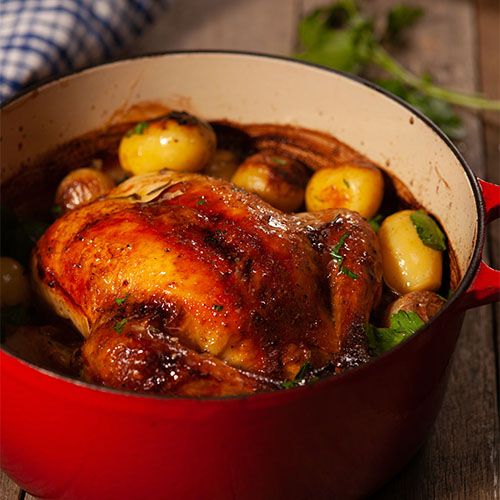 Creamy Lemon and Herb Pot Roasted Chicken
This is a great alternative to a roast chook. It's hearty without being heavy; the lemon and herbs create a vibrant freshness that balances the creaminess beautifully. A large Dutch oven or pot, at least 5 litres capacity is best for this recipe.
How long will it take?
2 hours
What's the serving size?
Serves 4 generously
---
What do I need?
1 lemon
1 whole chicken (approx. 1.8kg)
80g unsalted butter, melted
1 tsp garlic powder
1 tsp smoked paprika
4 sprigs fresh rosemary
6 cloves garlic, peeled
200ml chicken stock
700g baby potatoes, cut in half
350ml thickened cream
2 tablespoons fresh oregano, roughly chopped
1 tablespoon fresh tarragon, roughly chopped
100ml dry white wine
1 tablespoon fresh parsley, optional
Table salt and ground black pepper
How do I make it?
Pre-heat oven to 220C.
Prick the lemon with a knife in several places and insert the lemon into the chicken's cavity. Place the chicken inside a large Dutch oven or baking dish.
Mix the melted butter, garlic powder, paprika, 1 teaspoon salt and ½ teaspoon of pepper and rub the mix all over the chicken. Add the rosemary, garlic and chicken stock to the pot, cover with a lid and roast for 1 hour.
Remove from the oven and add the potatoes, cream, oregano, tarragon, and white wine. Gently stir to combine, return to the oven and cook, uncovered, for 45 minutes or until the chicken is cooked.
Garnish with parsley and serve.
---
Share this recipe
---
More recipes like this