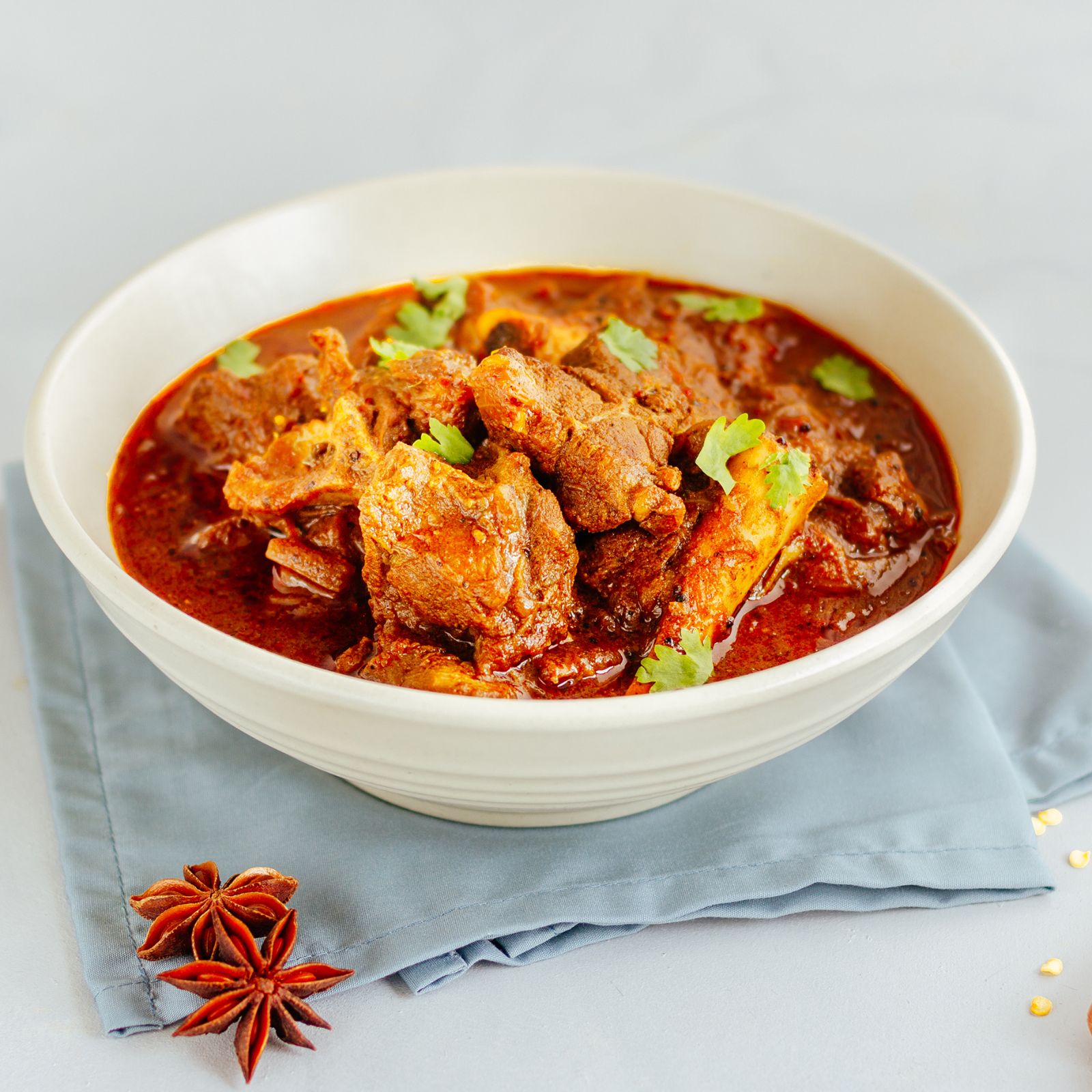 Lamb Vindaloo
This spicy lamb vindaloo is inspired by the more traditional Goan Pork Vindaloo. For maximum flavour, allow the lamb to marinate for at least 2 hours, preferably overnight.
How long will it take?
1 ¾ hours, plus marinating time.
What's the serving size?
Serves 4
---
What do I need?
For the marinade
3 red chillies, roughly chopped
1 tbsp cumin seeds
1 tbsp coriander seeds
1 tsp black cardamom seeds
1 tsp fenugreek seeds
2 ½ cm piece of cassia bark
10 black peppercorns
½ tsp dried turmeric
4 green chillies, diced
100 mL red wine vinegar
2 tbsp brown sugar
1 tbsp ginger, minced
1 tbsp garlic, minced
Other ingredients
800 g diced lamb leg
3 tbsp canola oil, divided
6 cloves garlic, chopped
1 tsp brown mustard seeds
10 curry leaves
2 brown onions, finely chopped
Pinch of salt
400 g tomatoes, chopped
1 tsp chilli powder
2 bay leaves
Juice of 1 lime

How do I make it?
Place cumin, coriander, cardamom, and fenugreek seeds in a frying pan over medium heat with cassia bark and peppercorns. Roast for a couple of minutes until the spices are fragrant but not smoking.
Remove from heat and set aside to cool slightly. When cooled add to a food processor and blend to a fine powder. Add turmeric powder, red chillies, green chillies, red wine vinegar, brown sugar, ginger and garlic and blend to make a smooth paste.
Put the diced lamb in a large bowl and add marinade, then stir well to coat the lamb.
Leave to marinate overnight or for a minimum of 2 hours.
When ready to cook, heat 2 tbsp canola oil in a large frying pan over low heat.
Add the chopped garlic and allow to cook gently for 5 minutes, or until it is soft and lightly browned. Remove garlic from the pan and set aside.
Increase heat to medium high and return the pan to the cooktop. Add remaining canola oil and heat until the oil is beginning to shimmer.
Add mustard seeds and when they begin to crackle, add the curry leaves. Fry for about 30 seconds or until the curry leaves are very fragrant, then add chopped onions.
Fry onions, mustard seeds and curry leaves for 5 minutes or until the onions are soft and translucent. Sprinkle a pinch of salt over the onions to release moisture.
Add chopped tomatoes, chilli powder, bay leaves, lamb and marinade to the pan and add enough water to just cover.
Leave to simmer for 1 ½ hours or until the lamb is very tender.
Stir in cooked garlic, then squeeze lime juice over the top and serve.
---
Share this recipe
---
More recipes like this