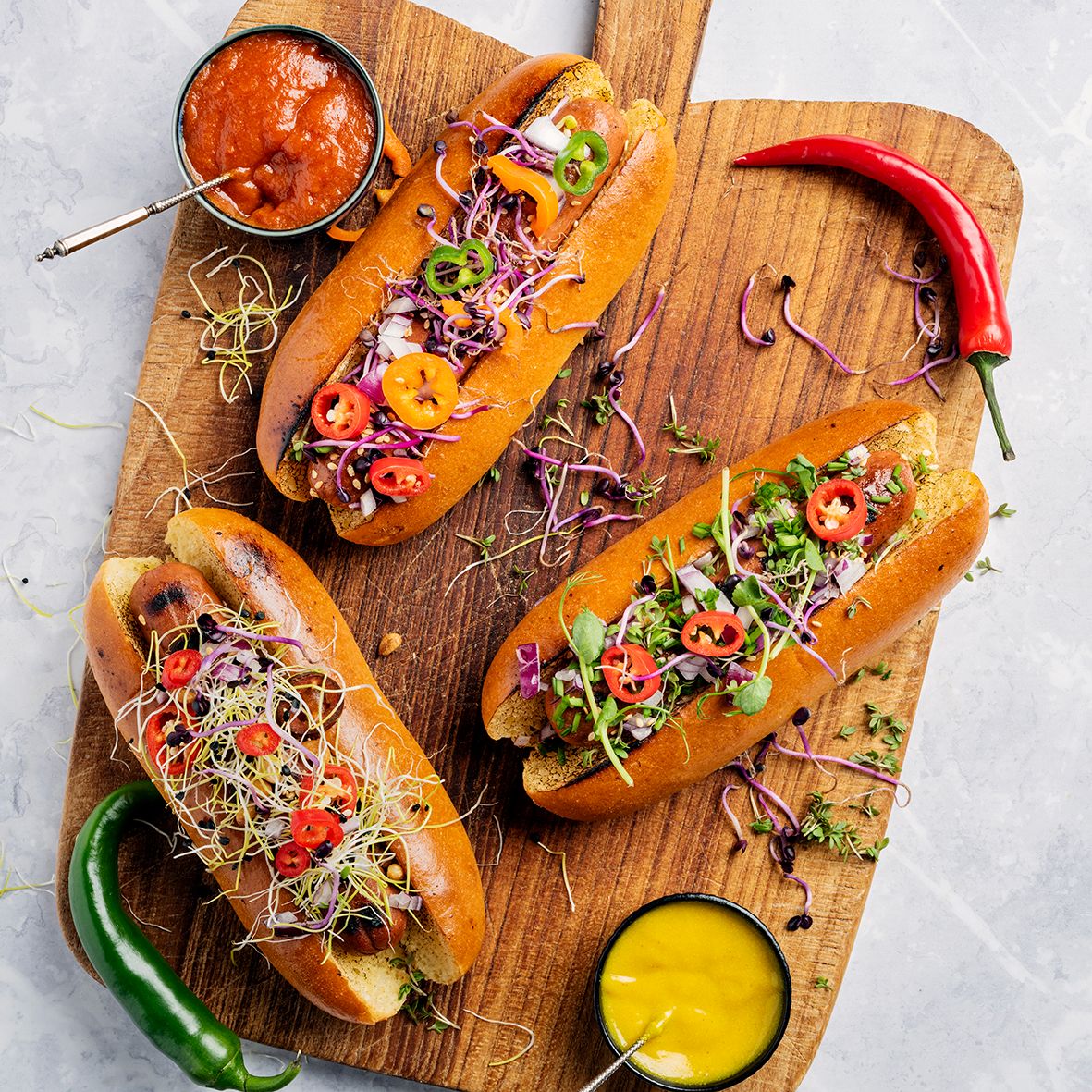 Sausage Sandwiches with Quick and Easy Tomato Chutney
Public holidays, summer and barbecues are the perfect combination and if you want to go beyond the good old sausage in bread, try our Sausage Sandwiches. Fully loaded with salad, pickles, chilli and onion, they are served with a delicious homemade tomato chutney that only takes 30 minutes to make.
How long will it take?
40 minutes
What's the serving size?
Serves 6
---
What do I need?
For the Tomato Chutney
2 tbsp olive oil
8 small, ripe tomatoes, chopped into small pieces
2 red onions, chopped
2 cloves garlic, minced
¼ cup sultanas
8 tbsp white wine vinegar
2 tbsp brown sugar
½ tsp paprika
2 red chillies, deseeded and chopped
1 tsp black pepper
3 cardamom seeds
For the Sausage Sandwiches
6 traditional beef sausages
6 rolls of your choice, we used brioche
2 tbsp butter
50 g pickles
1 red chilli, finely sliced
1 green chilli, finely sliced
½ red onion, finely sliced
Salad ingredients of your choice
How do I make it?
Make the chutney by heating oil in a deep saucepan over low-medium heat. Add onion and garlic and cook until softened. Add tomatoes and increase heat to high. Cook for 2 minutes, then add sultanas, vinegar, brown sugar, paprika, chilli, pepper, and cardamom. Reduce heat to medium and simmer, uncovered for 20 minutes or until thickened. Remove from heat and blend with a stick blender. Set aside.
Meanwhile, cook sausages on the barbecue or in a grill pan. Split the rolls and butter the inside, then lightly toast on the barbecue.
Assemble sandwiches by adding a sausage to each roll, then top with onion, chillies, and salad ingredients. Serve with the chutney and mustard.
---
Share this recipe
---
More recipes like this