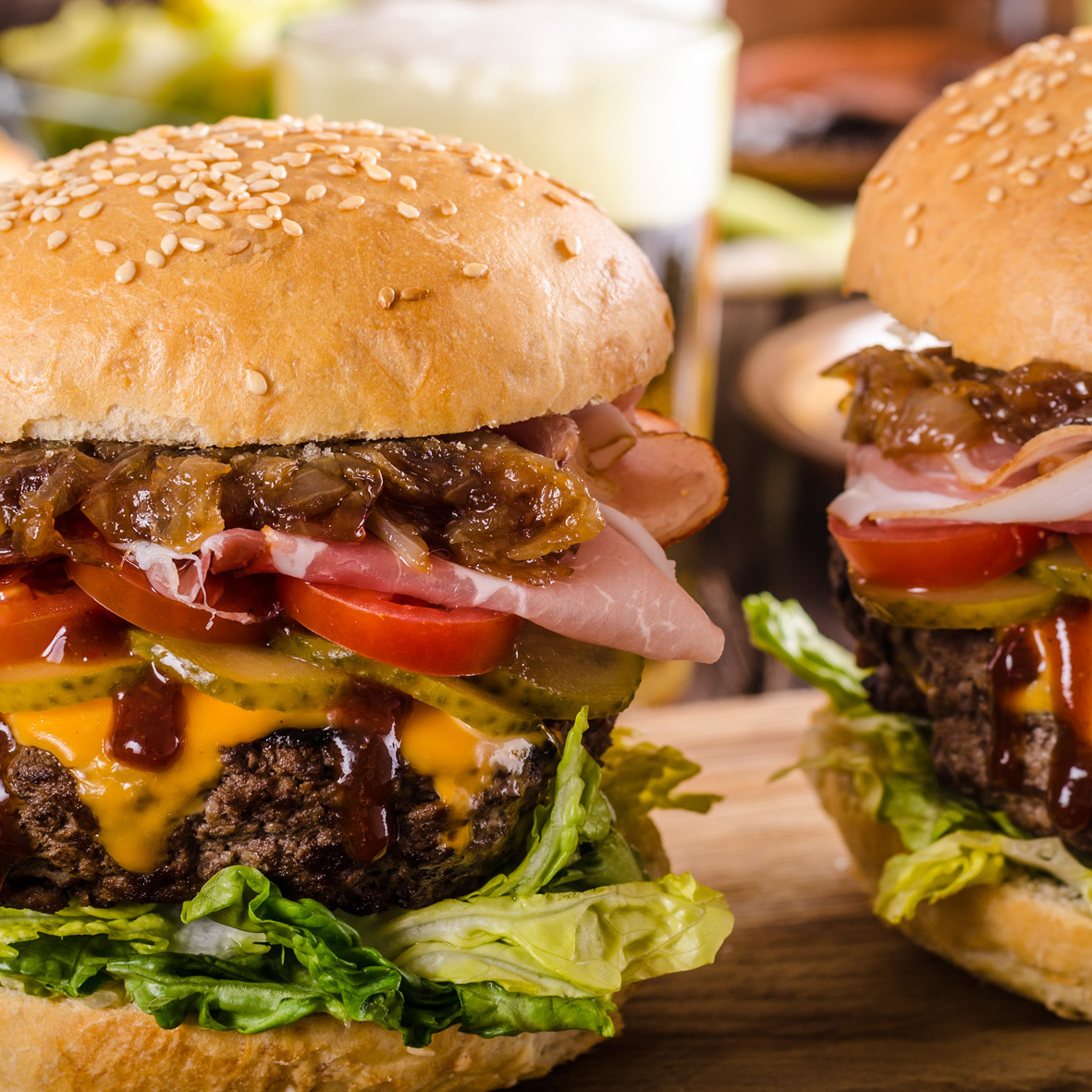 Blue-cheese stuffed burgers with streaky bacon
Make your burger better by filling it with blue cheese!
How long will it take?
45 minutes
What's the serving size?
Makes 4
---
What do I need?
For the burgers
800g beef mince
½ cup crumbled blue cheese
1 cup mushrooms
Soy sauce to taste
Worcestershire sauce to taste
Tabasco sauce to taste
1 tbsp olive oil
For the caramelised onions
4 medium onions, sliced
2 tbsp olive oil
¼ cup water
1 tbsp balsamic vinegar
¼ tsp salt
For the toppings
Extra blue cheese if desired
Streaky bacon, cooked nice and crispy
Lettuce
4 burger buns
Dill pickles (if desired)
How do I make it?
Begin by making the caramelised onions by cooking onions and sugar in hot oil over low heat for 20 to 25 minutes, stirring often. Stir in ¼ cup water, vinegar, and ¼ tsp salt.
Make burger patties by blending the mushrooms in a food processor until smooth. Add the pureed mushrooms to a large bowl and mix with the mince, soy, Worcestershire and Tabasco sauces.
Shape the burgers into 8 patties using your hands and then place 1/8 cup of blue cheese on top of 4 of the patties. Cover each of blue-cheese patties with one of the plain patties and shape into a burger shape using your hands – make sure you seal the blue cheese inside.
Brush the burgers with olive oil and add them to a grill pan over medium-high heat. Cook until the burger until it measures 75C when tested with a thermometer.
Serve on the burger buns (you can toast them if you like) with the caramelised onion, streaky bacon and other toppings of your choice.
---
Share this recipe
---
More recipes like this