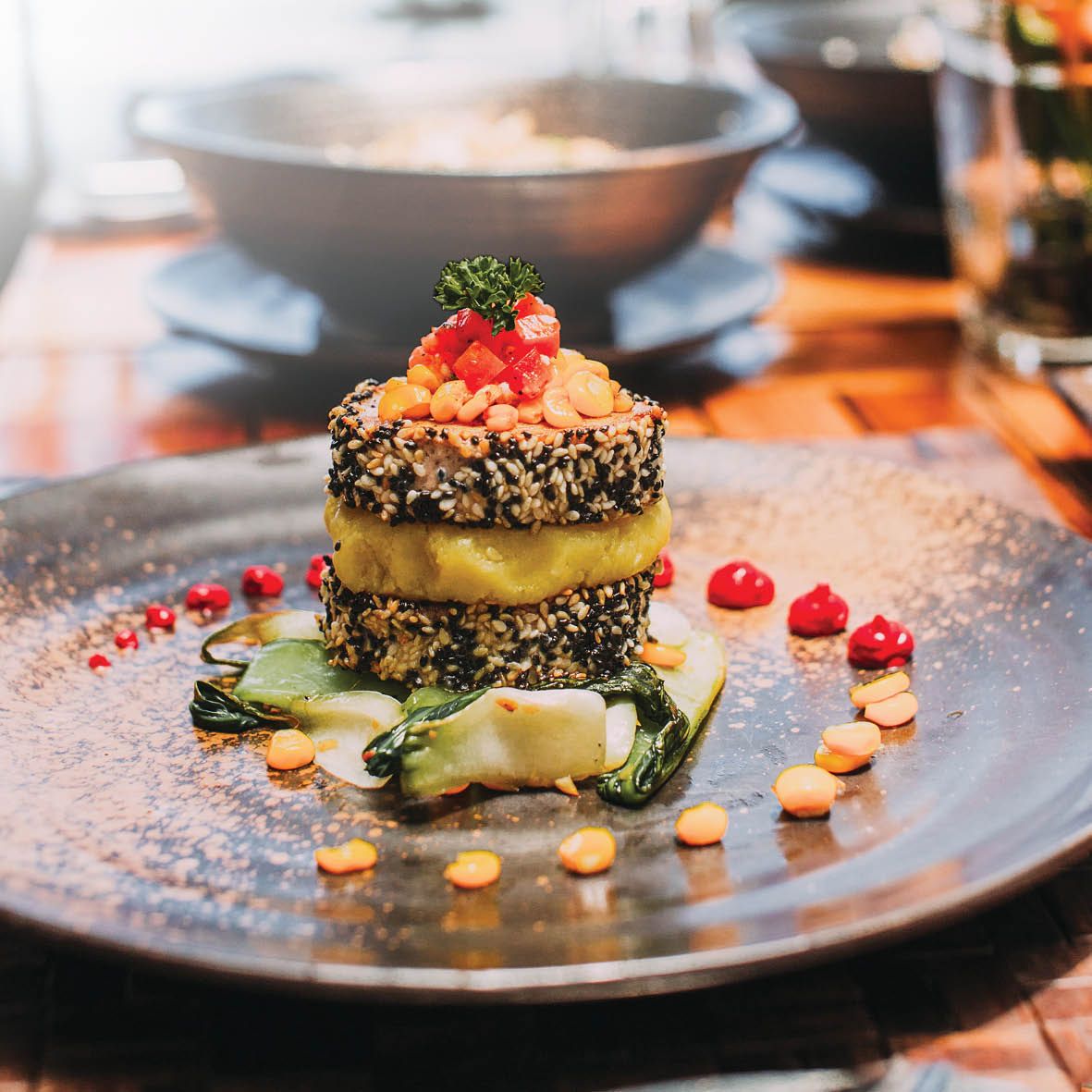 Sesame-Crusted Salmon Stack
This is a dish that ticks all the boxes; fresh, flavourful and it looks great on the plate, making it ideal for entertaining or a special occasion.
How long will it take?
Serves 4
What's the serving size?
1 hour
---
What do I need?
2 truss tomatoes
400 g can cannellini beans, drained and rinsed
Freshly ground black pepper
500 g bintje potatoes
2 tbsp unsalted butter
Salt
Pak Choy
4 tbsp white sesame seeds
4 tbsp black sesame seeds
Cooking spray
1 kg salmon fillet, divided
Olive oil to drizzle
Parsley, for garnish
How do I make it?
Preheat oven to 180C.
Line a baking tray with baking paper and set aside.
Cut tomatoes into a small dice. Drain and rinse beans and add to a bowl with the tomatoes. Season with a little black pepper and set aside.
Peel potatoes, roughly chop and add to a pot of salted water. Bring to the boil and cook until the potatoes are tender.
Meanwhile prepare salmon by using a round shape such as a cookie cutter or a mug to cut out 8 rounds of salmon.
Add black and white sesame seeds to a shallow dish and mix together. Spray the salmon with cooking spray and place on its side into the sesame seeds. Use a rolling motion to cover the outside edge of the salmon with sesame seeds, pressing if needed to make the sesame seeds stick.
Arrange salmon rounds on lined baking tray and cook in the oven for 10-15 minutes or until cooked to your liking.
When potatoes are cooked drain and return to the pot with butter and a generous pinch of salt. Mash potato so that it is smooth but still holds its shape.
While salmon is cooking prepare pak choy by slicing off the end and separating the leaves. Add to a pot of simmering water and cook for 2-3 minutes or until tender and wilted. Remove from heat and drain.
To assemble, lay one salmon round on a plate. Use a spoon to scoop out approximately 2 tablespoons of mashed potato and shape it into a rough circle about the same size as the salmon round. Lay potato on top of salmon and then add another piece of salmon on top.
Arrange pak choy around the base of the stack and top with the bean and tomato mixture. Drizzle with a little olive oil, garnish with parsley and serve.
---
Share this recipe
---
More recipes like this