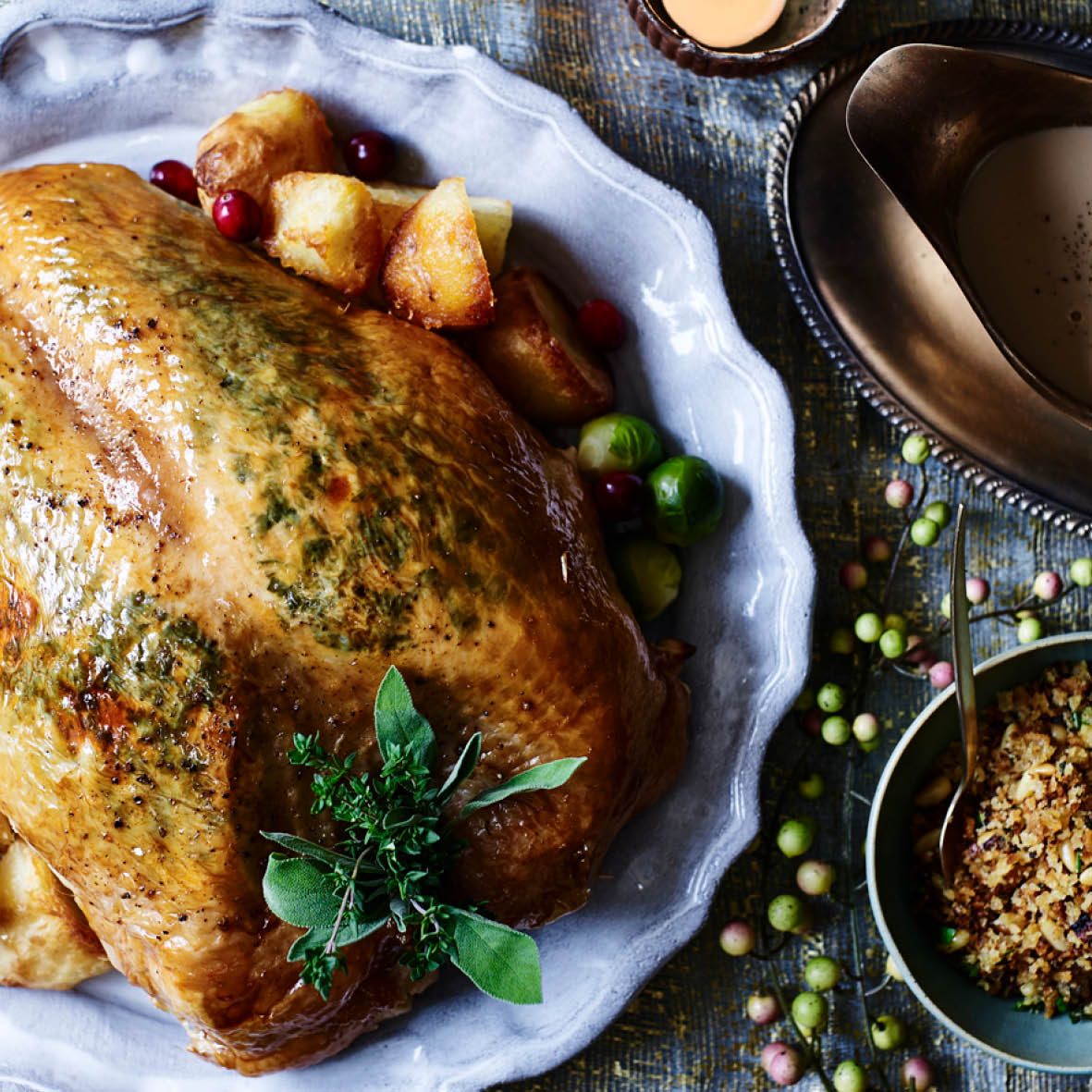 Herb Roasted Turkey Buffe
Flavourful fresh herbs feature in this delicious Christmas turkey roast
How long will it take?
2 ½ hours
What's the serving size?
Serves 10 - 16
---
What do I need?
For the herb butter
4 – 7 kg turkey buffe
200 g butter, softened
6 sprigs fresh thyme, leaves only
2 sprigs fresh rosemary, chopped leaves only
4 tbsp fresh parsley leaves, chopped
Salt
Freshly ground black pepper
For the stuffing
200g butter
1 large onion, finely chopped
2 sprigs thyme, chopped
2 sprigs rosemary, chopped leaves only
12 fresh sage leaves, chopped
250g fresh breadcrumbs
Zest of 1 large or 2 small lemons
75g pine nuts
1 ½ tsp sea salt
Freshly ground black pepper
5 tbsp fresh parsley, chopped
How do I make it?
Preheat oven to 200C.
Mix herbs and butter together, season with salt and pepper.
Use your fingers to separate the skin from the flesh of the turkey. Spread herbed butter under the skin. Season turkey and place in a roasting pan.
Cook for 15 minutes, then reduce heat to 180 and cook for 2 hours or until juices run clear. Cover with foil and set aside to rest for 30 minutes.
To make the stuffing, melt butter in a large frying pan and sauté onion until soft. Stir in chopped herbs and cook for 1 minute, then add breadcrumbs and stir well. Add lemon zest and pine nuts and season. Cook over medium heat until the crumbs start to brown and crisp. Remove from heat, add in parsley and serve warm.
---
Share this recipe
---
More recipes like this