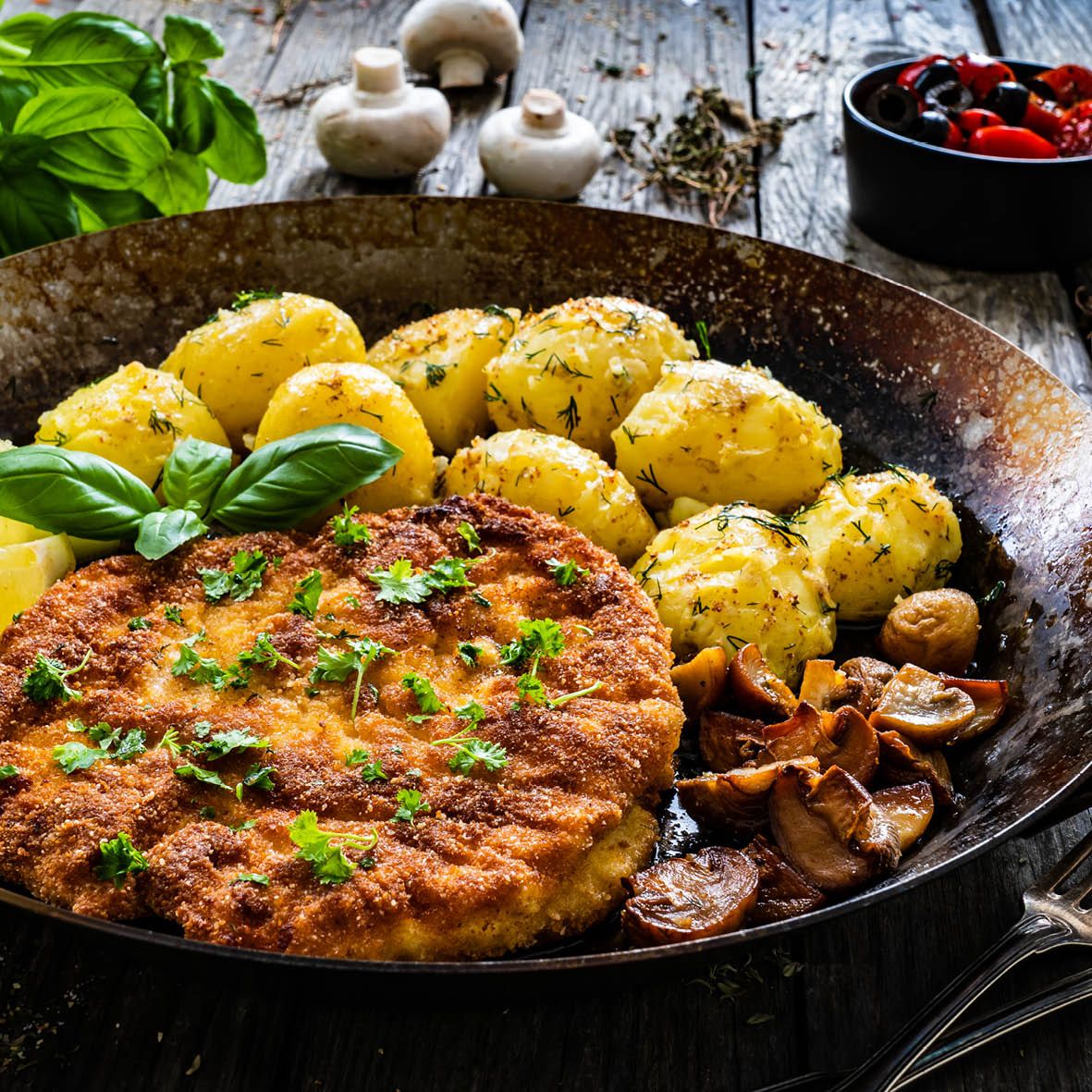 Crispy Chicken Schnitzel with Greek Lemon Potatoes
Salad and chips with your schnitzel is so yesterday! For the absolute best accompaniment for that crumbed piece of chickeny goodness, you just have to have Greek Lemon Potatoes. Crispy on the outside, fluffy on the inside with a fabulous lemon flavour they are the bomb!
How long will it take?
1 ¼ hours
What's the serving size?
Serves 4
---
What do I need?
8 small waxy potatoes such as Bintje, Dutch Cream or Pink Eyes
3 cloves garlic, minced
150 mL olive oil
150 mL water
1 tbsp dried oregano
Juice of 2 lemons
1 tsp semolina
Salt and freshly ground pepper
2 tbsp olive oil
1 tbsp butter
4 Wursthaus Chicken Breast Schnitzels
Lemon wedges to serve
How do I make it?
Preheat oven to 200C.
Peel potatoes and place in a roasting dish.
In a bowl combine garlic, olive oil, water, oregano, lemon juice and semolina. Pour over the potatoes and season well with salt and pepper.
Bake for 30 minutes, until a golden crust has formed on the potatoes, then turn them and return to the oven for a further 20 to 30 minutes. If all the liquid has been absorbed before they are fully cooked add ¼ cup hot water to the pan.
When potatoes are nearly cooked you can cook the schnitzel. Heat oil and butter in a non-stick frying pan. When the oil and butter is bubbling hot add the schnitzel; it should sizzle as it hits the pan. Cook for 4-5 minutes per side or until it is cooked through and crispy.
Serve schnitzels and potatoes with lemon wedges.
---
Share this recipe
---
More recipes like this