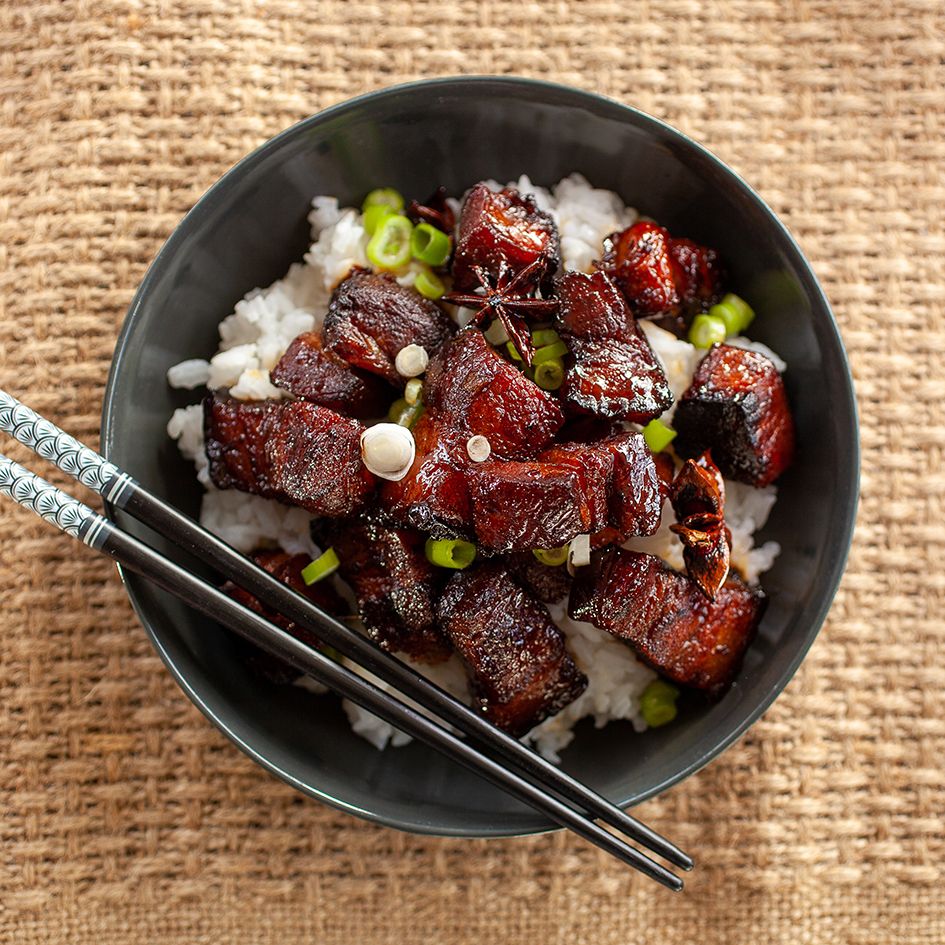 Hong Shao Rou (Red Braised Pork Belly)
A classic Chinese dish, this features tender pork belly coated in a sticky sauce that is packed with flavour.
How long will it take?
2 ¼ hours
What's the serving size?
Serves 4
---
What do I need?
1 kg pork belly, cut into 2 ½ centimetre cubes
For the blanching liquid
2 spring onions, chopped into 3cm pieces
1cm piece of ginger, sliced
For the braising liquid
2 tbsp vegetable oil
3 tbsp sugar
1/3 cup Shao Xing wine
2 cups reserved blanching liquid
4 ½ tbsp soy sauce
2 cm piece of ginger, sliced
3 spring onions, chopped into 3cm pieces
2 star anise
How do I make it?
Place the pork belly, spring onions and ginger in a medium sized saucepan. Add enough water to cover the meat and bring to the boil. Boil for 5 minutes before skimming the surface to remove the foam from the top until the liquid is clear.
Strain pork and reserve the blanching liquid. Rinse pork with running tap water to rinse any foam that may have stuck to it. Dry the pork on paper towel.
In a clean, dry large saucepan add sugar and vegetable oil. Cook over medium heat until the sugar melts and begins to turn a caramel colour. Carefully add the pork, have a pan splash guard or lid ready as the pork will spit. Caramelise the pork on all sides, being careful not to burn the sugar. Add Shao Xing wine and scrape the pan with a wooden spoon to release any browned bits. Add 2 cups of blanching liquid, soy sauce, ginger, spring onions and star anise. Increase heat to medium-high until the liquid comes to a boil, then reduce heat so that the liquid is gently simmering. Cover with a lid, leaving a gap to allow steam to escape. Simmer for 1 ½ hours, stirring every 30 minutes.
If the sauce has not fully reduced to a glaze consistency after 1 ½ hours, continue cooking for a further 10 to 15 minutes, watching to avoid burning.
Serve pork with rice and garnish with additional spring onion.
---
Share this recipe
---
More recipes like this