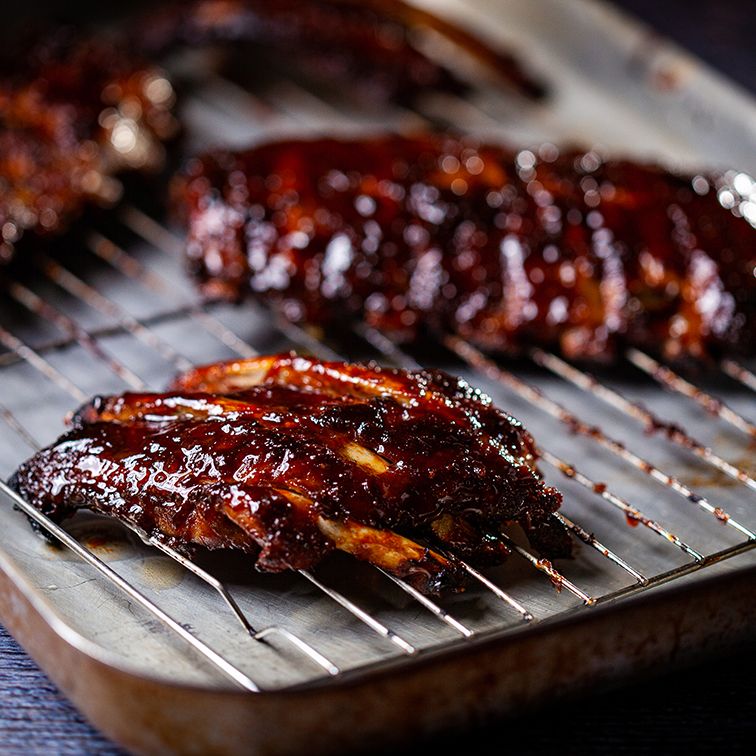 Honey & Whiskey Glazed Ribs
What could be more perfect for a Father's Day feast than ribs glazed with whiskey? These are just the right blend of sticky, sweet and spicy and are quite easy to make; you can make the sauce in advance and keep in the fridge for up to 3 days.
How long will it take?
5 hours
What's the serving size?
Serves 6
---
What do I need?
2 kg pork baby back rib rack
250 mL apple juice
For the rub
2 tbsp white sugar
2 tbsp brown sugar
½ tbsp ground mustard powder
½ tbsp garlic powder
½ tbsp onion powder
2 tbsp paprika
1 ½ tbsp table salt
½ tbsp freshly ground black pepper
½ tbsp cumin
For the sauce
½ cup honey
½ cup whiskey, plus 1 tbsp
3 tbsp hoisin sauce
2 tbsp Dijon mustard
1 tbsp molasses
¼ cup tomato sauce
3 tbsp apple cider vinegar
4 tsp soy sauce
1 tbsp Worcestershire sauce
2 tsp sriracha
½ tsp freshly ground black pepper
How do I make it?
Preheat oven to 110C.
Mix the rub ingredients together and sprinkle onto each side of the ribs, pressing to ensure they are well-coated.
Lay two large pieces of foil on a baking tray and add half the ribs, meat side up. Fold one piece of foil to create a pocket around the ribs, leaving one side open. Pour half the apple juice into the foil, then seal the foil. Securely wrap with the remaining layer of foil and repeat with remaining ribs. Coo k in the oven for 4 ½ hours.
Meanwhile, make the sauce by combining all ingredients, except 1 tbsp of whiskey, in a saucepan and bring to the boil. Reduce heat and simmer until the mixture has reduced by a third, stirring frequently. Remove from heat and stir in 1 tbsp whiskey.
Turn grill onto medium-high heat (approx. 220C).
Line a tray with fresh foil and place a wire rack on top. Remove the ribs from the foil pocket and place on the wire rack, bone side up. Coat ribs with half the sauce, place under the grill and cook for 5 minutes, or until the sauce starts to bubble and darken in colour. Flip the ribs over, glaze with remaining sauce and cook until the sauce starts to bubble and darken. Remove from the grill and serve immediately.
Video & photography by David Pyefinch, food by Sarah Joseph
---
Share this recipe
---
More recipes like this