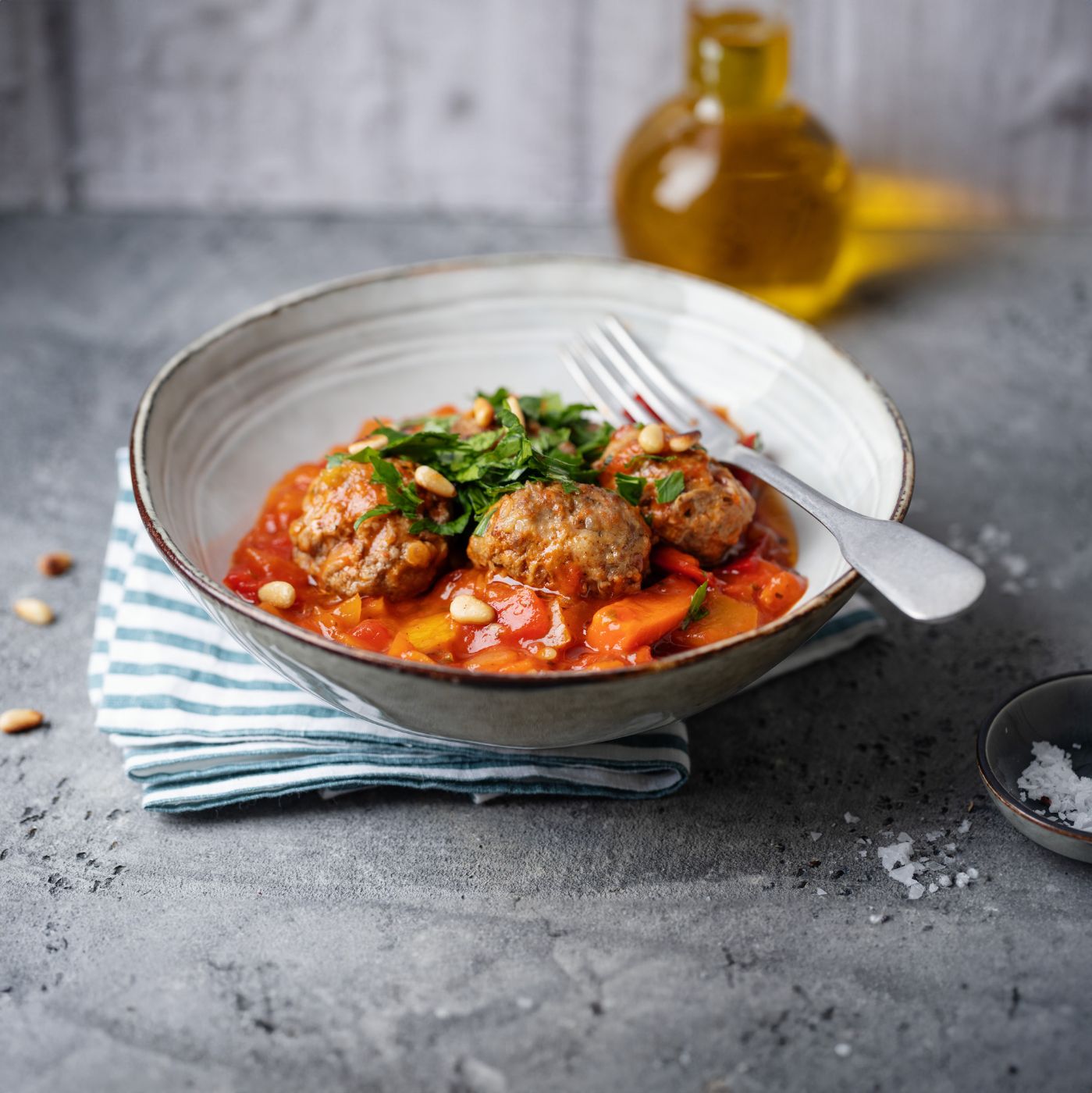 Pork Meatballs with Tomato and Capsicum Sauce
Warm and comforting, this recipe features budget-friendly pork mince as the key protein. Pork mince meatballs are transformed into something special by being cooked in a tasty tomato and capsicum sauce. Enjoy leftovers (if there are any) in a crusty roll for lunch tomorrow.
How long will it take?
1 hour
What's the serving size?
Serves 4
---
What do I need?
500 g pork mince
2 eggs, lightly beaten
½ cup breadcrumbs
1 tsp smoked paprika
1 tsp salt
¼ tsp freshly ground black pepper
¼ tsp ground nutmeg
80 mL olive oil
1 large brown onion, thinly sliced
4 cloves garlic, sliced
1 large red capsicum, seeded and cut into thin strips
2 x 400 g cans whole peeled tomatoes
100 mL white wine
50 g pine nuts
½ cup flat leaf parsley, finely chopped, to garnish
How do I make it?
Add pork mince, eggs, breadcrumbs, paprika, salt, pepper, and nutmeg to a large bowl and mix well to combine. Cover and refrigerate for 20 minutes.
Meanwhile, prepare the sauce by adding half the olive oil to a frying pan over medium heat. Add onion and cook until starting to soften, then add garlic and cook for a further 2 minutes. Add capsicum, and cook for 5 minutes, stirring frequently, then add tomatoes and cook for 5 minutes, using a spoon to break the tomatoes down a little. Pour in wine, reduce heat to low and simmer for 10 minutes, stirring occasionally, until the capsicum is soft and the sauce has thickened.
Roll pork mixture into balls, slightly smaller than golf ball size. Heat reserved olive oil in a frying pan over high heat. Cook meatballs in batches, until browned. Transfer meatballs to sauce and cover pan with a lid. Cook on a low simmer, for 10 minutes, then toss in pine nuts, and continue cooking for a further 2 minutes, or until meatballs are cooked through. Serve garnished with parsley.
---
Share this recipe
---
More recipes like this