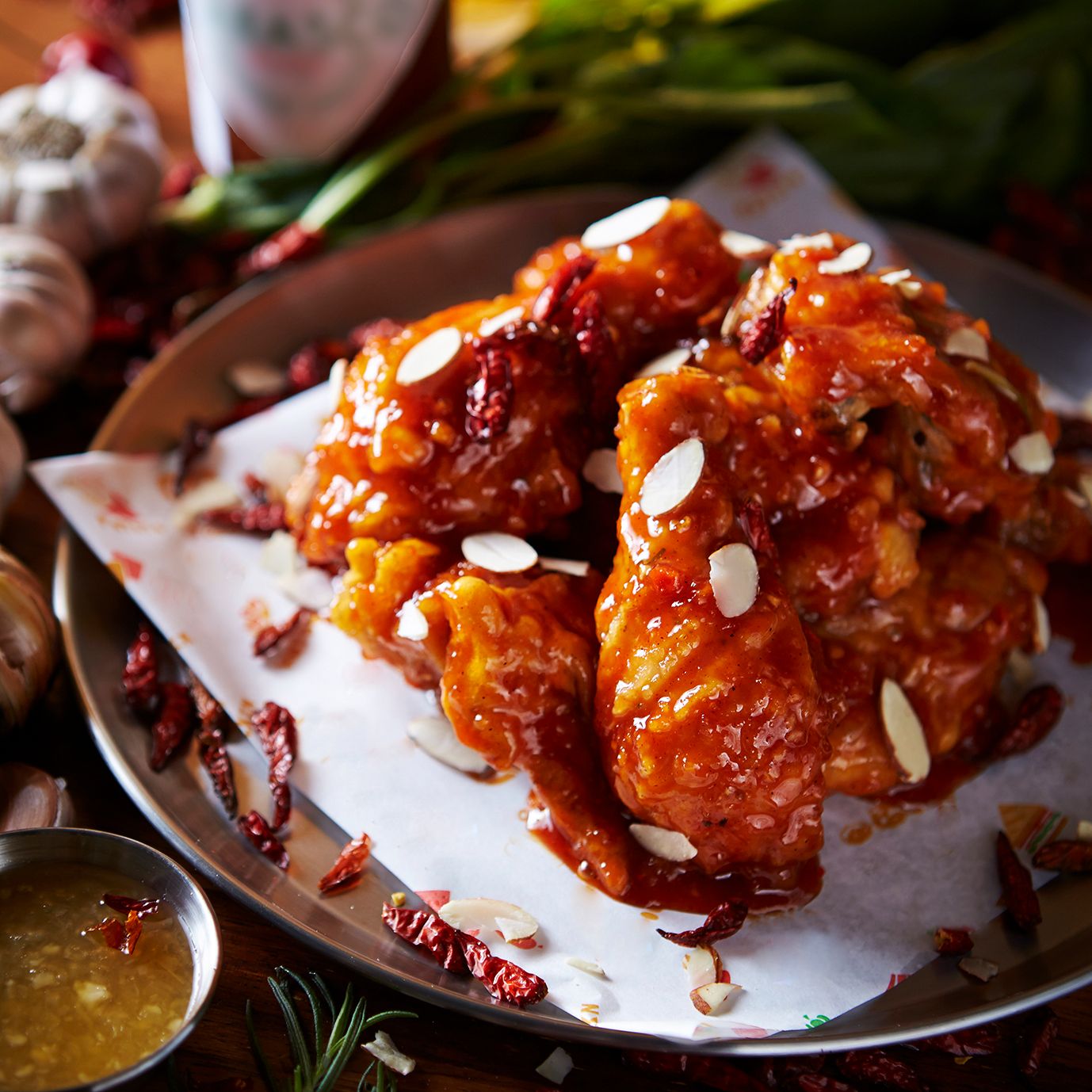 Korean Spicy Chicken
Not all fried chicken comes from Kentucky! Indeed, it is a popular dish in many cuisines around the world. This Korean Spicy Chicken features a sauce with a kick but if spice is not your thing you can adjust the recipe to suit your taste. And if you like it extra hot you can add more chilli paste to the sauce or drizzle with tabasco sauce when serving.
How long will it take?
30 minutes
What's the serving size?
Serves 4
---
What do I need?
20 chicken wings or 12 chicken drumsticks
3 cups cornflour, divided
1 cup plain flour
2 tsp salt
2 cups water
2 litres vegetable oil, for frying
Flaked almonds to serve
For the Sauce
4 tbsp soy sauce
½ cup honey
¼ cup rice wine vinegar
2 – 3 tsp chilli paste
3 cloves garlic, minced
1 ½ tbsp ginger, minced
How do I make it?
Add 2 cups cornflour to a shallow bowl and set aside.
In a large mixing bowl combine 1 cup cornflour, plain flour, salt and water and mix until smooth.
Heat vegetable oil in a saucepan to 170C.
Dip chicken pieces into the cornflour to coat.
Shake off excess cornflour, then put chicken into the bowl of batter. Remove and allow the excess batter to drip off before adding chicken in batches to the oil. Cook for 7 minutes or until light golden brown.
Remove from oil and drain on paper towel.
Increase heat to 190C, then return chicken to the oil and cook again until golden brown and crisp. Drain on paper towel.
Add sauce ingredients to a frying pan over high heat. Bring to the boil and then reduce heat to a simmer. Simmer, uncovered for 2 minutes, then remove from heat and pour sauce over the chicken pieces.
Sprinkle with flaked almonds and serve immediately.
---
Share this recipe
---
More recipes like this