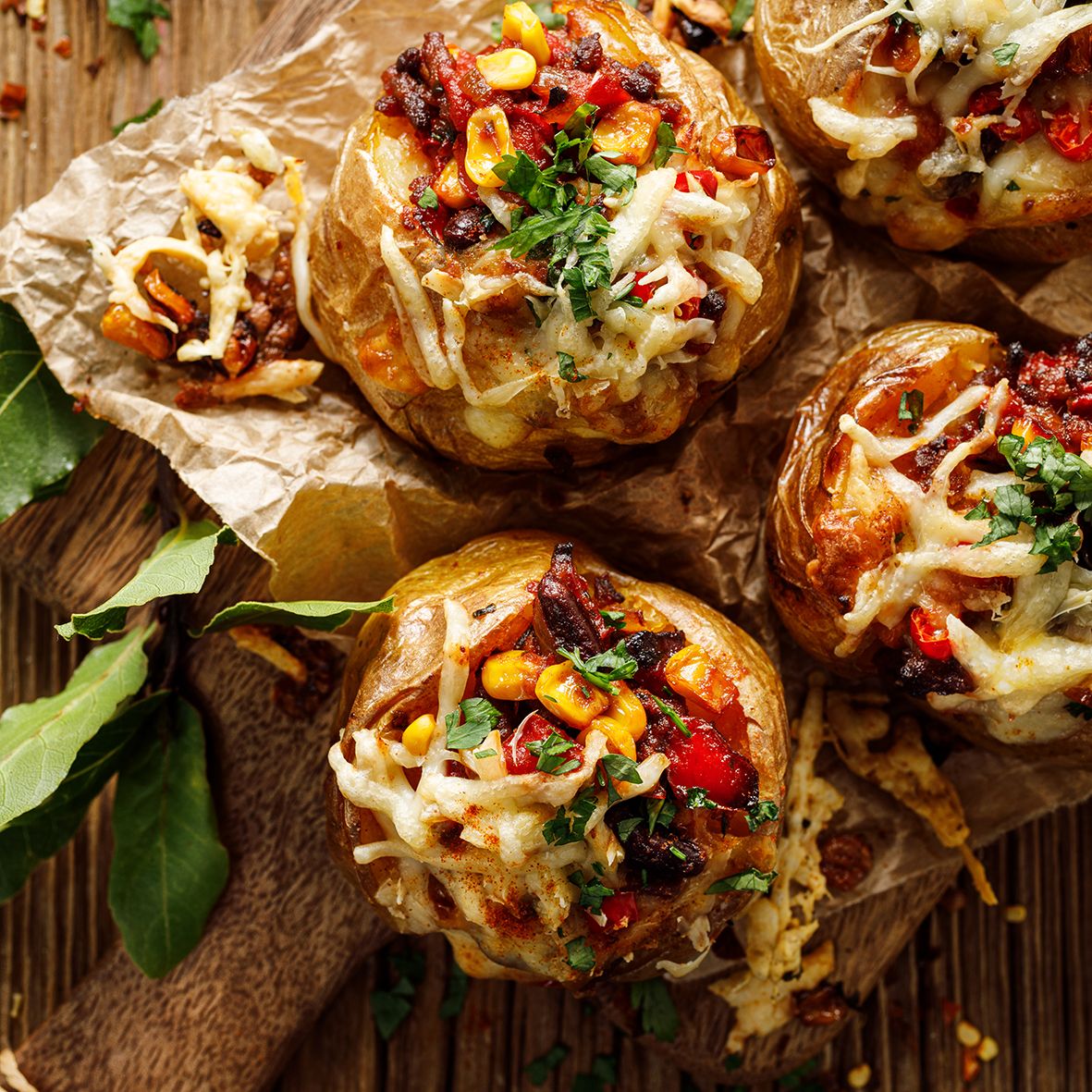 Chilli Con Carne Potatoes
That Autumn chill has got us craving hearty, comfort food so we've created this tasty fusion of potatoes with the Tex-Mex classic Chilli Con Carne. We used the mild flavour of red capsicum in our Chilli to keep it kid-friendly, but if you want a bit of spice replace the capsicum with jalapenos.
How long will it take?
1 ¼ hours
What's the serving size?
Serves 4
---
What do I need?
4 large potatoes, washed
2 tbsp olive oil
400 g beef mince
1 brown onion, finely chopped
4 cloves garlic, minced
½ red capsicum, finely diced
1 tsp ground cumin
1 tsp ground coriander
½ tsp paprika
1 tbsp tomato paste
2 x 400 g tins chopped tomatoes
200 g tinned red kidney beans, rinsed and drained
200 g tinned corn kernels, rinsed and drained
80 g cheddar cheese, grated
Sour cream, to serve
Coriander leaves, finely chopped, to serve
How do I make it?
Preheat oven to 180C.
Line a baking tray with baking paper. Prick potatoes with a fork and place on tray. Bake for 1 hour or until cooked through and tender.
Meanwhile, heat oil in a frying pan over medium heat. Add beef mince and cook for 5 minutes, then transfer to a bowl and set aside.
Reduce heat to medium-low and add onion, garlic, and capsicum. Cook, until onion is soft, about 5 minutes. Add cumin, coriander, paprika and tomato paste and cook for a further 2 minutes. Return beef mince to the pan and toss in chopped tomatoes. Reduce heat to low and simmer uncovered for 5 minutes. Add beans and continue simmering for a further 3 minutes, then add corn and cook for 2 more minutes.
To serve, cut open potatoes and top with the chilli mixture, then sprinkle with cheese. Serve sprinkled with coriander leaves and with sour cream.
---
Share this recipe
---
More recipes like this