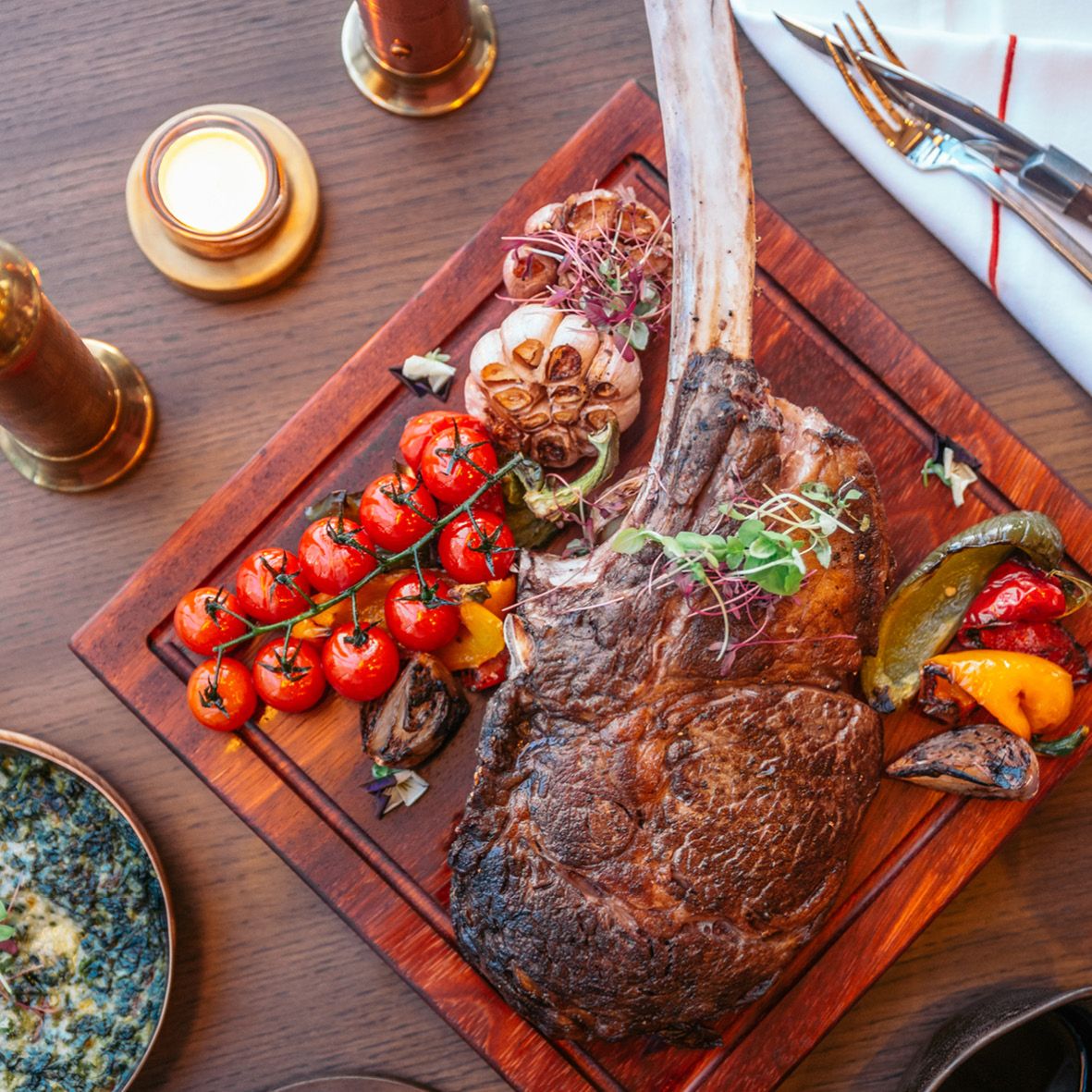 Grilled rib-eye with Paris mash, baked spinach cheese and red wine jus
Fit for a king, this Father's Day meal is the perfect way to show your dad how special he is.
How long will it take?
1 hour
What's the serving size?
Serves 2
---
What do I need?
For the Paris Mash
500g Dutch Cream potatoes
¼ cup milk
100ml cream
75g butter, at room temperature
For the Baked Spinach Cheese
250g fresh spinach
50g butter
½ large onion, diced
1 clove garlic, minced
¼ cup mozzarella, grated
¼ cup Grana Padano, grated
Pinch of nutmeg
Salt and pepper
For the Red Wine Jus
75ml dry red wine
75ml beef stock
1 tbsp butter
1 sprig fresh rosemary
1 clove garlic
Salt and pepper to taste
How do I make it?
To cook the rib-eye preheat oven to 180C.
Brush rib eye generously with olive oil and season with salt.
Heat an oven-proof grill pan over high heat and cook rib-eye for 3-4 minutes per side until they are browned and have char marks. Use tongs to hold every surface of the steak against the pan so that it is browned all over.
Place pan in the oven and cook for 10-15 minutes for medium. The cooking time will depend on the thickness of the rib-eyes. Remove from oven and rest covered with foil for 10 minutes before serving.
For the Paris Mash
Peel potatoes and cook in a saucepan of salted water until tender. Drain and pass through a potato rice into a non-stick frying pan.
Combine milk and cream in a saucepan and bring almost to the boil and then remove from heat.
Stir potato over low heat and then add milk and cream mixture and butter, in batches. Beat with a wooden spoon until the mas is smooth and fluffy. Season with salt and pepper.
For the Baked Spinach Cheese
Coarsely chop the spinach.
In a frying pan, melt butter over medium heat and add onion and garlic. Sauté for 2 minutes before adding spinach, salt and pepper.
Cover and reduce heat to a low simmer. Cook for a further 2 minutes.
Remove from heat.
Put half the cheeses into a greased casserole dish, add spinach and a pinch of nutmeg. Cover with remaining cheese.
Bake at 180C for 10-15 minutes or until cheese has browned.
For the Red Wine Jus
Melt butter in a small saucepan over low heat.
Crush garlic and add to saucepan with rosemary.
Add wine and simmer over medium heat until volume has reduced by half.
When reduced add stock, salt and pepper.
Simmer over medium heat until volume has reduced by half again.
Strain jus through a fine sieve to remove garlic cloves and rosemary.
---
Share this recipe
---
More recipes like this