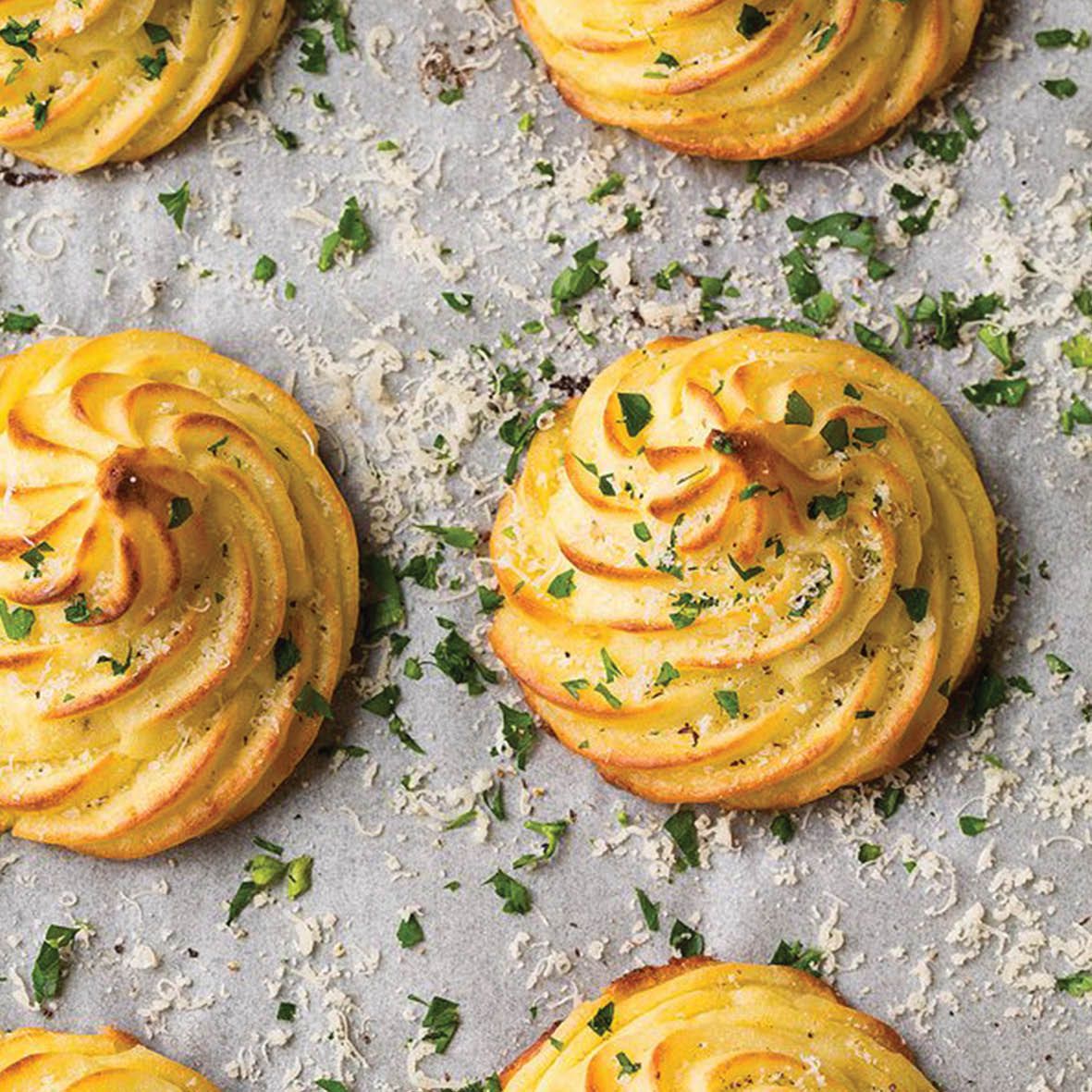 Garlic and Parmesan Duchess Potatoes
How do you make mashed potato look pretty? You turn it into a Duchess Potato! Crispy on the outside and light and fluffy inside they are the perfect side dish for a special occasion.
How long will it take?
Takes 1 hour
What's the serving size?
Makes 12
---
What do I need?
1.5 kg potatoes – choose a waxy variety like Bintje, Dutch Cream, Up-to-Date or King Edward
1 tbsp salt
6 tbsp butter, divided
3 cloves garlic, minced
2 tbsp milk
2 tbsp cream
½ cup finely grated parmesan
4 egg yolks
Flat leaf parsley, finely chopped, to garnish
How do I make it?
Preheat oven to 210C.
Line a baking tray with baking paper.
Peel and cut potatoes into 2 ½ centimetre cubes. Add potatoes to a large saucepan and cover with cold water. Add salt and bring potatoes to the boil over medium-high heat, then reduce temperature to medium-low. Cover with a lid and leave to simmer until potatoes are cooked through. Drain potatoes and put them into a large bowl. Mash until smooth.
Add 4 tbsp butter to a small saucepan and melt over medium heat. Add garlic and cook until the garlic is softened and golden. Remove from heat and add milk and cream, stirring to combine.
Pour butter mixture over potatoes and add parmesan. Stir to incorporate and season to taste. Set aside to cool for a few minutes.
Add egg yolks to potatoes, one at a time, stirring well between each addition.
Transfer potatoes to a piping bag fitted with a large star tip. Pipe out 12 mounds onto baking tray, then brush each with remaining 2 tbsp melted butter.
Cook for 15 – 20 minutes or until golden brown.
Serve sprinkled with parsley.
---
Share this recipe
---
More recipes like this