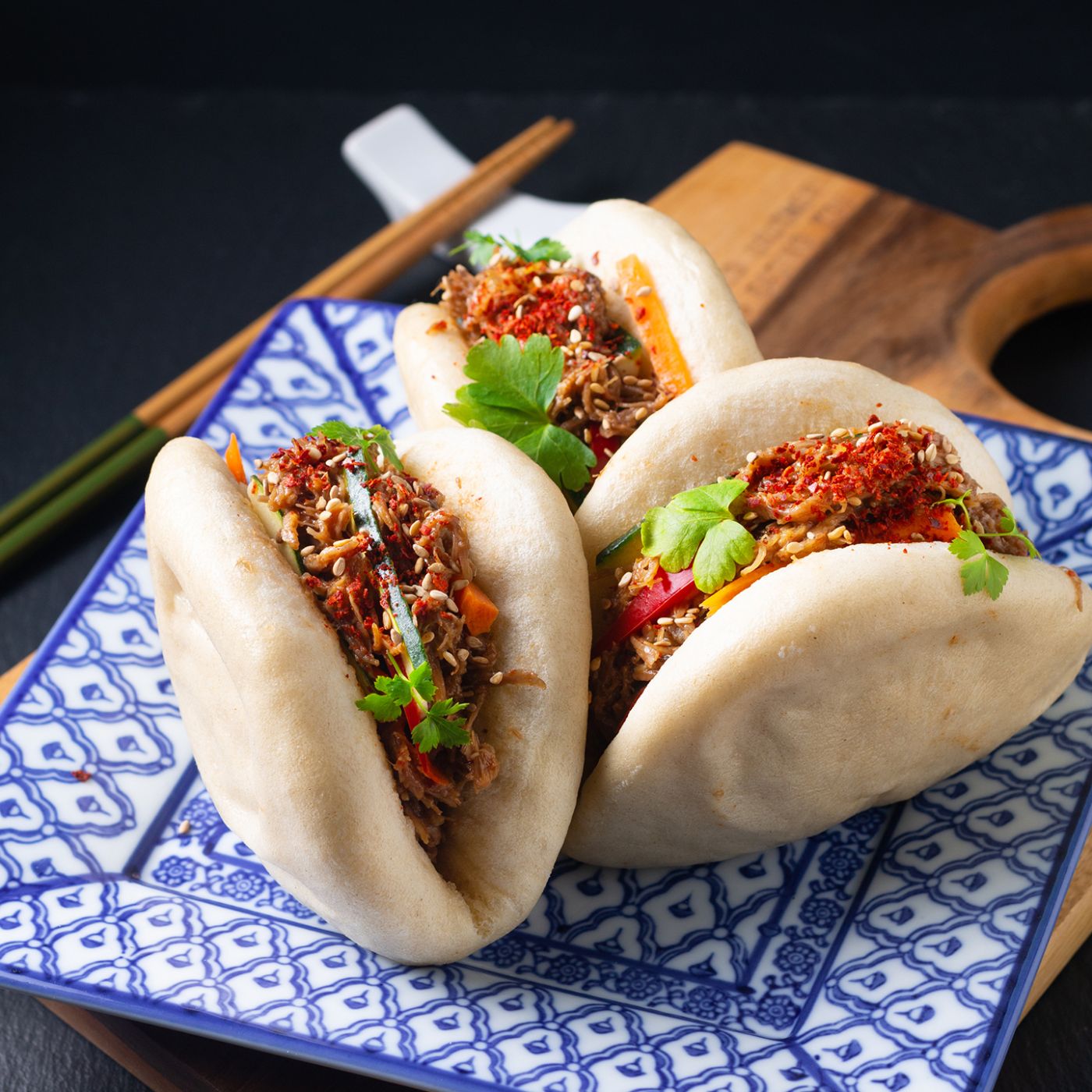 Slow Cooked Beef Brisket Bao
Treat Dad this Father's Day with this dish made with love and filled with flavour. Featuring slow cooked beef brisket, herbs, and crushed peanuts, it is drizzled with an umami-packed XO mayo for the ultimate Dad's Day dinner. We have included a recipe for the bao buns but if you prefer you can buy them ready-made.
How long will it take?
4 hours
What's the serving size?
Serves 4-6
---
What do I need?
For the Bao Buns
7 g sachet dried yeast
300 mL warm water
450 g bread flour, plus extra for dusting
50 g caster sugar
1 tsp baking powder
Olive oil
For the Brisket
1.3 kg beef brisket
2 tbsp sesame oil
Freshly ground black pepper
2 medium brown onions, chopped
2 cloves garlic, finely chopped
600 mL beef stock
100 mL soy sauce
100 mL barbecue sauce
2 tbsp runny honey
1 tbsp chilli paste
To serve
2 tbsp XO Sauce
100 mL mayonnaise
1 spring onion, finely chopped
1 small red chilli, deseeded, finely chopped
Handful of coriander leaves, chopped
6 mint leaves, finely chopped
30 g crushed peanuts
How do I make it?
To make the Bao Buns whisk yeast and water together in a small jug. Combine flour, salt, sugar, and baking powder in a large bowl. Add yeast mixture and stir to form a dough. Transfer to a floured work surface and knead for 10 minutes or until the dough feels elastic. Return dough to a lightly oiled bowl and cover with cling film. Set aside in a warm place for an hour, our until doubled in size.
Turn dough out onto a lightly floured surface and roll into a sausage shape. Cut dough into 10 even-sized pieces and roll each piece into a ball. Flatten balls into ovals using a rolling pin, then brush lightly with oil and fold in half over the handle of a wooden spoon, leaving a small gap. Remove wooden spoon and transfer to a lined baking tray. Cover with cling film and set aside to rest for 15 minutes.
Place some baking paper in a wooden steamer set over a large saucepan of gently simmering water. Steam the bao buns in batches for 10 minutes or until cooked through.
To make the brisket preheat oven to 160C. Season beef all over with pepper. Heat half the oil in a large non-stick frying pan and brown the brisket on all sides, then transfer to a large ovenproof dish.
Add remaining oil to the frying pan and cook onion and garlic over medium-high heat until soft. Transfer to the dish with the brisket.
Combine stock, soy sauce, barbecue sauce, honey, and chilli sauce in the frying pan over high heat. Bring to the boil, then pour over brisket. Cover dish and cook in oven for 3 ½ hours, or until the beef is very tender.
Transfer beef to a chopping board and use two forks to shred the beef.
To serve, combine XO Sauce and mayonnaise together in a small bowl. Add beef to bao buns, and top with XO mayonnaise, spring onions, chilli, coriander, mint, and peanuts.
---
Share this recipe
---
More recipes like this