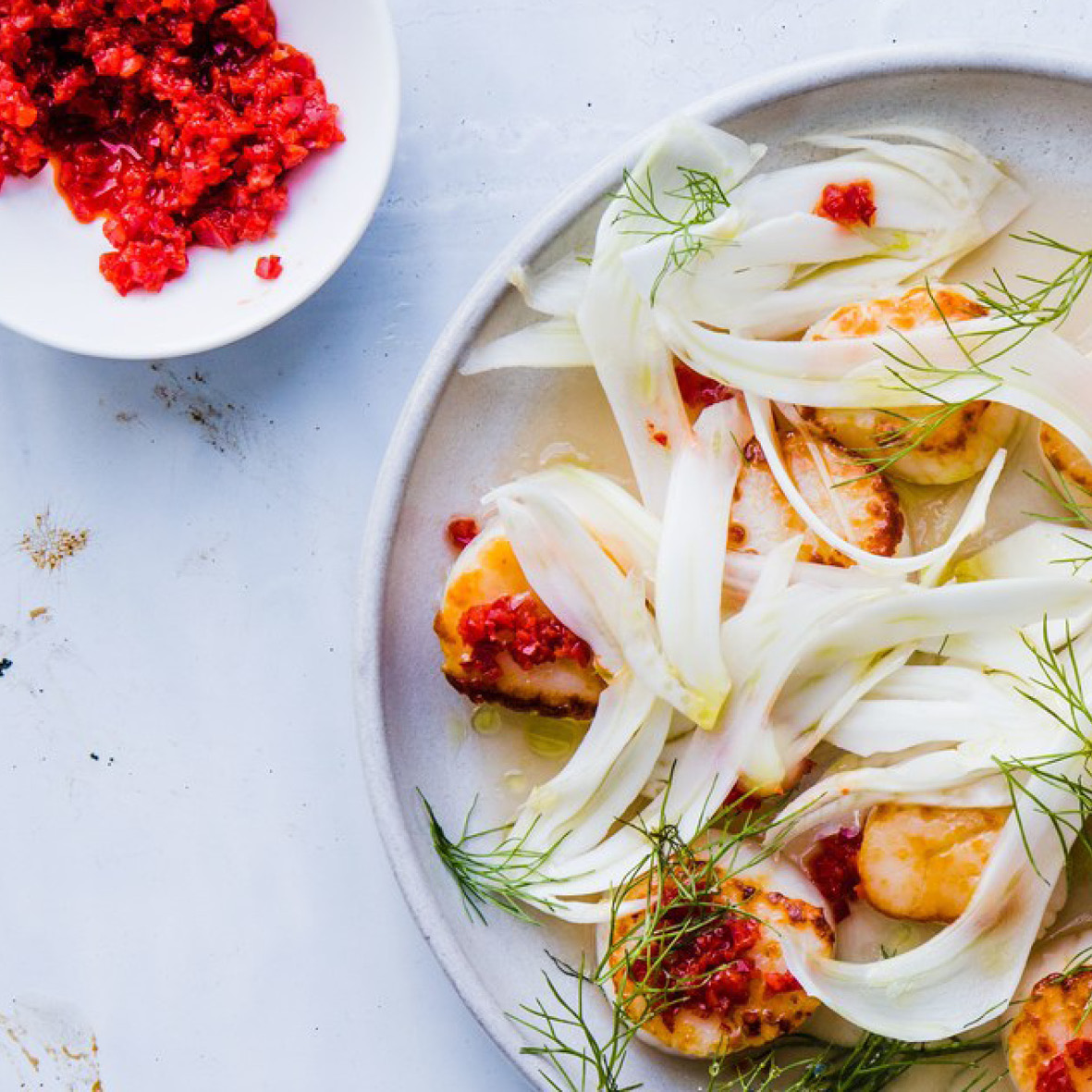 Seared scallops with red chilli paste and fennel salad
Fresh Tasmanian scallops combine beautifully with to make a perfect light dinner that looks stunning and tastes amazing.
How long will it take?
15 minutes
What's the serving size?
Serves 2
---
What do I need?
2 small red chillies, seeds removed, finely chopped
2 teaspoons finely grated grapefruit zest
¼ teaspoon salt, plus extra
12 scallops, patted dry
1 small fennel bulb, quartered through root end, thinly sliced lengthwise, plus 1/3 cup fennel fronds
1 tablespoon white wine vinegar
¼ cup fresh grapefruit juice
Olive oil for drizzling
How do I make it?
Using the side of a chef's knife, mash chillies, grapefruit zest, and ¼ tsp. salt to a paste on a cutting board. Set chilli paste aside.
Heat vegetable oil in a large skillet over high until lightly smoking. Season scallops with salt; working in 2 batches to avoid overcrowding the pan, cook until edges begin to brown, about 1 minute. Flip and cook for a further minute on other side. Transfer scallops to a platter, browned side up, and swipe some reserved chile paste on each.
Toss fennel bulb with vinegar in a medium bowl to coat; season with salt.
Pour grapefruit juice over scallops and top with fennel salad and fennel fronds; drizzle with olive oil.
Recipe from Bon Appetit
---
Share this recipe
---
More recipes like this