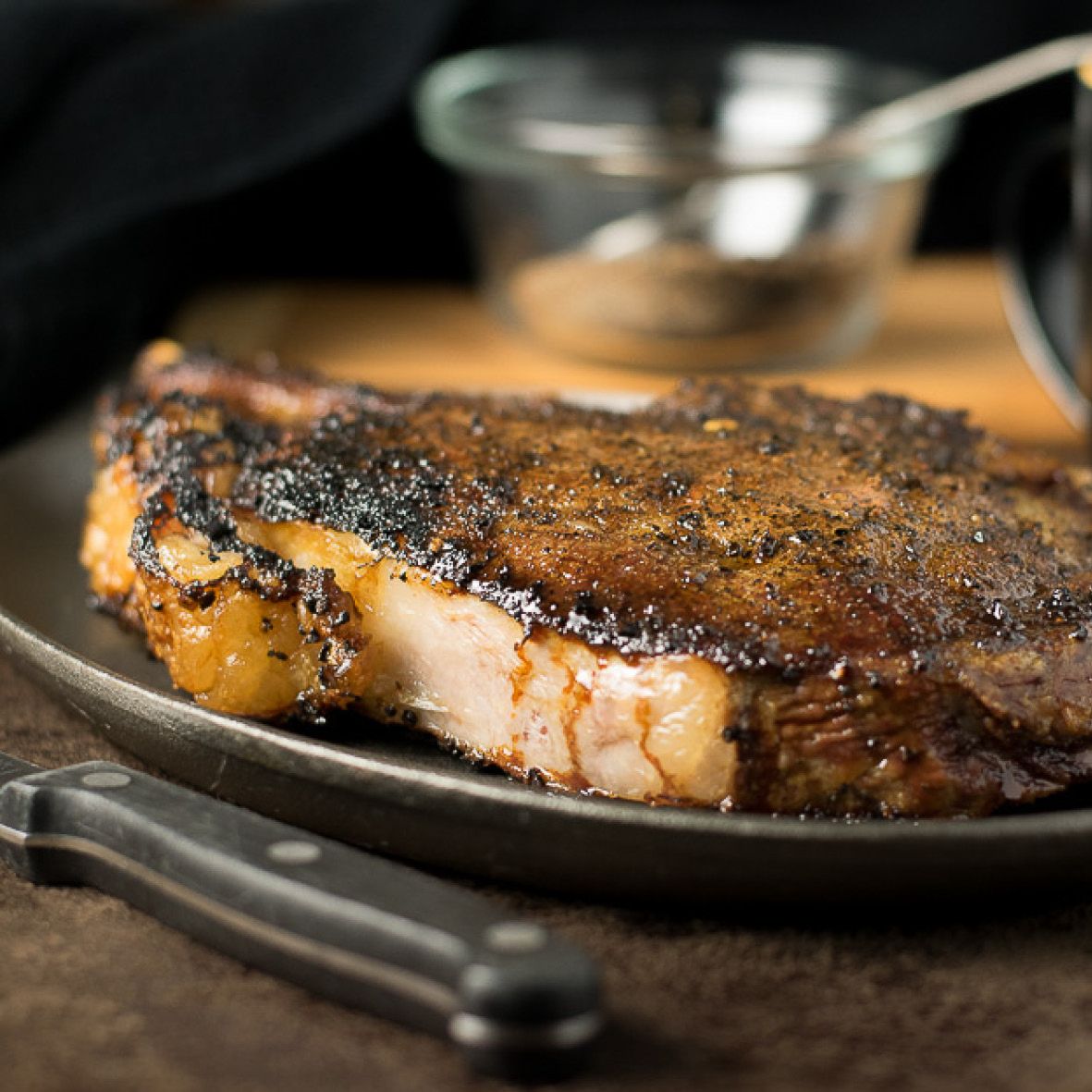 Coffee-rubbed steak
Coffee-rubbed steak is all the rage and for good reason, the combination of coffee and spices creates a flavoursome crust that you'll love. Basting with butter before transferring the pan to the oven helps release the flavour of the dried spices and adds irresistible flavour to the meat.
How long will it take?
45 minutes
What's the serving size?
Serves 2
---
What do I need?
For the spice rub
1 tablespoon finely ground coffee beans
1 tablespoon freshly ground black pepper
1 tablespoon (packed) dark brown sugar
1 teaspoon smoked paprika
3/4 teaspoon mustard powder
3/4 teaspoon chili powder
3/4 teaspoon ground ginger
For the steak
2 steaks of your choice
1 teaspoon salt
2 tablespoons grapeseed oil, divided
1 1/2 tablespoons unsalted butter
1/2 garlic clove, lightly crushed
2 sprigs thyme
1 sprig rosemary
Flaky or coarse sea salt
How do I make it?
Mix all the spice rub ingredients in a bowl and set aside.
Preheat oven to 200°. Set a wire rack inside a large rimmed baking sheet. Season steaks with salt and spice rub, pressing onto all sides of meat and adding more spice rub by the teaspoonful if needed to coat entire surface.
Heat 1 tablespoon oil in a large cast-iron or other ovenproof skillet over high heat. When oil is hot, place steaks in skillet (be sure to have fan on high; the rub creates some smoke). Sear steaks for 1 minute (any longer and the rub will start to burn). Transfer steaks to a plate and carefully drain fat from skillet.
Wipe skillet clean with a paper towel. Heat 1 tablespoon oil in skillet and sear other side of steaks for 1 minute. Add butter, garlic, and herbs to skillet; cook until butter is foamy. Carefully tip skillet and, using a large spoon, baste steaks repeatedly with butter for 1 minute. Turn steaks and baste other side for 1 minute.
Pile herbs on top of the steaks, transfer skillet to oven, and roast for approximately 10-15 minutes.
Rest the steaks for 10 minutes. Sprinkle with sea salt and serve
---
Share this recipe
---
More recipes like this