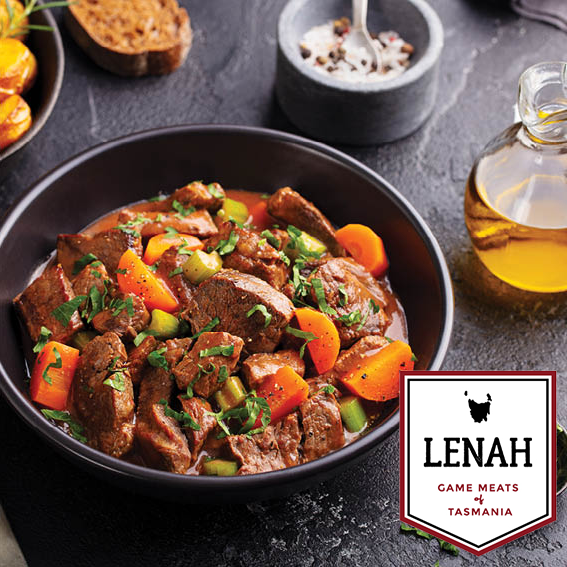 Lenah Game Meats Classic Venison Stew
An easy-to-make venison stew with tender meat that will melt in your mouth. Packed with veggies and with a rich, flavourful broth it's not to be missed.
How long will it take?
2 hours 15 minutes
What's the serving size?
Serves 4
---
What do I need?
1 kg Lenah diced venison
1 tbsp olive oil
2½ cups diced potatoes*
2 cups diced carrots*
1 cup diced celery*
1 large onion, diced*
2 cloves garlic, minced
2 tsp Herbies Herbs de Provence
1 tsp salt
¾ tsp black pepper
400g can diced tomatoes
4 cups unsalted beef stock
3–4 dashes Worcestershire sauce
How do I make it?
Add olive oil to a large pot, Dutch oven or a slow cooker** and heat over medium-high heat.
When oil is hot, sauté venison to for 5-7 minutes or until the edges start to brown. Remove venison from pot and set aside.
Reduce heat to medium and add potatoes, carrots, celery and onion. Allow the vegetables to sauté for 8-10 minutes, or until they begin to soften.
Add garlic, Herbs de Provence, salt and pepper and cook for an additional minute before adding tomatoes, stock and Worcestershire sauce. Return venison back to the pot and stir well. Increase heat to bring to the boil.
Once the stew starts to boil, reduce heat to low, cover with a lid, and allow the stew to simmer for 1-2 hours until the venison is tender.
Notes:
*Ensure you chop vegetables to a large dice so that they retain their shape when cooking.
**If you are using a slow cooker, brown venison in a frying pan and add to the slow cooker with all remaining ingredients. Cook on high for 4-5 hours or 8 hours on low.
Recipe from Lenah Game Meats
---
Share this recipe
---
More recipes like this