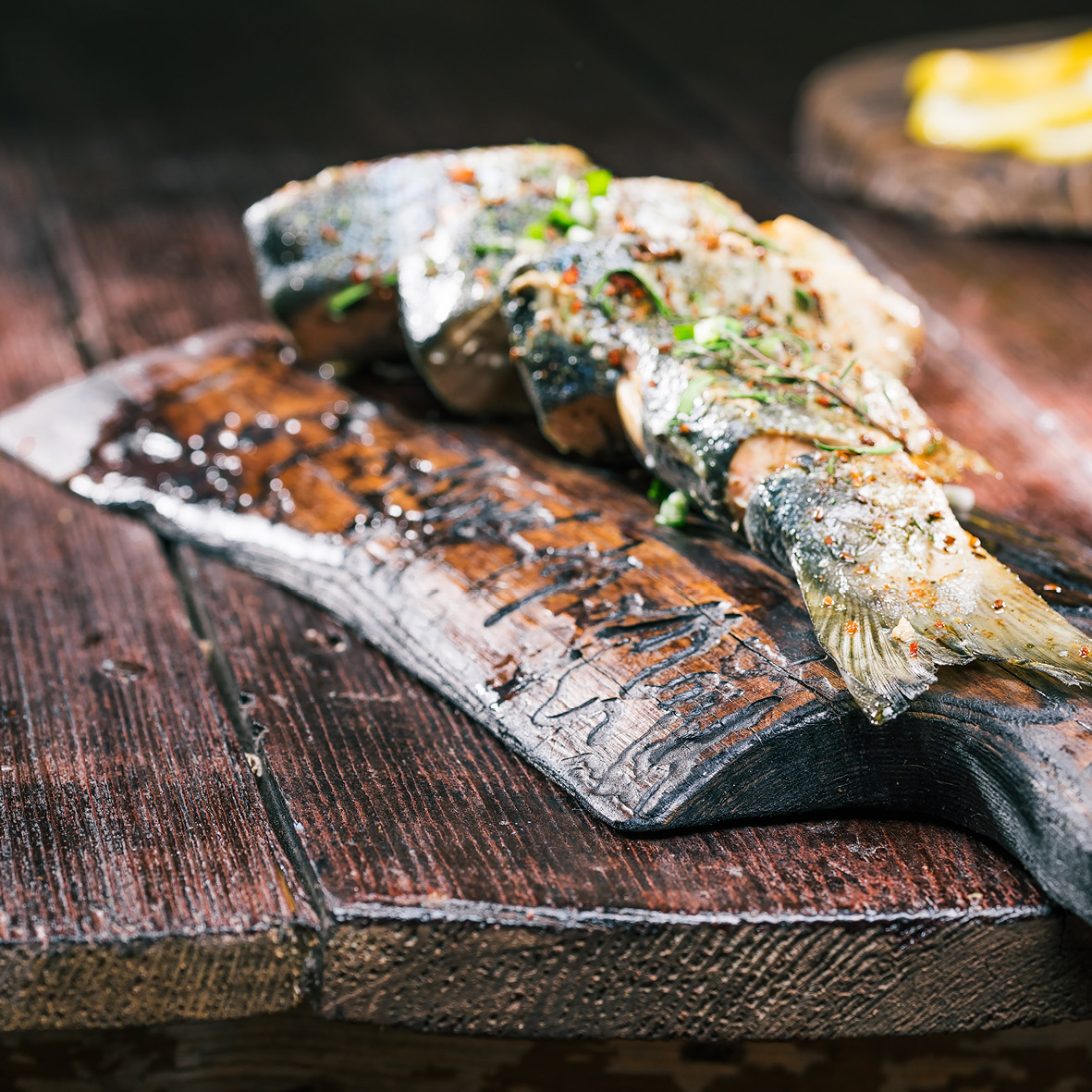 Baked whole salmon with green herb mayonnaise
Cooking a whole fish is easier than you might think and this recipe is packed with flavour
How long will it take?
1 hour
What's the serving size?
Serves 4 to 6
---
What do I need?
For the Salmon
1 whole salmon
2 - 3 tablespoons olive oil
1 teaspoon coarse sea salt
1 teaspoon coarse sea salt
1/2 teaspoon freshly ground pepper
1 lemon thinly sliced
6 - 8 sprigs fresh dill
4 - 6 springs fresh parsley
4 - 6 cloves garlic, peeled
For the Green Herb Mayonnaise
2 eggs
1 tablespoon fresh chives
1 tablespoon lemon juice
Salt and freshly ground pepper
2 teaspoons mustard powder
1 clove garlic
275ml olive oil
2 tablespoons white wine vinegar
75g fresh spinach leaves
40g flat-leaf parsley leaves
2 tablespoons fresh tarragon, chopped
How do I make it?
First make the mayonnaise by breaking eggs straight into a food processor or blender, sprinkling in the mustard and the garlic and 1 teaspoon salt. Add oil in a thin, steady trickle. When all the oil is in, add the white wine vinegar and blend. Switch off the blender and add salt and pepper to taste. Refrigerate until needed.

Preheat oven to 220C.

Use paper towels to pat the fish dry, inside and out, then place it on a foil lined baking tray and drizzle inside and out with olive oil.

Sprinkle salt and pepper all over the fish, inside and out.

Stuff the inside of the fish with lemon slices, dill, garlic, parsley and garlic, then tie the fish closed using kitchen twine.

Roast in the middle of the oven for 20-30 minutes, until it has an internal temperature of 60C in the thickest part of the fish. If the fish is large you will need to allow longer cooking time.

Turn the oven onto the grill setting and move the fish up to the top third of the oven.

Grill for 3 - 5 minutes until the skin is golden brown and crispy, but not burnt.

Cut the twine and remove the lemon and herbs from inside the fish.

Serve and enjoy!
---
Share this recipe
---
More recipes like this