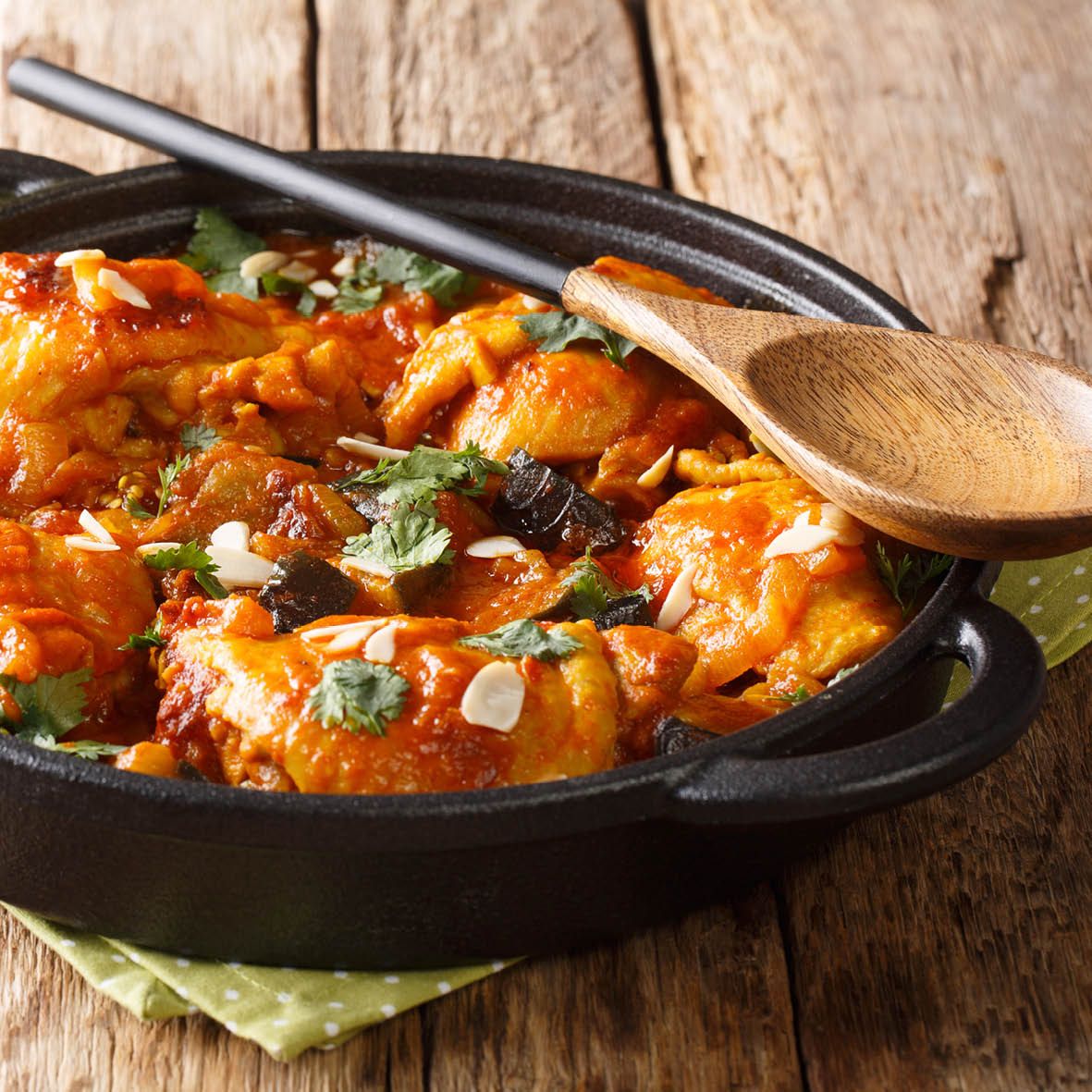 Moroccan Chicken with Eggplant and Almonds
A tasty Moroccan-inspired dish that is an ideal addition to your winter menu. You can use boneless chicken if you prefer, although the bones do add a depth of flavour. If you opt for boneless chicken reduce the cooking time by about 10 minutes so that the chicken doesn't dry out.
How long will it take?
1 hour
What's the serving size?
Serves 6
---
What do I need?
6 tbsp olive oil, divided
3 cups sliced onions
6 garlic cloves, minced
1 tbsp paprika
1 ½ tsp salt
1 tsp turmeric
1 tsp ground coriander
1 tsp fennel seeds, ground
1 tsp freshly ground black pepper
½ tsp ground cumin
½ tsp ground ginger
2 cups drained canned diced tomatoes
1 cup water
3 tbsp fresh lemon juice
12 bone-in chicken thighs, skinned
1 large eggplant, unpeeled, cut into 1-inch cubes
½ cup slivered almonds, toasted
Chopped fresh coriander, to serve
How do I make it?
In a large heavy pot, heat 2 tbsp olive oil over medium heat. Add onions and garlic and cook until onions are soft. Add paprika, salt, turmeric, coriander, fennel, pepper and ginger and cook for a further 1 minute. Add tomatoes with lemon juice and water and bring to the boil. Add chicken, using a spoon to nestle it among the other ingredients and to spoon some of the sauce over the top. Bring to the boil, then drop heat to medium-low and cover and cook for 15 minutes. After 15 minutes, turn chicken and cover again, cooking for a further 15 minutes.
Preheat oven to 200C. Brush a baking tray with a little olive oil and place eggplant with remaining 4 tablespoons of olive oil in a large bowl and toss to coat. Tip eggplant onto the baking tray and cook in oven for 15 minutes, then turn and cook for a further 10 minutes.
Add eggplant to pot with chicken and simmer uncovered for 5 minutes. Season with salt and pepper and serve with almonds and chopped coriander.
---
Share this recipe
---
More recipes like this