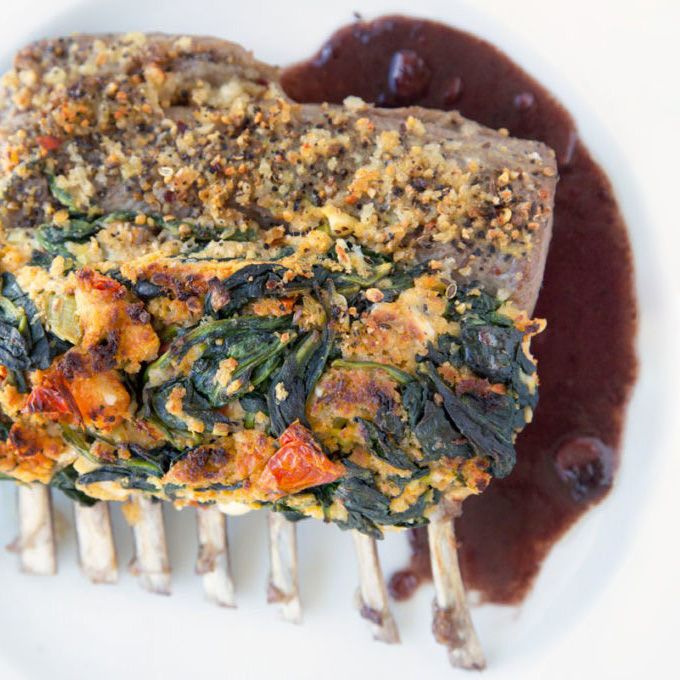 Stuffed Rack of Lamb
Ideal for entertaining or just as a special family meal, this dish features tender lamb with a tasty stuffing and a moreishly rich and delicious sauce.
How long will it take?
1 hour 20 minutes
What's the serving size?
Serves 4
---
What do I need?
2 x 6-8 bone lamb racks
Salt and freshly ground black pepper
2 cups baby spinach
2 tbsp shallots, chopped
1 clove garlic, chopped
250 g blue cheese
1 cup breadcrumbs
1 egg, lightly beaten
125 g cherry tomatoes, halved
For the sauce
1 tsp chopped shallot
½ cup red wine
½ cup beef stock
1 tsp butter
1 tsp plain flour
How do I make it?
Preheat oven to 200C.
Season lamb racks with salt and pepper.
Place lamb in a hot frying pan and sear on all sides. Set aside.
Add spinach with a dribble of water to a large frying pan over medium-high heat. Cook until the spinach starts to wilt, then add tomatoes and cook for a minute or so before adding shallots and garlic. Cook for two minutes, then remove from heat and set aside to cool.
When the mixture has cooled a bit, strain through a fine strainer to remove as much liquid as possible then place into a bowl with bread crumbs, blue cheese and egg. Mix and season.
Work the spinach mixture into the gaps between the bones on the lamb rack and across the top of the rack. Repeat for the other lamb rack.
Place racks in oven and cook for 20 to 30 minutes depending on how well-done you like your lamb.
Remove from oven and allow to rest for at least 10 minutes before cutting.
To make the sauce
Place shallots in a small saucepan over medium heat. Add red wine and beef stock. Bring to the boil and cook until the volume has reduced by half.
Add butter and flour and stir well. Reduce heat to low and simmer for 20 minutes or until the sauce has reduced by half again.
To serve, add sauce to plate and top with lamb.
---
Share this recipe
---
More recipes like this