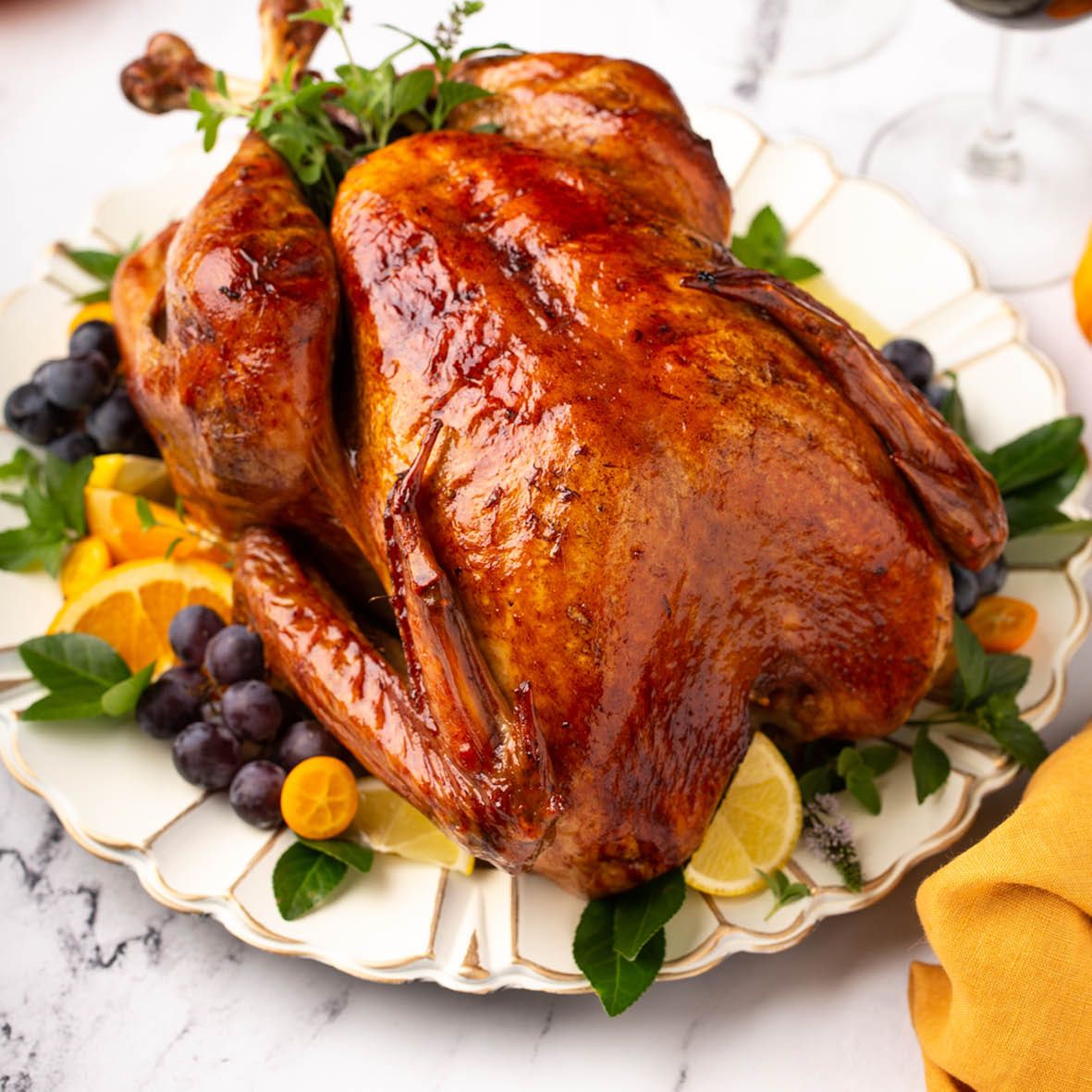 Glazed Turkey with Maple Gravy
Maple syrup is the key ingredient in this show-stopper turkey. The turkey skin is crisp and glistening from the maple-based glaze, and it is served with a rich maple and wine gravy whose acidity perfectly balances the turkey.
How long will it take?
3 ½ hours
What's the serving size?
Serves 12-15
---
What do I need?
7 kg whole turkey
Salt
Freshly ground black pepper
60 g unsalted butter, softened
250 mL chicken stock
200 mL maple syrup
½ cup blackcurrant jam
80 mL orange juice
For the Maple Gravy
1 cup pan juices from the turkey
½ cup dry white wine
750 mL chicken stock
¼ cup plain flour
How do I make it?
Preheat oven to 180C.
Pat turkey skin with paper towel to dry. Brush skin with butter and season with salt and pepper. Place turkey in a roasting dish with 250 mL of chicken stock. Cover turkey with baking paper and foil and cook for 2 hours.
Make maple glaze by combining maple syrup, jam and orange juice in a saucepan over low heat. Cook, stirring constantly until the jam dissolves.
Remove foil and baking paper from the turkey and brush with glaze. Cook, uncovered for 1 hour, basting every 15 minutes, until the turkey skin is golden and the meat is cooked.
Allow the turkey to rest, loosely covered while you make the gravy.
To make the gravy, skim the fat from the roasting tray and set aside. Pour pan pan juices into a measuring jug.
Place roasting tray on hotplates over medium-high heat. Add wine and 250 mL chicken stock to the roasting tray and bring to the boil, scraping any browned bits off the bottom of the pan with a wooden spoon. Boil for 3 minutes, then add remaining stock and 1 cup of pan juices and bring to the boil. Reduce heat and simmer for 5 minutes, then whisk in flour and simmer until thickened. Pour gravy through a fine sieve into gravy boat to serve.
---
Share this recipe
---
More recipes like this