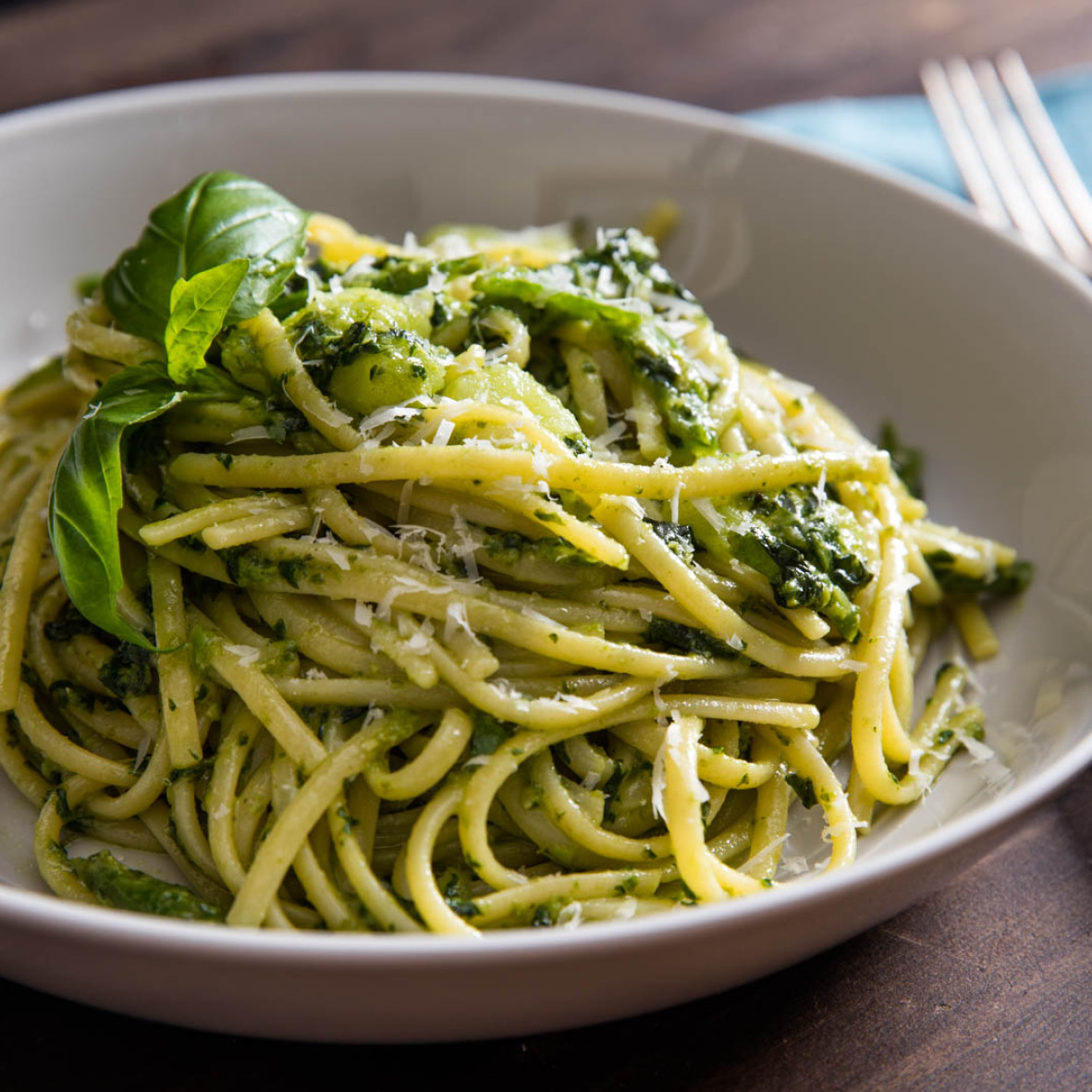 Trenette with pesto, potato and green beans
This is a recipe of simplicity and freshness. Traditionally made with trenette (a long pasta), you can substitute linguine if you prefer. This recipe features Ligurian pesto, which is said to be the best, creamiest pesto in Italy.
How long will it take?
35 minutes
What's the serving size?
Serves 4
---
What do I need?
1 large waxy potato such as Desiree, peeled and diced
300 g green beans, sliced lengthwise
400 g dried trenette (or linguine)
Knob of butter
Freshly grated parmesan
For the Pesto
1 garlic clove
Pinch of sea salt
40 small-medium basil leaves, washed and patted dry
1 tbsp pine nuts
2 tbsp freshly grated parmesan
1 tbsp freshly grated mild pecorino
120 ml extra virgin olive oil
How do I make it?
To make proper Ligurian pesto, you have to use a mortar and pestle. Place the garlic, salt (which helps to keep the basil green) and basil in the mortar and start crushing. You shouldn't pound the basil, but rather press the pestle around the sides of the mortar in a circular motion so that the ingredients meld smoothly together.
Add the pine nuts (raw, not toasted) and the cheeses and keep pressing until the ingredients are blended to a paste.
Transfer to a bowl and add the oil – as much as the pesto will absorb – mixing with a wooden spoon.
Alternatively, you can make the pesto in a blender. Place the ingredients in the blender and process on the lowest speed, and pulse every now and then, until the sauce is creamy. If you are not using the pesto immediately, pour a layer of oil over the surface to prevent discolouration.
Bring 3 litres of salted water to boil in a pot. Add the potato first and cook for 12 minutes. Add the beans 5 minutes after the potato, to cook for 7 minutes. Add the pasta to cook according to packet directions, cooking until al dente. Drain, reserving 2 tablespoons of cooking water.
Put half the pesto in a large bowl. Add the cooking water, potatoes, beans and pasta, and the butter, and toss well. Spoon the rest of the pesto on top, sprinkle with parmesan and serve immediately.
Recipe from sbs.com.au
---
Share this recipe
---
More recipes like this