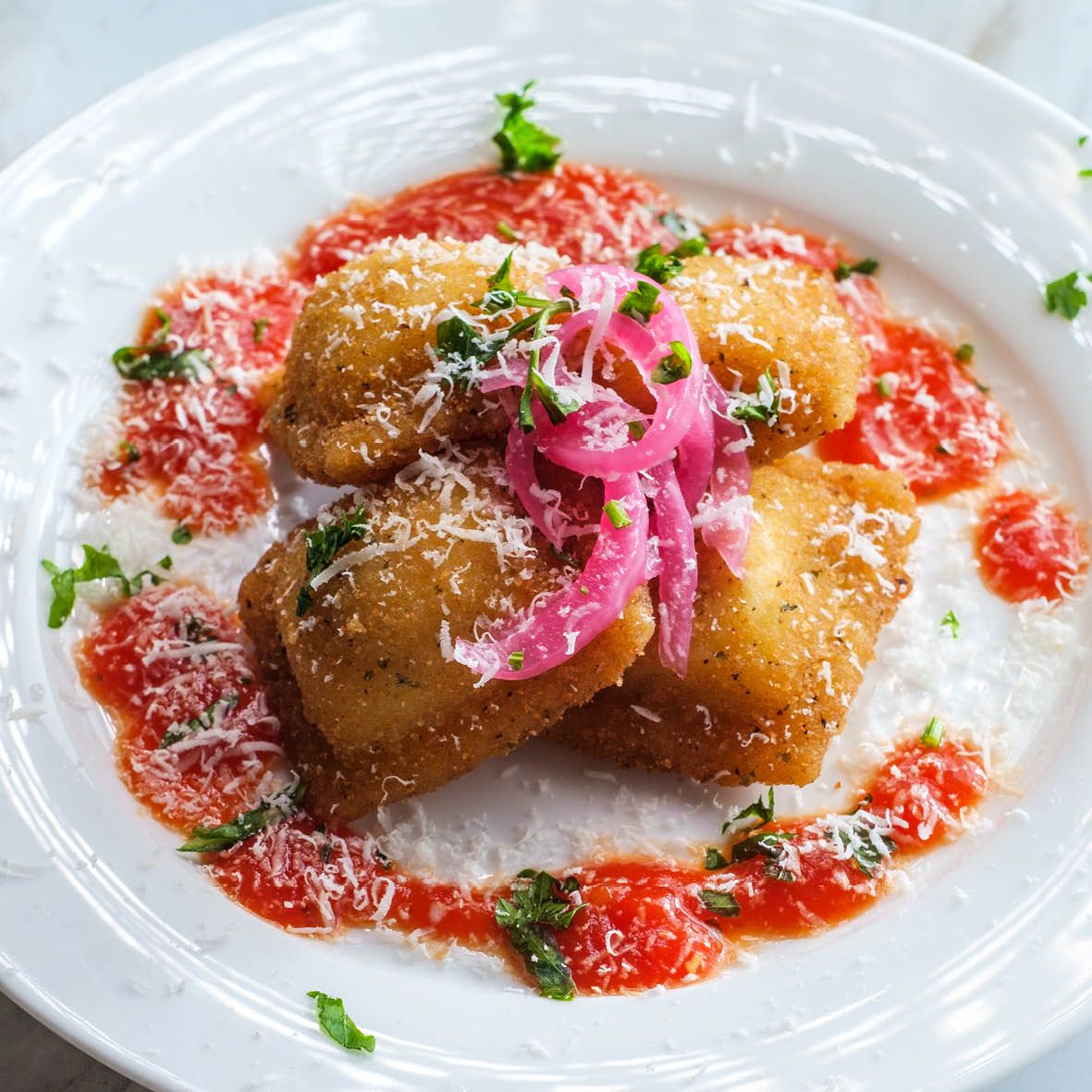 Toasted Ravioli with Heritage Tomato Sauce
This versatile dish is perfect for entertaining – you can serve as an elegantly-plated entrée or turn it into a party dish by placing the sauce into a bowl for dipping and serving the ravioli en-masse on a platter. We used Per Tutti pasta to make these; they have a range of filled-pasta available with flavours including Roast Duck; Spinach & Italian Cheese; and Buffalo Mozzarella, Tomato & Basil.
How long will it take?
Takes 2 hours
What's the serving size?
Serves 6
---
What do I need?
3 packets of Per Tutti filled pasta of your choice
2 eggs
1/3 cup milk
2 cups breadcrumbs
1 ½ litres vegetable oil
¼ cup grated parmesan cheese
1 tbsp chopped parsley
For the Heritage Tomato Sauce
3 tbsp olive oil
½ brown onion, chopped
8 large heritage tomatoes, peeled and cut into large chunks
6 cloves garlic, minced
1 bay leaf
½ cup red wine
1 tbsp honey
2 tbsp dried basil
1 tsp oregano
1 tsp dried marjoram
1 tsp salt
½ tsp ground black pepper
¼ tsp fennel seed
¼ tsp red pepper flakes
2 tbsp balsamic vinegar
How do I make it?
Prepare Heritage Tomato Sauce by heating olive oil in a large saucepan or stockpot over medium heat. Add onion and cook until softened, about 5 minutes. Add tomatoes, garlic and bay leaf and cook for a few minutes until the tomatoes release their juice. Bring to the boil, then reduce heat to medium-low and simmer for 30 minutes.
Add red wine, honey, basil, oregano, marjoram, salt, black pepper, fennel seed and red pepper to the mixture and bring to a simmer. Cook for a further 30 minutes, then remove from heat and stir balsamic vinegar through the sauce. The sauce can be served hot or cold.
Line a baking tray with baking paper.
Place eggs and milk in a small bowl and whisk to combine.
Place breadcrumbs in a shallow bowl.
Dip each ravioli in the egg mix, then roll in the breadcrumbs. Repeat for all ravioli and place them in a single layer on the baking tray.
Heat oil in a deep saucepan to 175C. Cook ravioli in batches for 3 to 4 minutes or until golden brown all over.
Sprinkle with parmesan and chopped parsley and serve with Heritage Tomato Sauce.
---
Share this recipe
---
More recipes like this