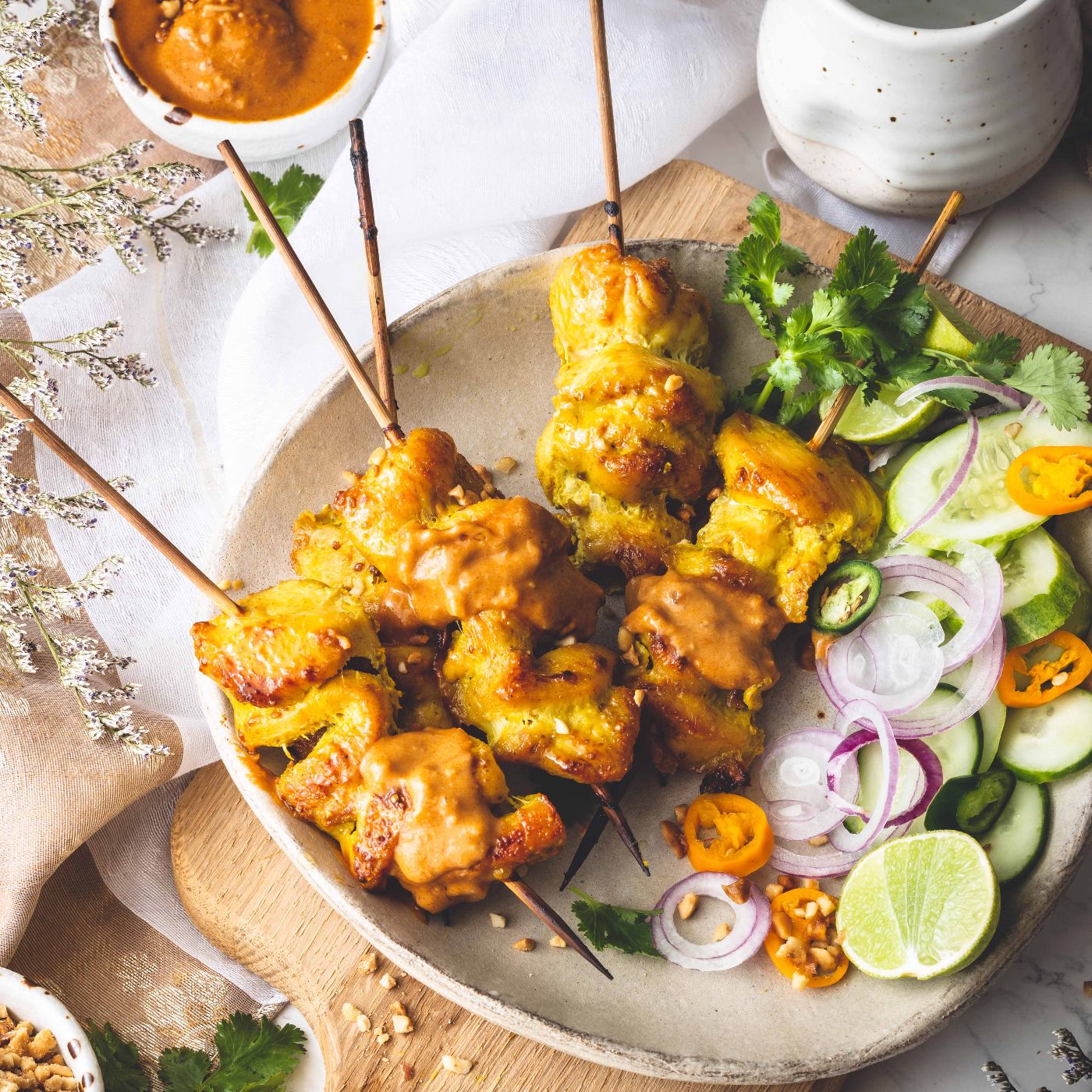 Chicken Satay Skewers
Go beyond sausages and chops on the barbecue with these satay skewers. Served with a tasty peanut sauce, they are simple to make and delicious to eat. For maximum flavour allow at least 2 hours for the chicken to marinate or prepare in advance and leave to marinate overnight. If you are using wooden skewers for the satay make sure you soak them in water before cooking to prevent them burning.
How long will it take?
30 minutes, plus 2 hours marinating time
What's the serving size?
Serves 4
---
What do I need?
For the Skewers
2 tbsp soy sauce
½ tbsp fish sauce
2 tbsp lime juice
1 tbsp honey
1 tbsp sriracha sauce
2 tsp minced ginger
2 cloves garlic, minced
500 g skinless chicken breast, cut into 2 ½ centimetre strips
For the Peanut Sauce
1 cup chicken stock
5 tbsp smooth peanut butter
1 tbsp honey
1 tbsp soy sauce
2 tsp fish sauce
2 tsp sriracha sauce
1 tsp minced ginger
2 cloves garlic, minced
1 tbsp lime juice
How do I make it?
Make marinade for the chicken by adding soy sauce, fish sauce, lime juice, honey, sriracha, ginger and garlic to a large bowl and stirring to combine. Add chicken and stir to coat it with the marinade. Cover and refrigerate for a minimum of 2 hours.
Meanwhile, prepare peanut sauce by adding stock, peanut butter, honey, soy, fish and sriracha sauces, ginger and garlic to a medium saucepan over medium heat. Stirring frequently, bring to a simmer and cook until the sauce has thickened and is smooth, about 5 minutes. Add lime juice, stir and set aside.
Thread chicken onto skewers. Heat barbecue or a grill pan to medium-high and cook chicken until it is cooked through, about 3 minutes per side.
Serve skewers with peanut sauce and a salad.
---
Share this recipe
---
More recipes like this