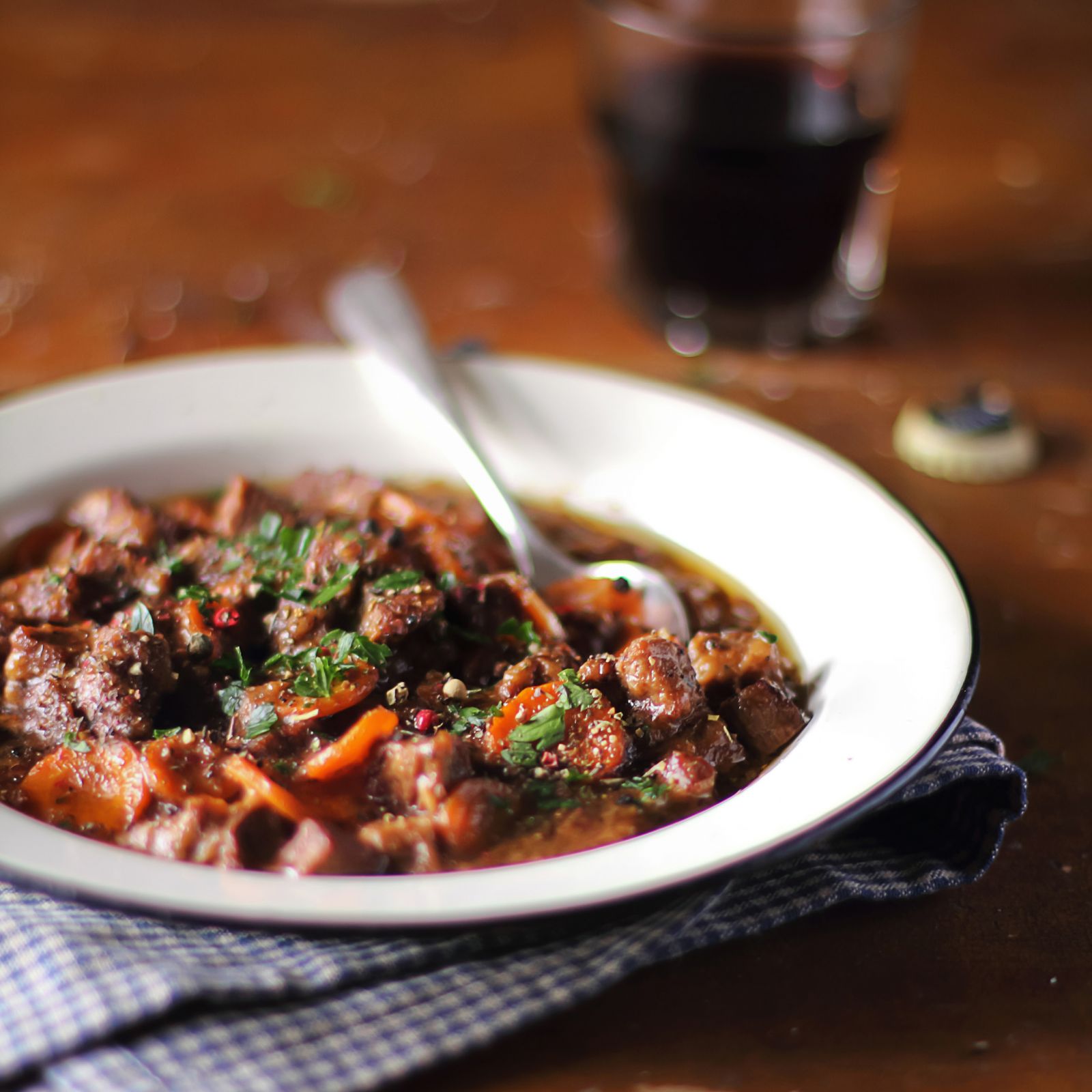 Orange-infused beef stew
This recipe is perfect for a hearty Sunday night meal. Cooked slowly in the oven, the beef becomes meltingly tender and full of rich flavour. Start it in the afternoon and enjoy the delicious aroma wafting from the kitchen as it cooks. Serve with mashed potato or crusty bread and salad.
How long will it take?
2 hours 30 minutes
What's the serving size?
Serves 4
---
What do I need?
1.25 kg/ 2.5 lbs casserole steak
2 tablespoons butter
3 tablespoons olive oil
1 large onion, diced
2 large carrots
2 large red capsicum cut into thin slices
3 stalks celery, chopped
2 cloves garlic, chopped
2 cups beef stock
1 – 1 1/2 cups red wine
1 tablespoon of tomato paste
Juice from one orange and a strip of the peel
1 bay leaf
How do I make it?
Cut the beef into 4 - 5cm thick chunks. Season with a little salt and pepper.
Pre-heat the oven to 150C and put a heavy casserole dish on your stovetop.
Heat the butter and 2 tablespoons of oil in the heavy casserole. Add the onion and cook for 2 – 3 minutes over a medium heat. Next add the capsicum to cook for about 5 minutes before adding the garlic and cook for another 2 minutes. Remove cooked vegtables from pan and set aside.
Keeping pan hot, add remaining tablespoon of oil and brown the meat in batches. Once each batch is browned, set aside with the vegetables. When all are done, return meat and vegetables to the casserole dish.
Once in the dish, add stock and 200 ml red wine and bring to a gentle boil. Once bubbling add tomato paste, orange peel and juice, and bay leaf and season.
Cover the dish and place in the pre-heated oven for one hour.
After one hour, remove lid and cook uncovered for another hour, basting the surface twice with some of the juice. You can add a bit more red wine as you go along, depending on how liquid you like it.
Serve hot, with salad and crusty bread or mashed potato.
---
Share this recipe
---
More recipes like this