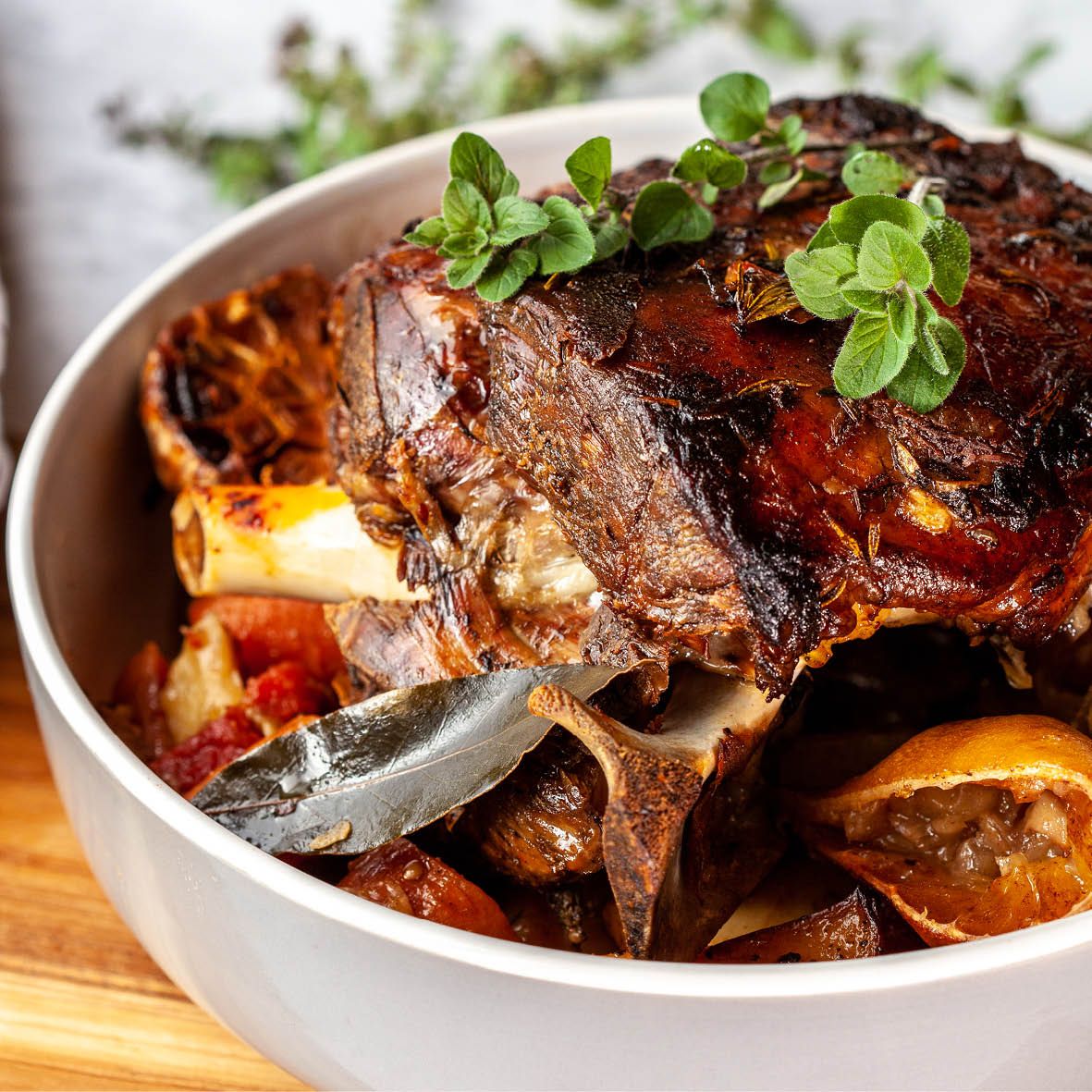 Lamb kleftiko
Do you have some extra time at home? This slow cooked Greek dish offers simplicity in its making but requires patience in its cooking - but is worth the wait. Serve with minted yoghurt, a fresh chopped salad or pass the time by making some flat breads while it's cooking.
How long will it take?
6 hours plus marinating time
What's the serving size?
Serves 6
---
What do I need?
2kg lamb shoulder, alternatively lamb leg
2 heads of garlic, cut in half horizontally through the cloves
2 lemons
¼ cup fresh oregano leaves
1 tbsp chopped rosemary
2 tbsp olive oil
1 tsp cinnamon
1 kg waxy potatoes, cut into long wedges
500g carrots, cut into large chunks
3 red onions, peeled and cut into wedges
12 cherry tomatoes
150ml water
Sea salt and black pepper
How do I make it?
Peel and crush one half of a head of garlic and combine with the peel and juice of 1 lemon, oregano, rosemary, oil, cinnamon, 1 teaspoon of salt and a generous grind of pepper. Massage this into the meat, cover and marinate in the fridge for a few hours or preferably overnight.
Pre-heat the oven to 170C.
Use a large lidded casserole dish or alternatively line a roasting tin with enough foil and baking paper to form a parcel by folding over the top of the vegetables and lamb on all sides.
Add the potatoes, onions, carrots, cherry tomatoes, water, ½ tsp salt and ¼ teaspoon pepper to the dish.
Cut the second lemon in half and squeeze half over the vegetables and mix well.
Place the second half amongst the vegetables along with the 3 garlic halves.
Top with the lamb and any excess marinade. If using a casserole dish, tuck a damp piece of greaseproof on top and cover with a lid. If using a roasting dish, sprinkle the overhanging paper with water and fold over and tuck in to form a sealed package.
Bake for 5-6 hours, basting 2-3 times, until very tender.
Turn the oven up to 220C and roast, uncovered, for 10-15 minutes until the meat is dark golden brown.
---
Share this recipe
---
More recipes like this