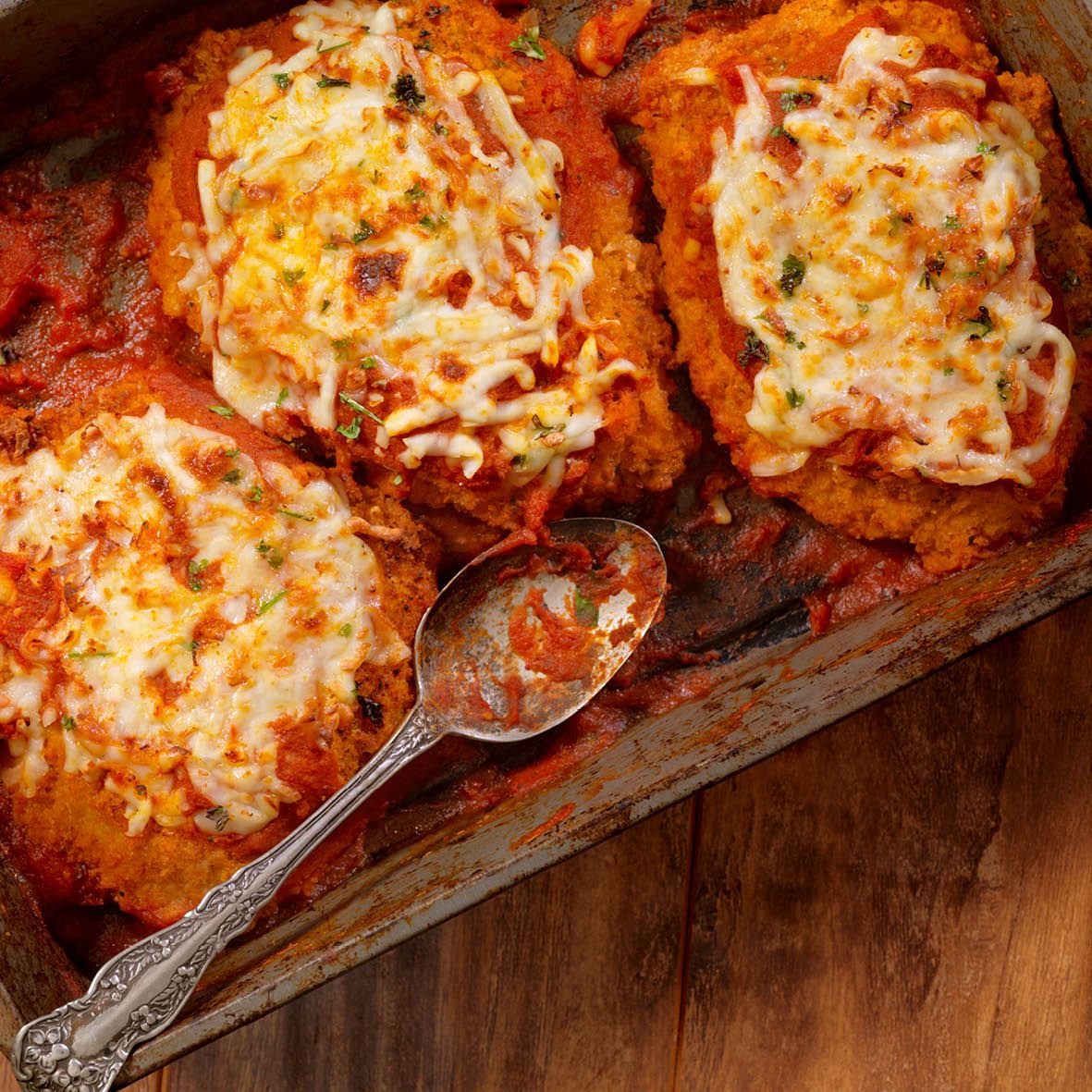 Best Beef Parmigiana
Forget a meal at the pub, you'll want to stay in when you try this parmigiana. The secret is the sauce that has the perfect combination of ingredients (including a couple of surprises) to make an incredibly tasty parmigiana.
How long will it take?
1 hour
What's the serving size?
Serves 4
---
What do I need?
Olive oil
½ medium brown onion, finely diced
2 cloves garlic, finely diced
2 anchovies, chopped
1 red chilli, seeds removed, finely diced
1 x 400g tin of chopped tomatoes
Salt
Freshly ground black pepper
4 fresh basil leaves, chopped
4 beef schnitzels
100 g parmesan, grated
125 g buffalo mozzarella, torn
How do I make it?
Preheat oven to 180C.
Heat a medium frying pan over medium heat. Add a drizzle of olive oil and then add onion and cook until softened. Add garlic and anchovies and cook for 2 minutes, then add chilli and tomatoes. Bring to the boil, then reduce heat and simmer for 20 minutes. In the final 5 minutes add chopped basil leaves and season to taste.
Heat a large frying pan over medium heat and add oil. When the oil is hot add schnitzels and cook for 3-4 minutes per side or until they are a light golden brown. Remove from heat and place on a paper towel lined plate to drain.
Pour ¾ of the tomato sauce mixture into the base of an ovenproof casserole dish (try to use one that just fits the schnitzels). Lay schnitzels on top and use a spoon to spread remaining tomato sauce over the top of the schnitzels. Top with parmesan and torn buffalo mozzarella and bake in the oven for 20 minutes or until they are golden and the cheese is melted.
---
Share this recipe
---
More recipes like this