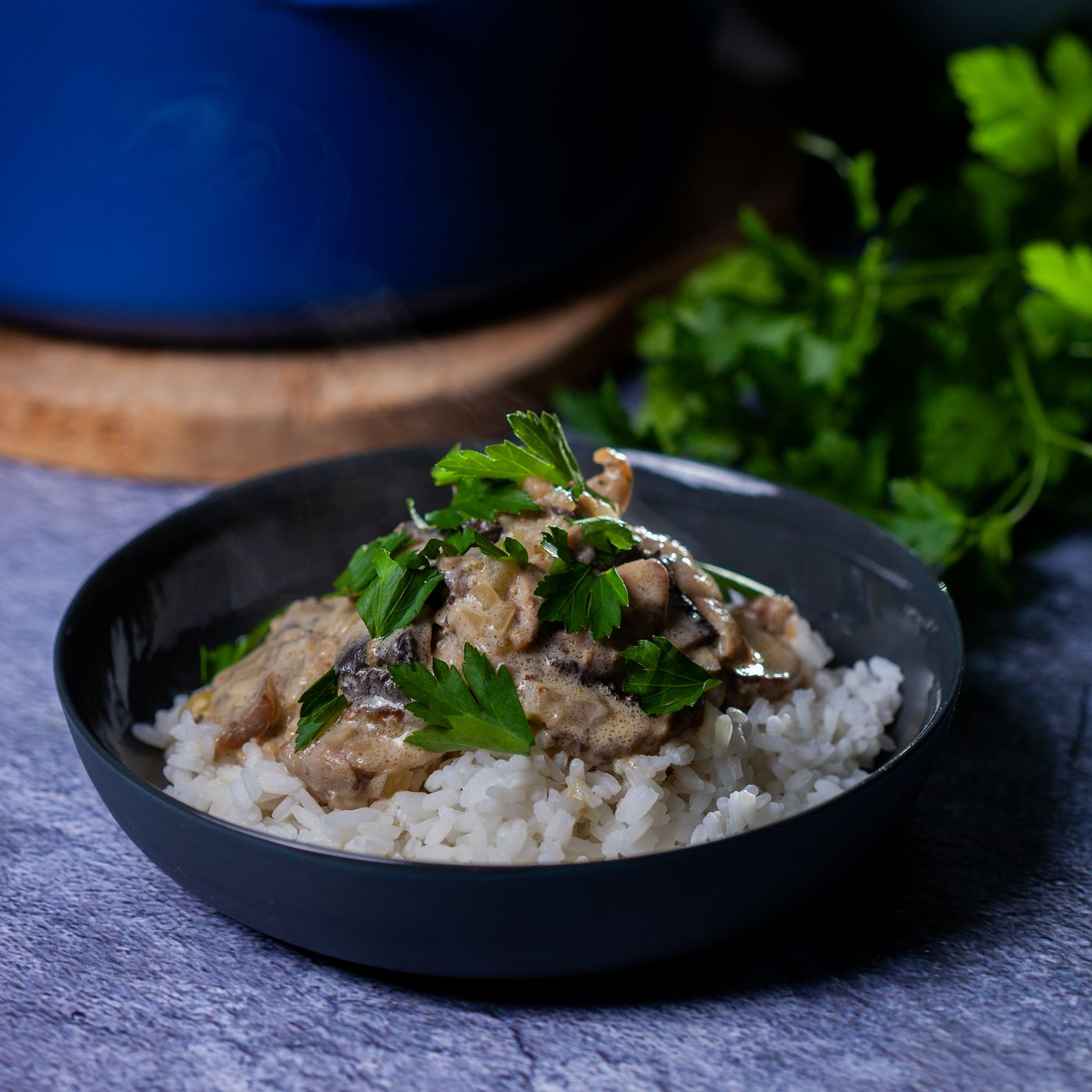 Chicken Stroganoff
This one-pot chicken stroganoff will have dinner on the table in 30 minutes. You can use either chicken thighs or breast to make this, but we prefer thighs because they have a fuller flavour.
How long will it take?
30 minutes
What's the serving size?
Serves 4
---
What do I need?
4 tbsp olive oil, divided
1 brown onion, finely diced
2 cloves garlic, minced
250 g button mushrooms, sliced
500 g chicken thighs, cut into bite-sized pieces
2 tbsp cornflour
¼ tsp salt
¼ tsp freshly ground black pepper
250 mL chicken stock
1 tbsp Dijon mustard
200 g sour cream
½ bunch flat leaf parsley, chopped
How do I make it?
Heat 2 tablespoons of olive oil in a large sauté pan over medium heat. Add onion and sauté for 5 minutes, or until softened. Add garlic and mushrooms and cook for 4 minutes. Remove the mushroom mix from the pan and set aside.
Combine the chicken, cornflour, salt, and pepper in a large bowl and toss to coat.
Pour the remaining olive oil into the pan and add the chicken. Cook for 5 - 6 minutes, stirring occasionally until golden brown.
Pour in the chicken stock and add the mushroom mix. Stir through the mustard and sour cream and bring to a gentle simmer. Cook for 4-5 minutes or until the sauce has thickened slightly and the chicken is cooked through. Taste for seasoning.
Serve with pasta, rice, or mashed potato and garnish with chopped parsley.
Video & photography by David Pyefinch, food by Sarah Joseph
---
Share this recipe
---
More recipes like this