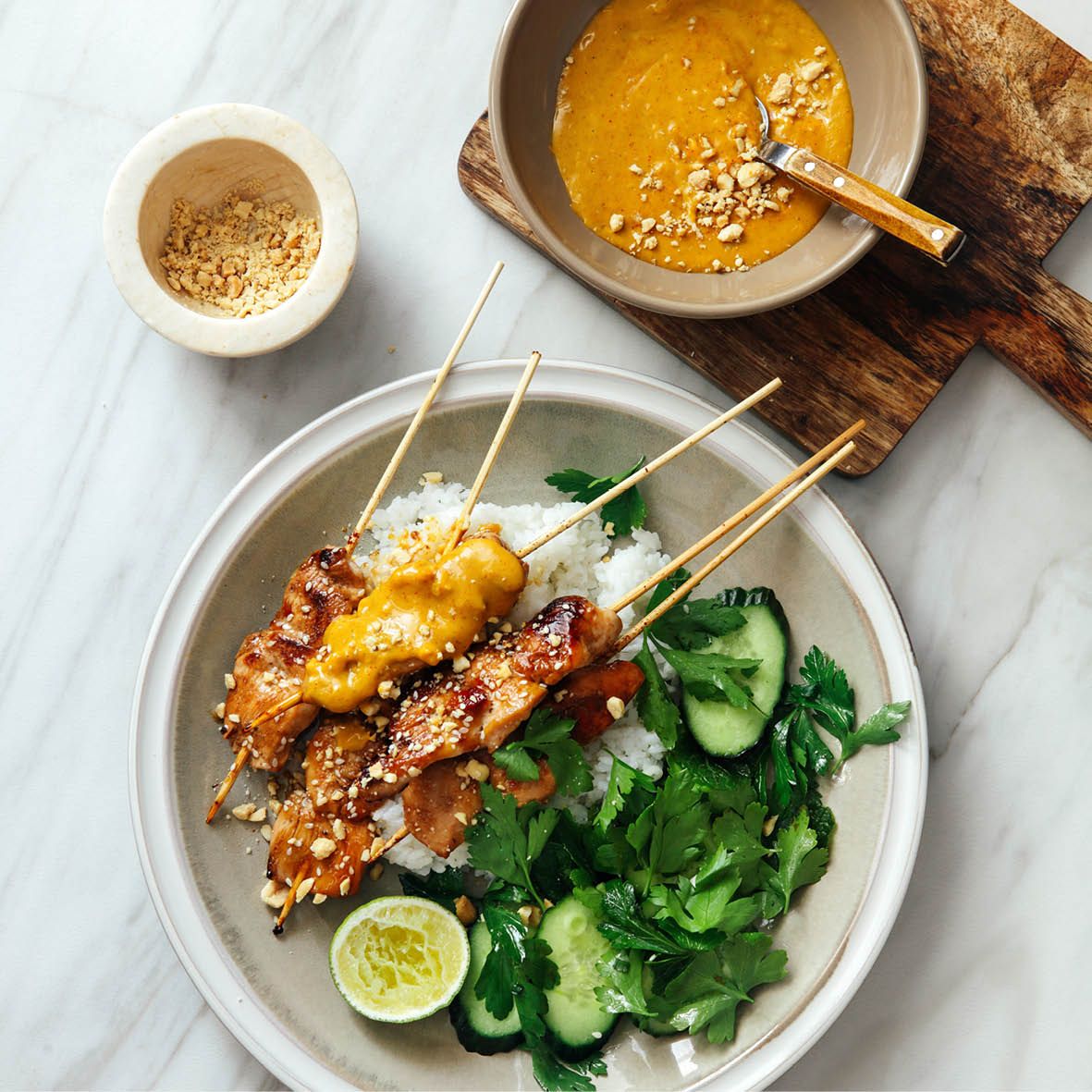 Thai Chicken Satay with Peanut Sauce
Transport yourself to Thailand with this satay. The chicken is packed with flavour courtesy of the marinade and then served with a creamy, nutty and moreish sauce. You will need either metal or wooden skewers for this recipe. If using wooden skewers soak them overnight in water to prevent burning during cooking.
How long will it take?
1 ½ hours
What's the serving size?
Serves 6
---
What do I need?
For the marinade
1kg boneless and skinless chicken thighs, cut into 2 centimetre pieces
¼ cup coconut milk
2 tbsp soy sauce
1 tbsp fish sauce
3 tbsp red curry paste
2 cloves garlic, minced
1 tsp salt
1 tsp white sugar
For the peanut sauce
6 tbsp natural smooth peanut butter
3 tbsp soy sauce
2 tbsp freshly squeezed lime juice
4 tsp brown sugar
4 tsp red curry paste
To serve
Rice
Small handful of unsalted peanuts, chopped
Lime wedges
Coriander
Cucumber, sliced
How do I make it?
Combine coconut milk, soy and fish sauces, curry paste, garlic, salt and sugar in a large bowl and stir well. Add chicken pieces and mix to cover with marinade. Cover and refrigerate for at least 1 hour, but preferably overnight.
Make peanut sauce by adding all ingredients to a saucepan over medium-low heat. Stir to combine ingredients and then simmer for 2 to 3 minutes. Add water to achieve the consistency that you prefer, ideally it should be thick but still pourable. Reduce heat to very low and cover while you cook the skewers.
Thread marinated chicken pieces onto skewers and heat a little olive oil in a frying pan over medium high heat. Cook skewers, turning to ensure the chicken is cooked through for about 4 minutes per side, or until golden brown.
To serve, place peanut sauce in a bowl and sprinkle with peanuts. Serve with rice and a salad of fresh coriander leaves and sliced cucumber squeezed with a little fresh lime juice.
---
Share this recipe
---
More recipes like this