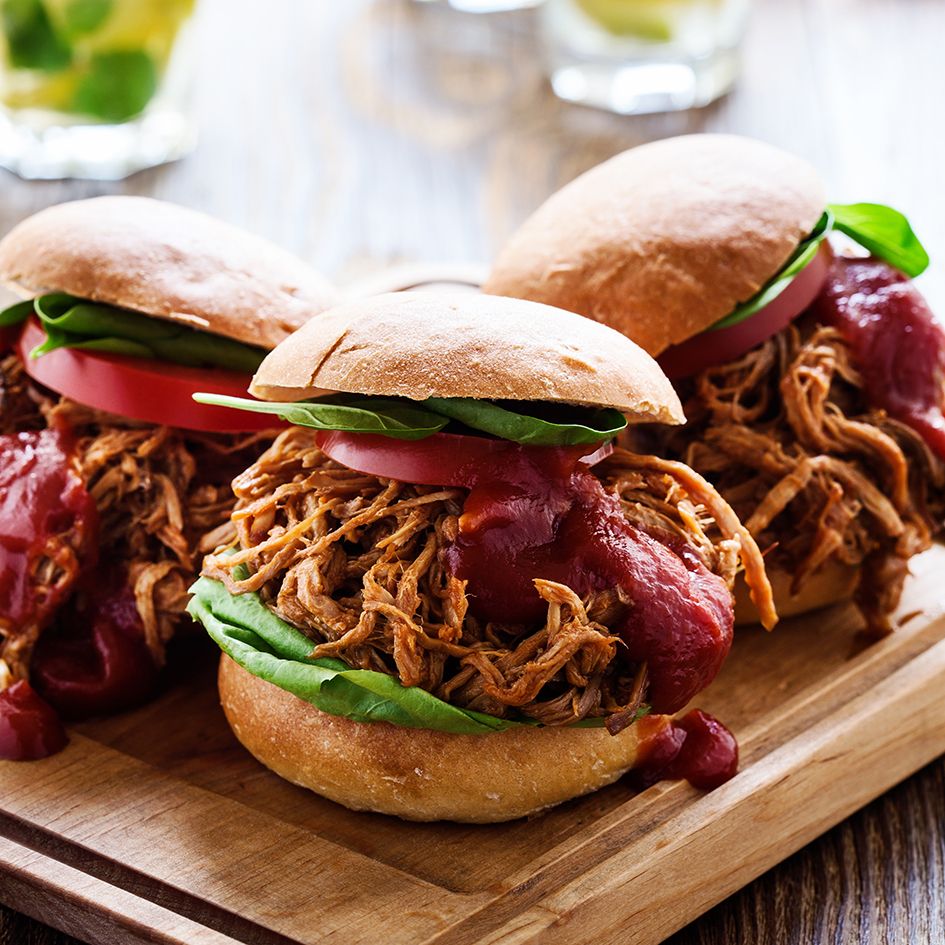 Pulled Pork Sliders with Roasted Capsicum and Tomato Sauce
They say good things take time and that is certainly true of these tasty sliders and the flavourful Roasted Red Capsicum and Tomato Sauce that accompanies them. Although this recipe takes some time to cook, the hands-on part is super-easy so you can pop everything in the oven and sit back and wait for a melt-in-your mouth pulled pork treat.
How long will it take?
2 ½ hours for the Sauce, 4–5 hours for the Pulled Pork
What's the serving size?
Serves 6
---
What do I need?
For the Pulled Pork
2 tsp smoked paprika
2 tsp ground cumin
2 tsp freshly ground black pepper
2 tsp brown sugar
1 tsp salt
450 mL apple cider
225 mL barbecue sauce
Pork shoulder (approx. 2.5kg)
For the Roasted Capsicum and Tomato Sauce
6 roma tomatoes
1 red capsicum
40 mL olive oil
¼ tsp dried oregano
¼ tsp dried thyme
5 fresh basil leaves, roughly torn
3 cloves garlic
Salt
Freshly ground black pepper
To serve
12 small bread rolls
Lettuce leaves
Tomato, sliced
How do I make it?
For the Roasted Capsicum and Tomato Sauce
Preheat oven to 135C.
Cut tomatoes in half and remove seeds. Cut capsicum into quarters and remove seeds and white pith.
Add tomatoes and capsicum to a large bowl along with olive oil, dried herbs, basil, garlic, salt and pepper. Toss to coat.
Tip contents of the bowl onto a lined baking tray and put in the oven to cook for 2 hours.
Remove from oven and set aside to cool for 15 minutes then put all ingredients into a food processor and blend until smooth. Set aside.
The sauce can be served cold or reheated in a saucepan before serving.
For the Pulled Pork
Preheat oven to 150C.
Combine paprika, cumin, pepper, brown sugar and salt together in a small bowl. Rub mixture over the pork.
Place pork into a large roasting dish and add cider. Cover with a lid or foil and cook in the oven for 4 to 5 hours or until the pork is falling apart. Check during cooking to ensure that there is enough liquid in the dish and add more if needed.
When pork is cooked, remove from the oven and shred the meat using two forks.
Skim fat from the surface of the cider and then return the pork to the baking dish and add barbecue sauce. Stir to combine and season to taste before serving.
To serve
Slice rolls in half, add lettuce, tomato slices and pork and dress with a generous spoonful of the Roasted Capsicum and Tomato Sauce.
---
Share this recipe
---
More recipes like this