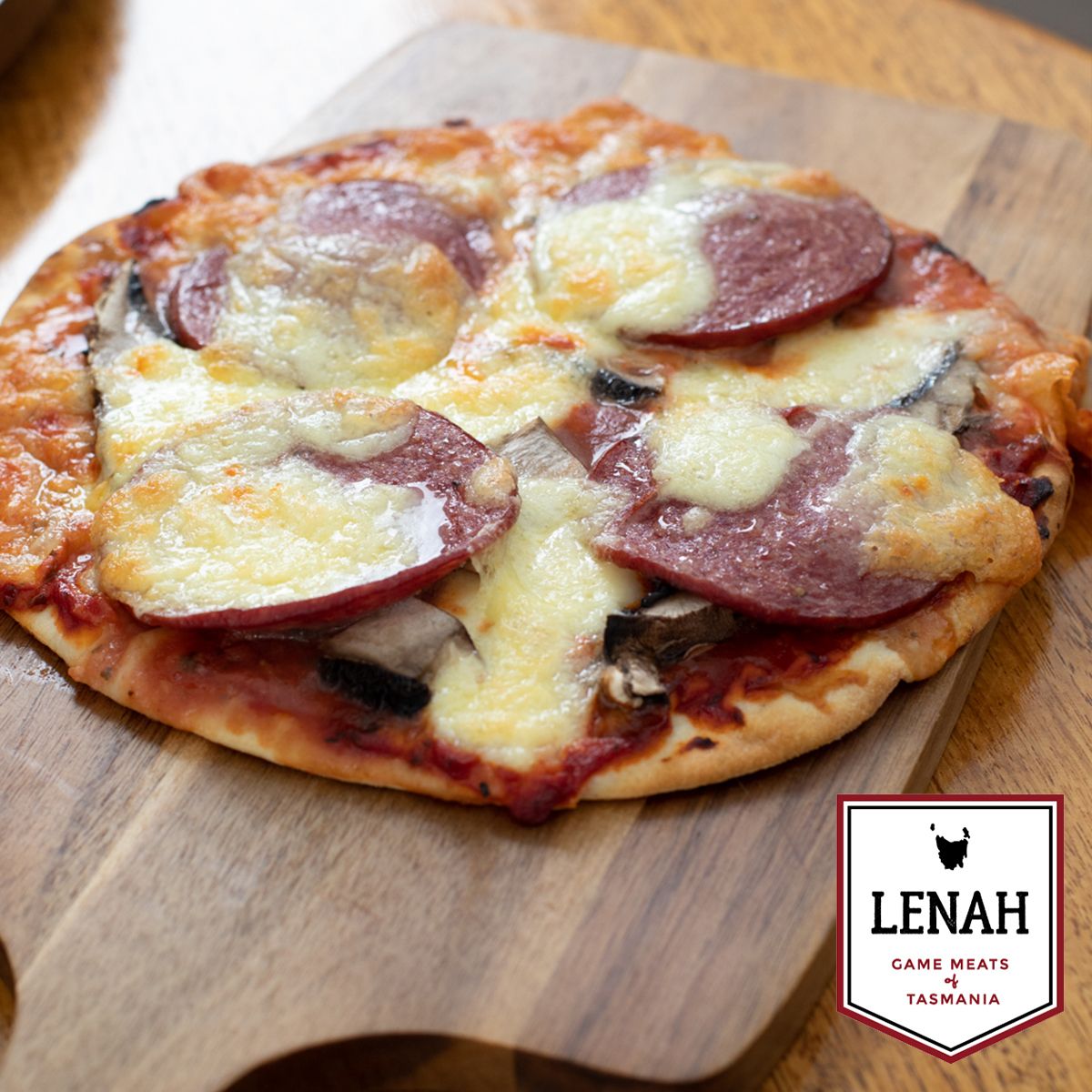 Lenah Game Meats Wallaby Salami Pizza
Lenah Game Meats award winning Wallaby Salami is the hero of this tasty pizza. Made using wild sourced, grass fed Tasmanian wallaby, the salami is the perfect way to turn an ordinary pizza into a gourmet delight.
How long will it take?
3 hours 15 minutes
What's the serving size?
Makes 1 medium pizza
---
What do I need?
3 cups bread flour
1.5 cups water
2 tsp ghee
2 tsp salt
1 tbsp tomato passata
200 g mushrooms
5 slices Lenah Wallaby Salami
2-3 balls of bocconcini cheese or mozzarella
How do I make it?
For the base
Place bread flour, water, ghee and salt in the bowl of an electric mixer. Blend on slow speed for 2 - 3 minutes, then increase speed to high for 5 minutes and reduce speed to slow for a further 2 minutes.
Lightly oil a bowl with olive oil, form dough into a ball and place in bowl. Leave dough to prove in a warm spot for 2 hours, or until it has doubled in size.
Use your hands to knock back the dough, then divide into four equal pieces. Cover and leave to rest for a further hour.
For the toppings
Preheat oven to 220C.
Take dough and stretch onto a lightly oiled small pizza tray.
Add passata, then top with mushrooms, Wallaby Salami and cheese.
Cook in oven for 8 - 10 minutes or until dough is lightly browned.
Recipe courtesy of Lenah Game Meats
---
Share this recipe
---
More recipes like this