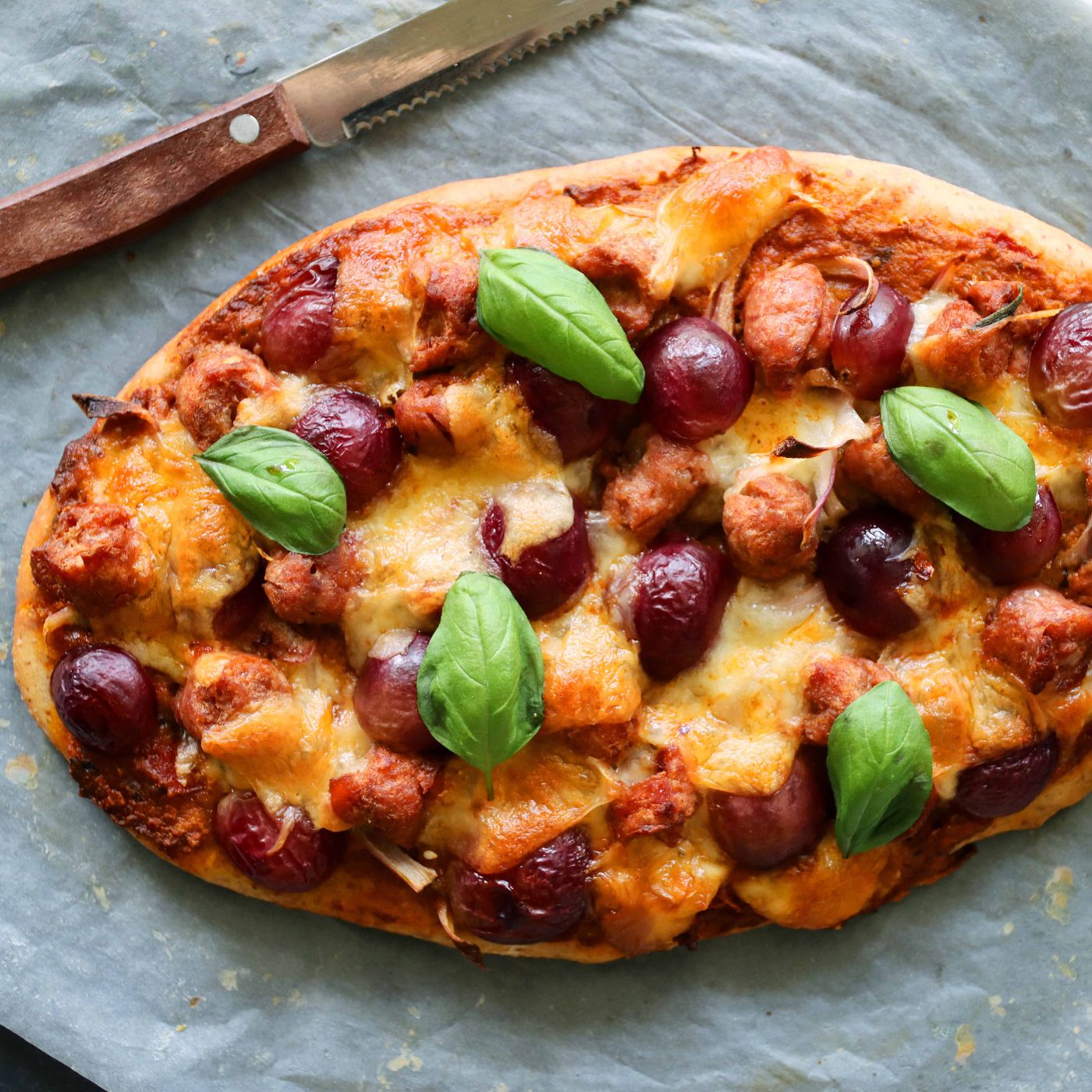 Grape and Gorgonzola Pizza
For us Sunday nights are all about easy eating (and cooking). We're always on the lookout for a simple yet delicious meal idea to finish up the week without creating a whole lot of work making it. Say "hello" to our latest Sunday night sensation – Grape and Gorgonzola Pizza. You can make your own dough for the pizza but if want to save time, use a store-bought pizza base.
How long will it take?
30 minutes, plus proving time for the dough
What's the serving size?
Serves 2
---
What do I need?
7g sachet dried yeast
1 ¾ cups plain flour
¾ cup lukewarm water, divided
1 tsp salt
½ tsp olive oil
For the topping
1/3 cup red wine
1 tbsp sugar
1 ½ cups red seedless grapes
100 g mozzarella, grated
60 g Gorgonzola Dolce, crumbled
40 g sopressa
Fresh basil leaves, to serve
Freshly ground black pepper, to serve
How do I make it?
Add yeast and 1 tablespoon of flour to ¼ cup lukewarm water and set aside until the surface appears creamy, about 5 minutes.
Add salt and 1 ¼ cups flour to a large bowl, then add yeast mixture, oil and remaining water and stir to make a smooth mixture. Add remaining flour and continue stirring until it is well incorporated and the dough starts to come away from the side of the bowl.
Turn out onto a floured surface and knead until the dough is soft and smooth. Form into a ball and dust with flour then place in a medium-sized bowl and cover with clingfilm. Set aside to rise in a warm spot until it has doubled in size.
Preheat oven to 220C.
Place dough on a pizza stone or lined baking tray.
Add wine and sugar to a small saucepan and bring to the boil over medium heat. Stir until sugar dissolves, then boil until the mixture reduces to about 1 tablespoon volume. Toss in grapes to coat with the syrup, then place them in a large bowl. Add both cheeses to the bowl and stir to combine.
Arrange grape and cheese topping on the dough and then press sopressa into the topping.
Bake pizza until the dough is golden brown and crips and the cheese has melted. Serve garnished with basil leaves and a generous grinding of black pepper.
---
Share this recipe
---
More recipes like this