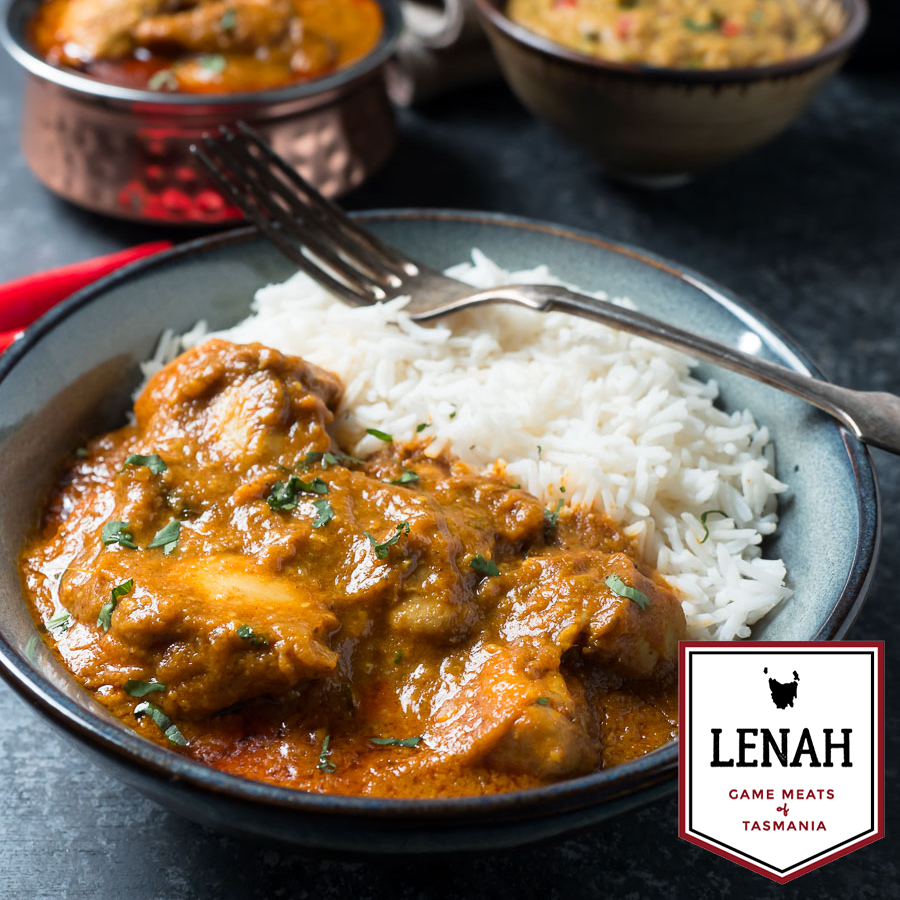 Lenah Game Meats Slow Cooked Indian Madras Wallaby Curry
Invite the flavours and aromas of India into your kitchen with this delicious Madras Wallaby Curry.
How long will it take?
25 minutes prep time, 4-5 hours cooking time
What's the serving size?
Serves 4
---
What do I need?
For the homeade Madras curry paste (optional)
2 tsp mustard seeds
4 tbsp coriander seeds
2 tbsp cumin seeds
2 tsp black peppercorns
6 garlic cloves, chopped
2 tbsp chopped peeled fresh ginger
1 tsp ground chilli
1 tsp ground turmeric
2 tbsp malt vinegar
2 ½ tbsp vegetable oil
For the curry
500gm diced Wallaby
4 cups plain flour
4 tbsp olive oil
1 large brown onion, diced
2 garlic cloves, crushed
3cm knob of ginger, peeled, minced
2 small red chillies, finely sliced (more if you like it hot!)
3 tbsp Madras curry paste (or 2 tbsp of your own mix, please see above)
300ml coconut cream
1 tsp beef stock powder
3/4 cup water
1 cinnamon stick
1 dried bay leaf
5 baby chat potatoes, halved steamed
Rice
Reduced fat yoghurt
Naan bread
Chopped fresh coriander, to serve
How do I make it?
For the homeade Madras curry paste (optional)
Cook mustard seeds in a frying pan over medium heat, shaking the pan, for 1 minute or until they start to pop. Add coriander seeds, cumin seeds and peppercorns. Cook for 2 minutes or until aromatic. Set aside to cool.
Transfer the mustard seed mixture to a food processor. Add garlic, ginger, chilli, turmeric, vinegar and oil. Process until smooth.
Seal, store & enjoy: Transfer to a screw-top jar. Store in fridge for up to 1 month. Use in curries – for a medium curry, use 2 tablespoons of Madras paste to 1kg of Wallaby. Try marinating wallaby fillets in curry paste mixed with natural yoghurt for the barbecue.
For the curry
Place flour and wallaby in snap-lock bag and season with salt and pepper. Shake to coat.
Heat half the oil in pan on medium-high heat.
Cook wallaby in batches, for 2-3 minutes or until just browned (be careful not to over cook,please remember it's very low in fat and only needs a short frying time). Transfer to slow cooker or casserole dish.
Add remaining oil to pan and cook onion until soft, then add garlic and ginger. Add curry paste and chilli. Cook, stirring for 1 minute or until fragrant. Add coconut milk, stock powder and water and bring to the boil. Transfer to slow cooker and add potatoes, cinnamon stick and bay leaf. Stir to combine.
Cook, covered on low for 4-5 hours or until wallaby is tender.
Garnish with fresh coriander and sliced fresh chilli (if you like it hot) and serve with rice, yoghurt and naan bread.
Recipe and image provided by Lenah Game Meats
---
Share this recipe
---
More recipes like this