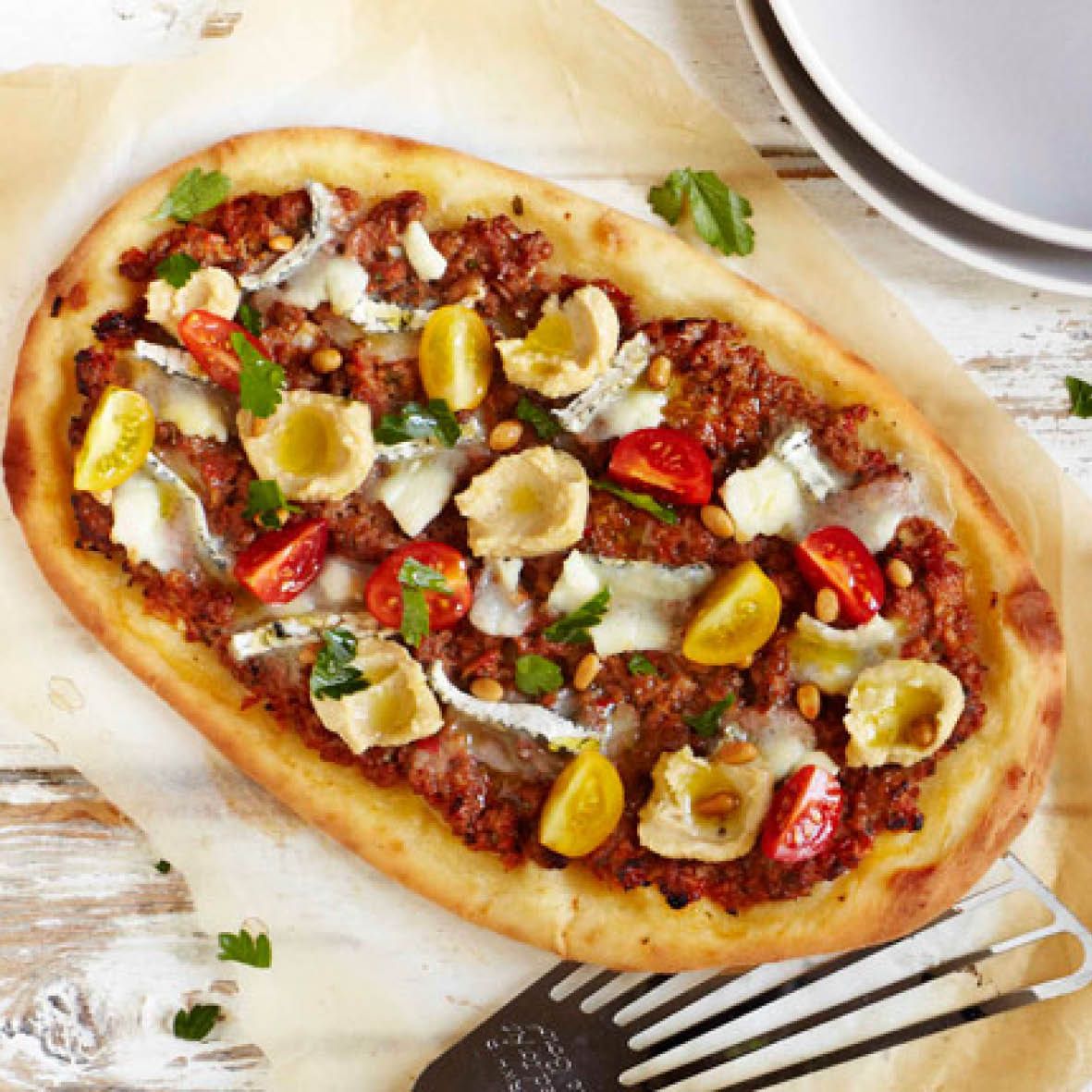 Middle Eastern Flatbreads with Black Savourine
This delicious recipe comes from our friends at Yarra Valley Dairy and features their Black Savourine Goats Cheese. These tasty flatbreads are ideal for a dinner and if you make extra you can pack some for lunch tomorrow. If you're short on time you can use store-bought flatbreads rather than making your own.
How long will it take?
20 minutes
What's the serving size?
Serves 4-6
---
What do I need?
For the Flatbreads
700g self-raising flour
700g natural yoghurt
1 tsp baking powder
Sea salt
For the Middle Eastern Lamb
200g lamb mince
1 large tomato finely diced
1 small brown onion grated
2 cloves garlic crushed
¼ tsp ground coriander
1/8 tsp ground cinnamon
¼ tsp sweet paprika
¼ tsp ground cumin
½ tsp chilli flakes
½ chilli chopped seeds removed
1 tbsp finely chopped parsley
2 tbsp tomato paste
¼ cup extra virgin olive oil
For the Toppings
100g Yarra Valley Dairy Black Savourine goats cheese sliced into pieces
12 colourful cherry tomatoes cut into quarters
100g store bought hummus
Handful of parsley leaves, roughly chopped
2-3 tbsp of extra virgin olive oil
2 tbsp toasted pinenuts
How do I make it?
For the Flatbreads
In a bowl mix all ingredients together with a spoon, then using hands, fold the mix together.
Sprinkle flour on a clean bench. Place the dough on top. Knead for a minute until mix is brought together.
Place in a lightly floured bowl, cover and rest. Meanwhile prepare your Lamb mix.
For the Middle Eastern Lamb
Preheat oven 220°C fan forced.
In a large bowl combine oil, tomato paste, parsley, and all spices and stir with a fork until well combined. Stir in lamb mince, onion, garlic, and tomato and season with salt and pepper. Set aside.
Divide the flatbread dough into four. Using a rolling pin on a lightly floured surface, roll each out in long oval shape, approximately 3mm in thickness. Place the dough on a baking tray lined with baking paper.
Divide the lamb mixture between the four flatbread doughs and spoon evenly over the dough. Randomly place cheese over the lamb mixture.
Bake in the hot oven for approx. 6-8 minutes or until the dough is golden brown, the topping is cooked and cheese melted.
Garnish with dollops of hummus, cherry tomatoes, pinenuts and parsley, and then drizzle with olive oil.
Serve warm or at room temperature.
---
Share this recipe
---
More recipes like this