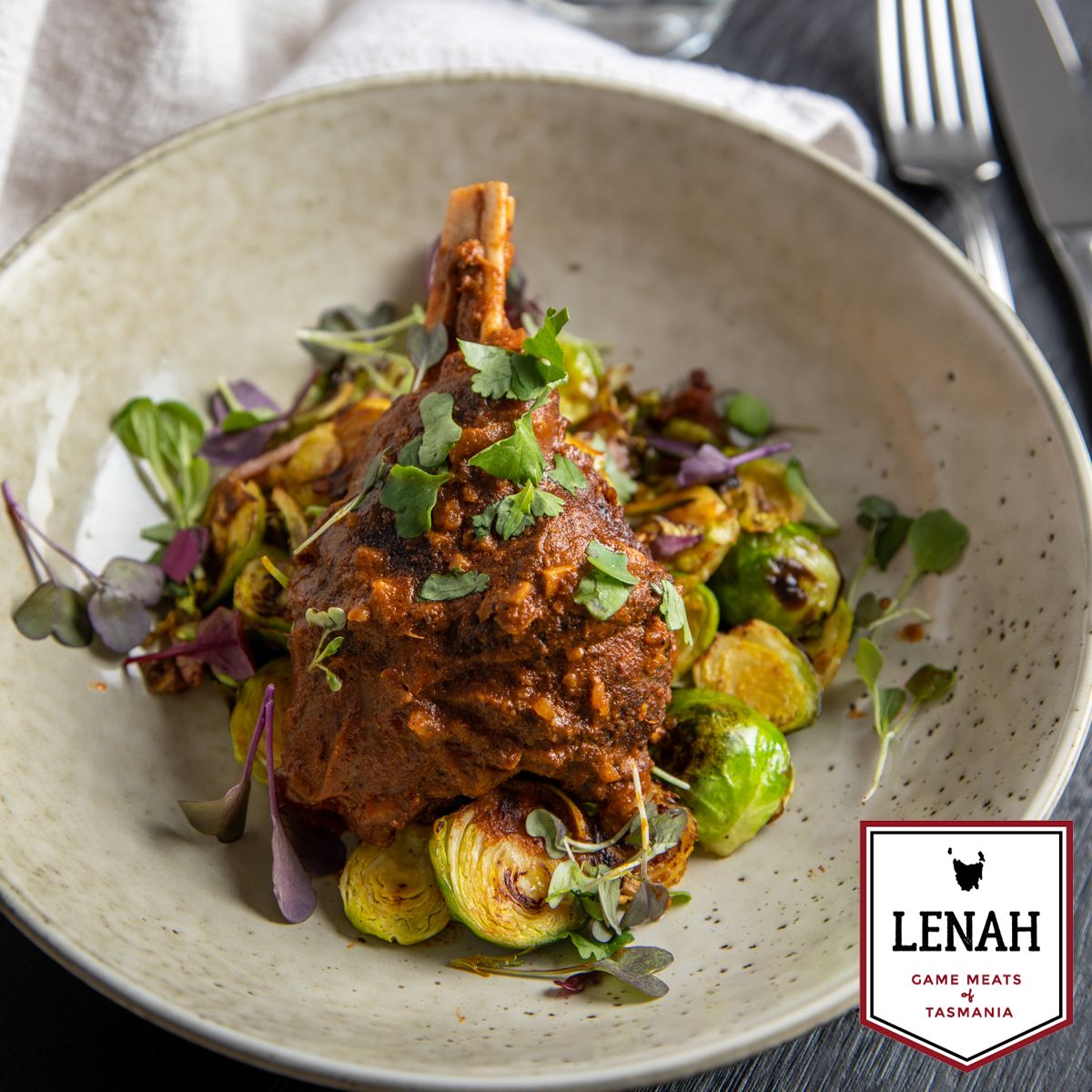 Lenah Game Meats Asian-Inspired Wallaby Shanks
Wallaby has a much milder and sweeter meat than its larger counterpart, the kangaroo. Lenah Game Meats knew this and were excited to be the first to offer this great meat to restaurants and home cooks. If you haven't tried wallaby yet, why not start with this delicious Asian-inspired dish?
How long will it take?
5-6 hours, in slow cooker
What's the serving size?
Serves 4
---
What do I need?
4 wallaby shanks
1 tsp salt
1/4 tsp ground black pepper
1 tbsp dried onion flakes
1 tbsp ground coriander
1 tbsp smoked paprika
1 tbsp ground cumin
1 tsp garam masala
1 tbsp minced fresh ginger
1 tsp minced fresh garlic
1 tbsp tomato paste
1/3 cup coconut milk
2/3 cup water
1/4 cup fresh coriander, to garnish
1 tsp chopped fresh chilli, to garnish
How do I make it?
Combine the salt, pepper, onion flakes, coriander, paprika, cumin, and garam masala in a small bowl.
Rub the mixture all over the wallaby shanks, reserving any extra spice mix.
Heat the oil in the pot and sear the shanks for about 5 minutes, turning to brown on all sides.
Add the ginger, garlic, reserved spice mixture, and tomato paste, and cook for about 2 minutes.
Add the coconut milk and water to the pot and stir, to release any bits from the bottom.
Place the lid on the slow cooker and cook for 5-6 hours on medium
Serve the wallaby shanks on cauliflower puree or cauliflower rice, with the gravy poured over the top and garnished with fresh coriander and chilli if desired. Mashed potatoes are also a wonderful base for the shanks and gravy.
Recipe provided by Lenah Game Meats
---
Share this recipe
---
More recipes like this