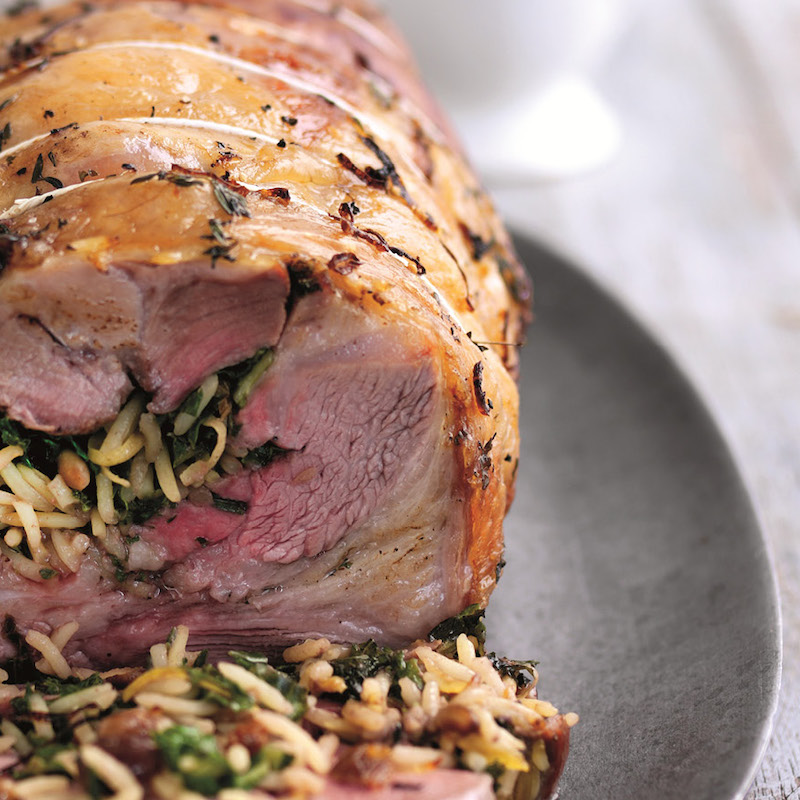 Boneless leg of lamb with pilau rice and kale stuffing
Take roast lamb to the next level
How long will it take?
25 minutes preparation time • Cooking time: Medium 25 minutes per 450g plus 25 minutes • Well done: 30 minutes per 450g plus 30 minutes
What's the serving size?
Serves 6-8
---
What do I need?
For the Lamb
1.3kg boned leg of lamb
Salt and freshly ground black pepper
4tbsp fresh thyme leaves
Grated zest of 2 lemons
1tbsp olive oil
For the Pilau Rice and Kale Stuffing
125g prepared pilau rice
25g fresh kale, rinsed and finely chopped
25g sultanas
25g toasted pine nuts
How do I make it?
Preheat the oven to 190°C
Scatter the half the thyme and half the lemon zest on a large tray. Unroll the lamb (reserving any elasticated meat bands) and coat each side with the rosemary.  Leave skin side down and season.
To prepare stuffing; in a small bowl mix the pilau rice with the remaining thyme, lemon and other stuffing ingredients, mix well and spread evenly over the lamb. Roll up and secure with butcher's string or reserved elasticated meat bands. Weigh the lamb and calculate the cooking time.
Place on a metal rack in a large non-stick roasting tin, drizzle with the oil and roast in a preheated oven for the preferred, calculated cooking time. Cover with foil if browning too quickly.
Remove the joint from the oven, transfer to a large plate, cover and leave to rest for 15-20 minutes.
Serve with seasonal vegetables and gravy.
Recipe from MyBaba
---
Share this recipe
---
More recipes like this