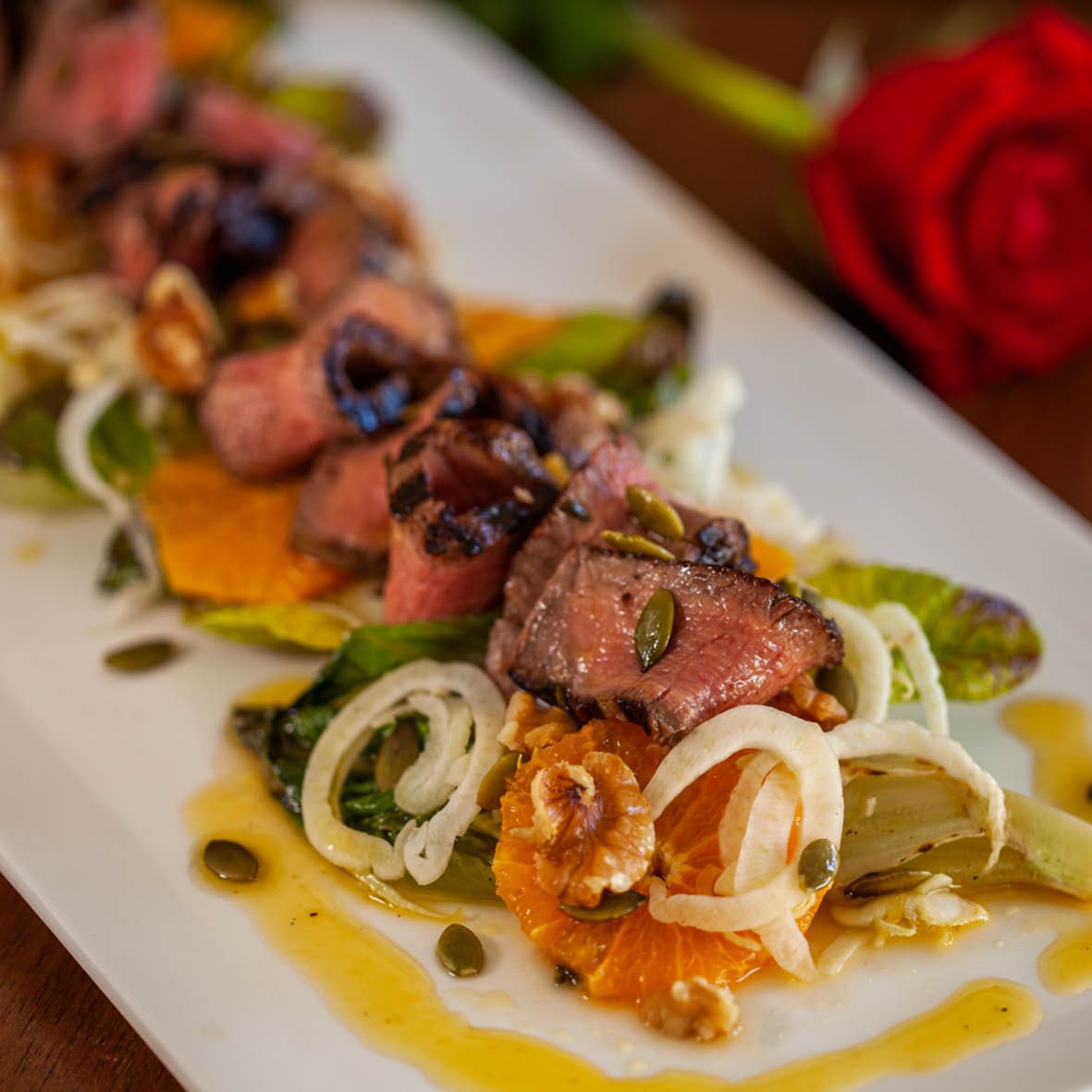 Grilled Red Lettuce, Eye fillet and Orange Salad
Fine slices of melt-in-your-mouth eye fillet are nestled in a salad of grilled lettuce, fresh orange and pickled fennel before being drizzled in an orange sauce. The addition of pepitas and walnuts adds a delicious crunch to this fresh and light meal.
How long will it take?
30 minutes
What's the serving size?
Serves 2
---
What do I need?
2 x 150g eye fillet steaks
100ml red wine
½ tbsp thyme
½ tsp minced garlic
100ml freshly squeezed orange juice
Salt and freshly ground black pepper.
2 tsp caster sugar
40ml apple cider vinegar
2 tbsp olive oil, plus extra for grilling
½ small fennel bulb, very finely sliced (use a mandolin if you have one)
2 baby red gem lettuce, rinsed
1 orange, peeled and sliced into rounds
30g pepitas
30g walnuts, roughly chopped
How do I make it?
Mix the wine, thyme, garlic, 50ml of orange juice together in a shallow dish and season to taste. Place steaks in the mixture and spoon marinade over. Set aside.
In a small saucepan, combine remaining orange juice, sugar and 20 ml of apple cider vinegar. Cook over medium-high heat, stirring to dissolve the sugar. Bring to the boil and cook until it has reduced to a glaze. Remove from heat and stir in olive oil and season to taste.
Remove steaks from the marinade, brush with a little olive oil and cook on the barbecue or a grill pan over medium-high heat until the steaks are medium-rare, approximately 2-3 minutes per side. Remove from pan, and set aside to rest for at least 10 minutes. After resting, use a sharp knife to cut the steak into thin slices.
Add fennel to a bowl and pour over the remaining 20 ml of apple cider vinegar. Set aside to pickle slightly while you prepare the lettuce
Remove the large leaves from the gem lettuce and cut the hearts into wedges. Heat a grill pan on high and lightly char the leaves.
Arrange the grilled leaves on a serving plate. Drain the fennel and sprinkle on top of the lettuce.
Arrange the orange and eye fillet slices on top and scatter with pepitas and walnuts. Season with a sprinkle of sea salt, drizzle with the orange dressing and serve.
---
Share this recipe
---
More recipes like this